If you've ever been second-guessed, doubted, and treated with suspicion, you'll know it can be very unpleasant. As a Nigerian, I've had (and HAVE!) to endure the stigma of being from a country renowned for scams – in countries I've visited, and – ironically – even back at home :-)))
Like a well traveled Beninese professional once told me".
"Look Tayo, I've traveled all over the world, and met with lots of Nigerians. Even Nigerians don't trust themselves. So why should people here in Benin trust you?"
And he was right.
Indeed, in my first few months in Benin Republic, I encountered lots of raw distrust from locals, who had bad stories about "Nigerians" to tell me!
ONE EXAMPLE: Read the article below, that I wrote recently…
http://tayosolagbade.com/sdnuggets/he-called-me-voleur-thief/
It tells the story of a how a young student in the university at Calavi (outside Cotonou) called me a thief.
And that was because he only ever saw me working on an Internet connected PC!
That happened back in June 2013.
Today, I enjoy great recognition and credibility in a growing number of formal business and social circles – including the NIGERIAN EMBASSY right here in Cotonou.
But it was not easy; I had to prove myself – by being creative and tenacious.
Two major achievements that have really opened doors of opportunities for me are:
1. My Quick and Dirty Guide to English for French Speakers (and French for English Speakers) – which I now sell.
Like I said, today, my perseverance is being rewarded. People now accept me here – even though I offer no solutions most of them can use or afford.
But they want to relate with me – and a few do purchase my products.
For instance the very first buyer of my "Quick and Dirty Guide to English for French speakers" CDROM was Cyriaq – a Beninese medical doctor, and now, friend.
He paid for it in advance, and picked it up 2 weeks later.
See what I mean by the level of trust I now enjoy? That would not have happened in May or June 2013!
Back then I was still working to win people's trust – as I explained in this article titled "What Do You Do When People Are Scared To Trust You?" :-))
Gaining people's trust is the key to success in ANY area of life.
I've learnt to do it quite well. That's how I got this far. My ideas can help you do the same – or better!
Since then, I've written two other pieces on the subject of trust – all based on my personal experiences and observations.
a.Can You Be Trusted? (Real Life Farm Business Sales Conversations With People Just Like You)
b. Proven Strategy for Succeeding by Winning People's Trust
Read them. They will help you keep going in times when no one seems to be ready to give you a chance.
2. My Pineapple PEEL based drink which I am working towards offering for sale from a "snacks bar" before the end of the year.
I was already a known face in the Nigerian embassy, here in Cotonou, with at least one senior official, before coming up with this drink.
However when I took a bottled/labeled sample of the drink to the embassy, things went to a whole new level!
Details will come in future articles I'll be writing.
Now, Some Direct Answers to Specific Questions People Keep Asking Me
Plenty of skepticism is naturally directed at a person like me who claims to earn income selling "his knowledge and expertise online".
Most Nigerians simply cannot believe that is possible. The socioeconomic environment in our country makes most people feel there are no viable alternatives.
And that's why I do what I do via this blog, and my website.
I'm using myself to PROVE to people they can pursue and succeed with viable alternatives like those I've discovered or developed.
But anyone who wants to use my methods simply cannot be lazy. And you cannot be in a hurry either.
1. Why did you leave Nigeria to Live/Work in Benin Republic?
Answer:
I've just returned to my base in Cotonou, Benin Republic, from 2 weeks in Lagos-Nigeria. I went to administer a questionnaire survey to farm industry stakeholders (for the international research paper I'm writing on "Using ICT for Feed Formulation").
It all began on 1st April 2013, when I implemented my plan to become a Location Independent Entrepreneur – with my base in Benin Republic.
That decision was greatly influenced by a need for steady, reliable power supply and generally conducive environment free from annoyances I totally hated.
I was spending over N800 daily on fuel to power my generator in order to do my work on the laptop. And that did not even let me do as much as I needed to each day. Yet, NEPA would send in crazy estimated bills and insist one pay – other wise you would be disconnected. And this, from people who rarely supplied more than 25% of power supply one paid for.
What really nailed my resolve was when I visited the neighborhood NEPA office, and told them I wanted to be removed from the National Grid.
My argument was that I never got enough electricity and still got issued bloated bills to pay!
The newly appointed power station looked me in the eye and said "Even if we disconnect you, we will still bring you bills every month, and you will have to pay!"
At that point I knew I needed to relocate, because I was sure I could literally kill someone, if I kept living and working in an environment like that.
I've always believed I should get value for the money I pay.
And that's why as a service provider I ALWAYS go the extra mile to give buyers of my products and services more than they pay for.
The Nigerian environment had tested my patience to the limits. So I began investigating alternative locations to move to.
Read "You're Not Crazy to Follow Your Inner Voice" in which I explained the "psychological dilemma I overcame to settle on Benin Republic.
Another article in which I explain is "No. 110: Why You Need to Think With Your Whole Body (and How)!
Yet another is: Change Your Environment to Succeed – If Necessary
Since arriving Benin Republic, it's been like relocating to heaven from a version of hell.
No exaggeration.
My productivity has dramatically improved.And more online work has come my way as a result of the useful output I've been able to produce.
Answer:
My adopted approach remains strange to many Nigerians – indeed Africans. To learn a bit about what it means to be a Location Independent Entrepreneur (which is what I now am), read this article: A New Generation of Entrepreneurs PROVES That Our Schools Need To Offer a Different Kind of Education!
Note that my target audience has NEVER been people in Benin. Indeed the only clients I've so far had here are foreigners (Nigerians, and a Cameroonian)
My work has always been focused on selling my solutions online.
Since moving here, MORE buyers from in and out of Nigeria/Africa (as far as Canada) have purchased my feed formulation handbook, and software in particular.
(NB: Anyone who uses MS Excel for serious work should download that PDF report – or risk making avoidable errors. )
Payment is made to me via transfers to my GTB account or through an alternative arrangement I made to receive online payment.
My efforts to use foreign payment processing platforms have been frustrating. I do NOT use Nigerian payment processing platforms because – for now – I simply do NOT trust that they will remain reliable.
And since I deal a lot with foreign buyers of my offers, I am NOT prepare to risk damaging any hard won credibility by letting any system glitches scare people away!
3. Is your family still in Nigeria?
Answer:
Yes they are. I call them regularly, and visit once in a few weeks. But my plan is now to do the needed work to move them over.
I've done the math. And it makes sense to do that.
It costs me half to one third of my normal expenses, to live here (feeding, transportation etc). And that applies to catering to the needs of children.
On food, let me use this analogy:
A full plate of rice with one boiled egg on it, can be had for 300 FCFA. I know this because  I eat it often just next to where I live. Details in another article to follow.
Note that that is NOT the exception. It's actually the norm.
Food is dirt-cheap here compared to Nigeria.
Look, one boiled egg in Lagos costs N50. If raw, it costs N30.
Now, N30 is approximately, 100 FCFA. That means the full plate of rice, with a boiled egg placed on top (see real life photo of one below) sold in Cotonou for 300 FCFA actually costs N100 approximately.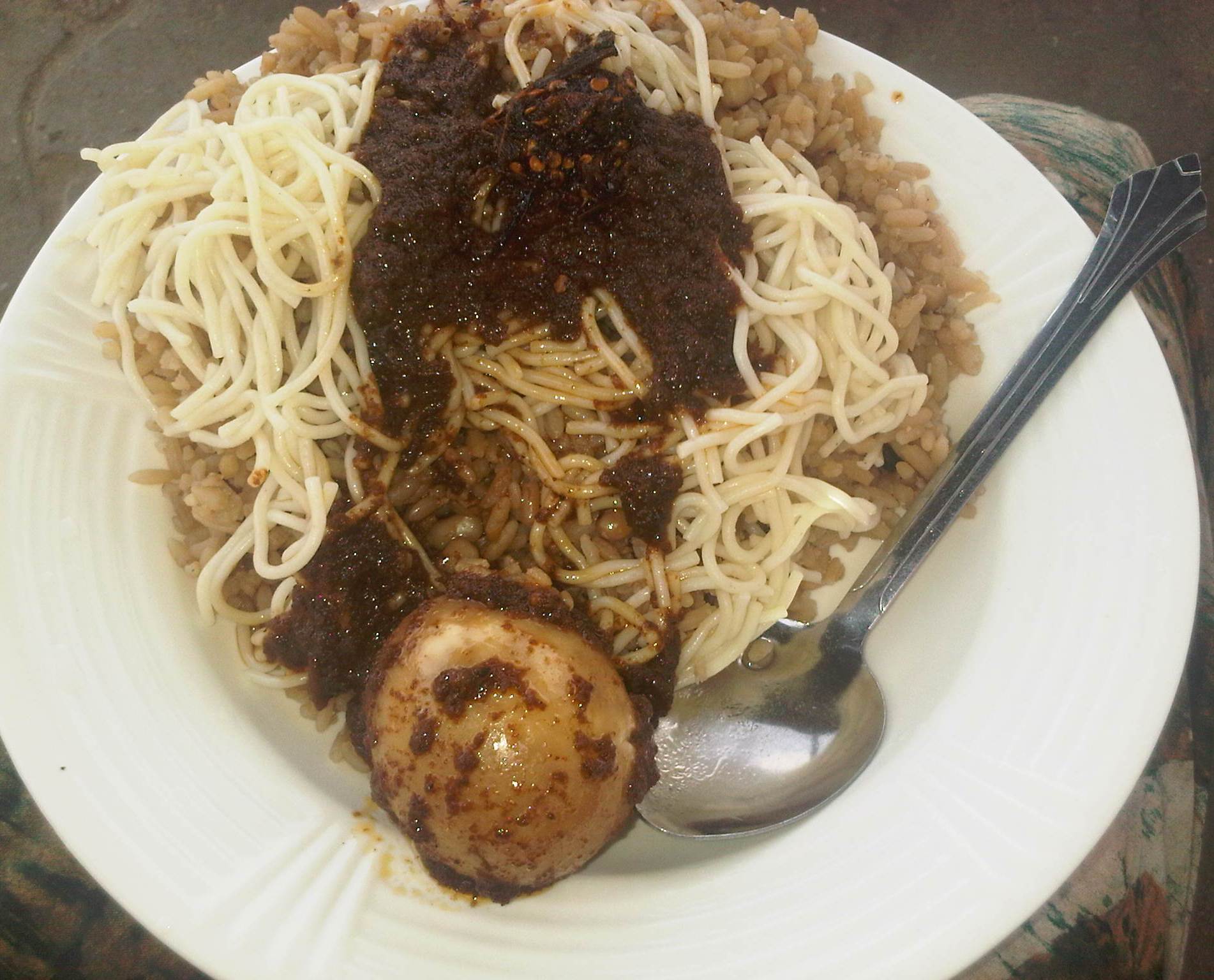 Since a boiled egg in Lagos costs N50, that means the above plate of rice (sprinkled with beans, and spaghetti!) costs only N50!
But we all know it's impossible to buy any decent plate of food for N100 in Nigeria.
That amount would only get you a small piece or fish or meat!
Then you would need anything from N200 upwards to get your plate full!
I shared one picture above for illustration. There will be more, in a special report I intend to do soon, comparing the cost of living in both societies.
Another thing: In Benin Republic, public tap water is drinkable. I've been drinking it – like everyone else – since 1st April 2013.
So there's no need to buy water to eat a meal. Except you want cold water or prefer it bottled.
That's so unlike Nigeria, where you dare NOT try drinking water that's not packaged. And even those can sometimes be "unhealthy" for drinking – as cases of related disease outbreaks have periodically shown.
This is why drinking water adds an extra layer of expense to every meal in Nigeria. Imagine how much a family spends on bags of pure water daily in Nigeria! I say this from personal experience.  A totally avoidable expense!
But Why the Focus on Food, Tayo?
Actually, it's not only food. Transportation and other basic activities are mostly cheaper here.
I have a vision to help Nigerians achieve financial empowerment, to fight bad governance.
Once they can feed themselves, they will be less prone to manipulation by corrupt people – or politicians.
That's the situation in Benin Republic.
Even "poor" people eat well in this "poor" country.
In contrast, many who do not consider themselves poor, in Nigeria, struggle to feed their families well!
That's also why the crime rate is VERY low here.
It's not a perfect place.They have their own problems – but nothing that makes life a literal living hell like in Nigeria.
That's why they appear so laid back to the rest of us. You see, their society works for THEM…even when they put in what appears to be little effort!
I've always felt that life is not meant to be such a struggle…to be so hard…so brutish…like it is in Nigeria!
Believe me. I've visited different parts of Nigeria, and Ghana, Cameroon, and England, Scotland, and now Benin Republic. Nigeria is a tough place to live and work.
Henry David Thoreau reportedly said:
"Most men lead lives of quiet desperation and go to the grave with the song still in them"
For Nigerians, I'd rephrase it this way:
"Most Nigerians lead lives of NOISY desperation, and inspite of it all, still go to the grave with the song still in them".
I'll be spelling out what I believe Nigeria (and Nigerians), need(s) to do to change things, in future write-ups.(Hint: What I do today is an example of what more people need to start doing in Nigeria).
Part 2 of this post – with more photos, and answers to questions sent me by enquirers, will be published in a day or two.