About Tayo Solagbade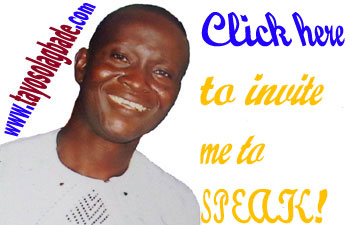 Tayo K. Solagbade*

Self-Development/Performance Improvement Specialist

*Sole Agent For Burt Dubin's Speaker Mentoring Service In Africa

Mobile: +234-803-302-1263 (in Nigeria) or +229-66-122-136 (in Benin Republic)

http://www.tayosolagbade.com
Self-Development/Performance Enhancement Specialist - Tayo Solagbade - is a Location Independent Multipreneur traveling slowly across West Africa.
His unique ability as a bilingual service provider enables him relate successfully with client/associates in english and french speaking societies e.g. Nigeria, Cameroon, Ghana, Benin Republic etc
Tayo earns multiple streams of income providing clients with custom MS Excel-VB solutions, web marketing systems, freelance writing services, and best practice extension support services (for farm business owners).
He also offers a unique range of Best Practice performance improvement talks, seminars and coaching programs for groups and organisations e.g farmers, writers and alumni associations - as well as career persons in paid employment.
In a previous life, before leaving to become self-employed, Tayo served for seven years as a high performing manager in Guinness Nigeria. He rose from Shift Brewer, to Training & Technical Development Manager, then later acted in senior management roles as Production Manager and Technical Manager.
When he's not amazing clients with his superhuman skills (wink), Tayo works as the creative force behind his Self-Development Nuggets™ blog, and Public Speaking IDEAS newsletter (which he publishes to promote Burt Dubin's Public Speaking Mentoring service to experts working across the African continent).
For a limited time, Tayo is available to speak to your group or organization for a moderate fee. Send e-mail to tayo at tksola dot com. You can also visit www.tayosolagbade.com to learn more.
Connect with him on Twitter @tksola.com and Facebook.
==================