The Farm CEO Spotlight Interview (FCSI) series is designed as a public service to give other Farm CEOs access to ready-to-use experience-based information and education from fellow farmers who make discoveries or develop unique solutions/ideas they believe can help others.
The purpose is to promote experience-sharing amongst farmers, about Indigenous Knowledge Systems (aka IKS) they develop, to boost performance.
Indigenous Knowledge Systems (IKS) are tried and tested practical techniques/methods developed by individual (or groups of) farmers, to get improved results, often through innovative modification of existing procedures.
This maiden edition of the FCSI features (questions/answers, with photos and audio excerpts) Roseline Imoudu – owner of a Recirculating Aquaculture System (aka RAS) based Seed Catfish Production Farm Business in Ibadan-Nigeria.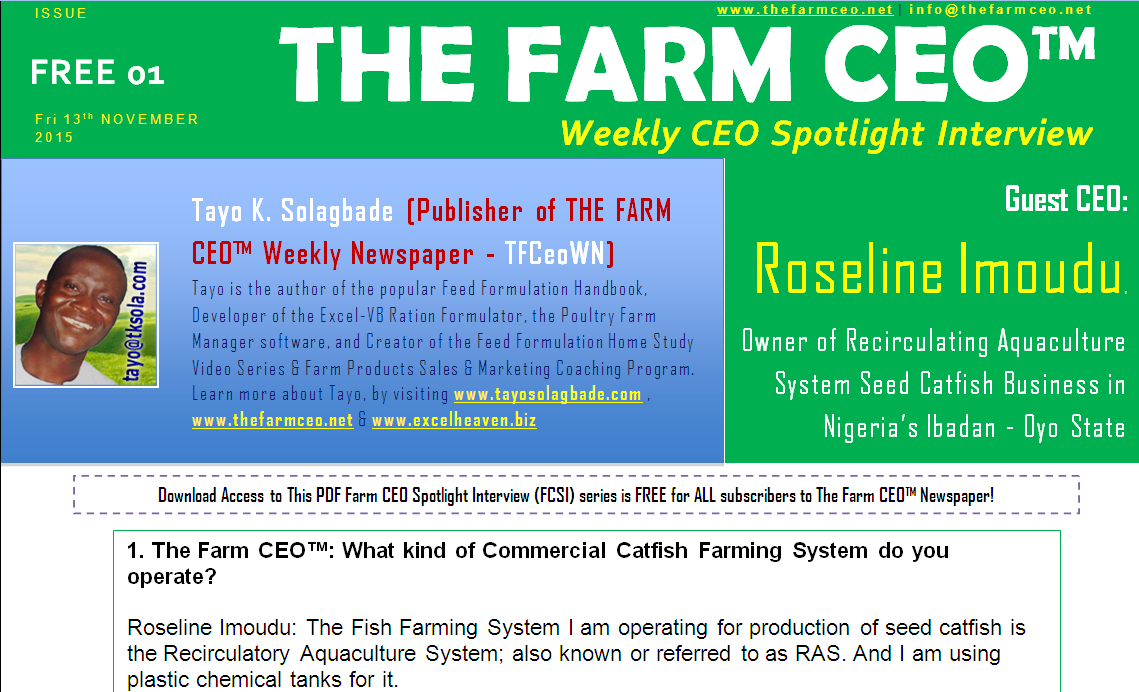 She shares insights from her first run of a newly installed RAS system, mainly from a diligent record keeping and best practice perspective.
Especially noteworthy is her true story about how good management helped her record surprisingly minimal losses, when her RAS experienced severe water shortage due to a prolonged borehole pump fault.
She also offers tips to aspiring Farm Business Owners, which existing farm owners may also find useful.
 

=====Interview Starts====

1. The Farm CEO™: What kind of Commercial Catfish Farming System do you operate?

Roseline Imoudu: The Fish Farming System I am operating for production of seed catfish is the Recirculatory Aquaculture System; also known or referred to as RAS. And I am using plastic chemical tanks for it.

2. The Farm CEO™: What informed your choice of this system and how long have you been running it?

Roseline Imoudu: Well, I started with the flow-through system about November  2014 after an internship with a farm at Moniya Ibadan. I was making an average sales of about 3,500 to 5,500 seed catfish in a production. I happened to pay a visit to the poultry farm of one of my husband's friends and I got introduced to RAS and its basic flow operation and privileges.

I witnessed one production run and saw:

Download Access to This PDF Farm CEO Spotlight Interview (FCSI) series is FREE for ALL subscribers to The Farm CEO™ Newspaper!

1 year's subscription = 48 issues (and you get ALL back issues)

Fee = $36 USD [You get a FREE personalized copy of my popular Feed Formulation Handbook ($82 USD value) and FREE Bi-weekly ad for YOUR biz in the paper]

Email: tayo at tksola dot com.

Call: +234-803-302-1263 (in Nigeria) or +229-66-122-136 (in Benin Republic)
Watch the FREE video version on my Youtube channel at https://www.youtube.com/watch?feature=player_embedded&v=Aqih-gzMZnU