Linked/previewed below (incl. screenshot of online store) with its blunt, truth telling matter-of-fact title (The Case against Education: Why the Education System Is a Waste of Time and Money Hardcover – January 30, 2018) – is yet another publication I've found – this time a full book, (available in print and digital formats) preaching the need for us to change the way we EDUCATE people!
And it has been chalking up high ratings from buyers/reviewers for its unapologetic message about how irrelevant our traditional schooling system has become, to our needs in the 21st century and the future we all see coming.
The Case against Education: Why the Education System Is a Waste of Time and Money Hardcover – January 30, 2018 by Bryan Caplan (Author)

Why we need to stop wasting public funds on education

Despite being immensely popular–and immensely lucrative – education is grossly overrated. In this explosive book, Bryan Caplan argues that the primary function of education is not to enhance students' skill but to certify their intelligence, work ethic, and conformity?in other words, to signal the qualities of a good employee.

Learn why students hunt for easy As and casually forget most of what they learn after the final exam, why decades of growing access to education have not resulted in better jobs for the average worker but instead in runaway credential inflation, how employers reward workers for costly schooling they rarely if ever use, and why cutting education spending is the best remedy.

Click here to visit the online store to read the preview,  reviews, and buy it.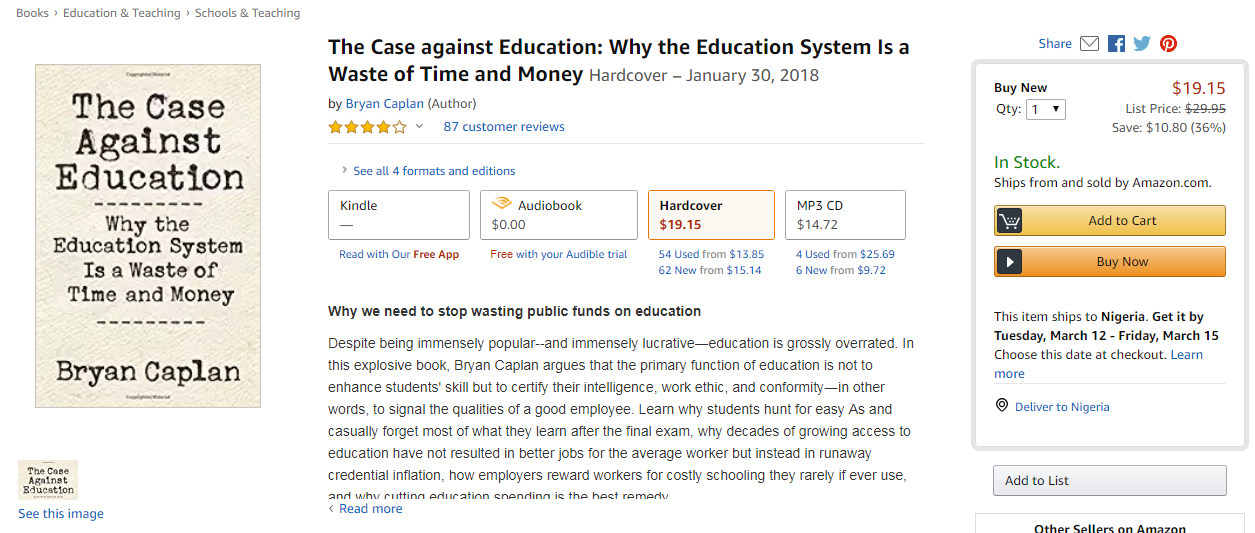 My eyes were opened to this problem through reading and listening to VISIONARY THINKERS like Robert Kiyosaki (author of If You Want to be Rich and Happy, Don't Go to School and Why A Students Work for C Students and Why B Students Work for the Government) and Sir Ken Robinson (TEDx talk titled Schools Kill Creativity).
It goes without saying that OUR numbers are growing i.e. those of us who SEE the harsh reality and are unafraid to say what others also SEE but are too scared to say or admit.
Like it or not, you – as a parent, teacher, or policy maker – will at some point (if you are yet to) come to ACCEPT that things need to change completely.
Our so called "education systems" no longer work well enough to support our individual societies.
We need to overhaul them and adopt a new system that is tried and tested. One which requires education to be DECENTRALIZED and customized to suit each child's peculiar needs.
So much reinventing needs to be done – and societies that fail to make the needed changes WILL be left FAR behind by others that do!
It's that simple.
Related Articles