This 14 year old lady hit the nail right on its head with this piece about how conventional schools are killing creativity.
Every parent should read her article shared here to understand why YOU need to take action to CHANGE the traditional schooling that you're letting your kids gets exposed to.
It WILL DO THEM more harm than good in the long run.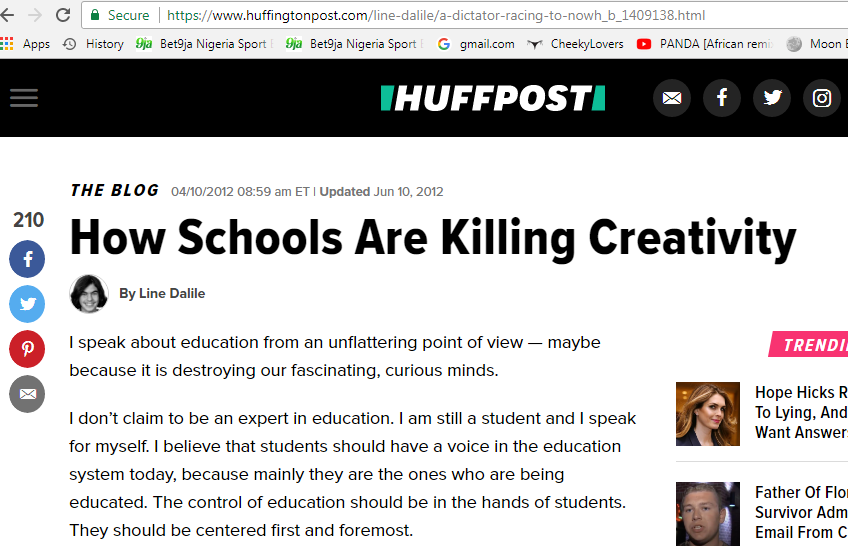 If a 14 year old girl GETS IT, I worry for you, if you – as an adult – still do NOT get it after reading her article [If you're a child being sent to school, read her article and demand that your parents take action to help you avoid the dangers she points out in it.]
I've been SCREAMING about this problem with our conventional schooling systems for years [e.g my syndicated 2008 article: https://ezinearticles.com/?Is-Your-Child-Learning-For-School-Or-For-Life?&id=1240561]
Over the years, as I noticed no change in what schools offered, I have personally taken drastic steps to protect the valuable geniuses of my own kids from the damage it does.
That's earned me severe criticisms from various quarters – but the RESULTS will soon begin to speak for themselves. Mark my words!
My advice to you: Take action now to help your kids protect their geniuses from the damaging impact of uncontrolled exposure to conventional schooling systems – or I might just be saying "I told you so!" in a few years time!
Read the full article at https://www.huffingtonpost.com/line-dalile/a-dictator-racing-to-nowh_b_1409138.html
RELATED ARTICLES
1. Is Your Child Learning For School Or For Life?
2. Your Child can Succeed Even When Schooling Fails
3. PII 070: Will Your Child's Certificates and Degrees be Enough to Succeed in Life?
4. PII 066: There'll be No Need to Force Kids to "Finish" School If They See MORE Formally Schooled People Doing Well Financially [Hint: 9 Questions That Indicate How Conventional Schooling Shortchanges Learners]
5. Your Kids Need Modern Teacher-Educators, Not Teacher-Dictators (10 Distinguishing Traits)