By finding creative ways to incorporate elements from virtually every area of society you have interest in, into your marketing content, you will dramatically boost your chances of drawing potential buyers, who would otherwise have missed you, into your "world.

That way they'll discover you have something that can help them. That was exactly what happened with the diplomat I met at the Nigerian embassy (see the photo/true story in the article linked on the next page).

I did not go there to market my Excel-VB software or my Web Marketing service. But in the process of showing my Pineapple Peel Drinks and cakes, to him and others at the embassy, we got talking and he learnt from asking what else I did, that I offered those solutions!
SCROLL DOWN TO READ THE FULL ISSUE

Tayo Solagbade's
Performance Improvement IDEAS
(PI Squared) Newsletter
Monday 19th November 2018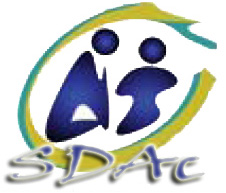 NB: This PI Squared newsletter will be published weekly, on Mondays, in place of the Speaking/Web Marketing IDEAS newsletter, starting from today – 15th February 2016. I'm reinventing my Monday newsletter content and theme, to accommodate my vision of serving the growing audience of serious minded individuals and organizations reaching out to me, with information, education. news and research findings designed to help them do what they do better.
************
PII 143: Commandment No. 9: You Shall Make As Many People As Possible TALK About You [10 Commandments of Web Marketing for Business Success] – FREE PDF DOWNLOAD + LIVE TALK OFFER
Your WMS (Web Marketing System), if developed and implemented the way I recommend, will get you noticed by persons fitting your target audience profile.

That does not however mean they will choose to talk about you to anyone. Indeed, my experiences indicate that lots of them will simply take action to connect with you, to get what they want e.g. the solution you offer.

You will have to go the extra mile to give them reasons to talk about you to others. In other words, getting people to talk about you is easier said than done.

This is especially as it relates to getting them to say something that boosts your name/brand recognition and credibility, thereby increasing potential selling opportunities for you.

In this 9th commandment, I offer experience based ideas you can use, and explain how to tweak them for optimal results.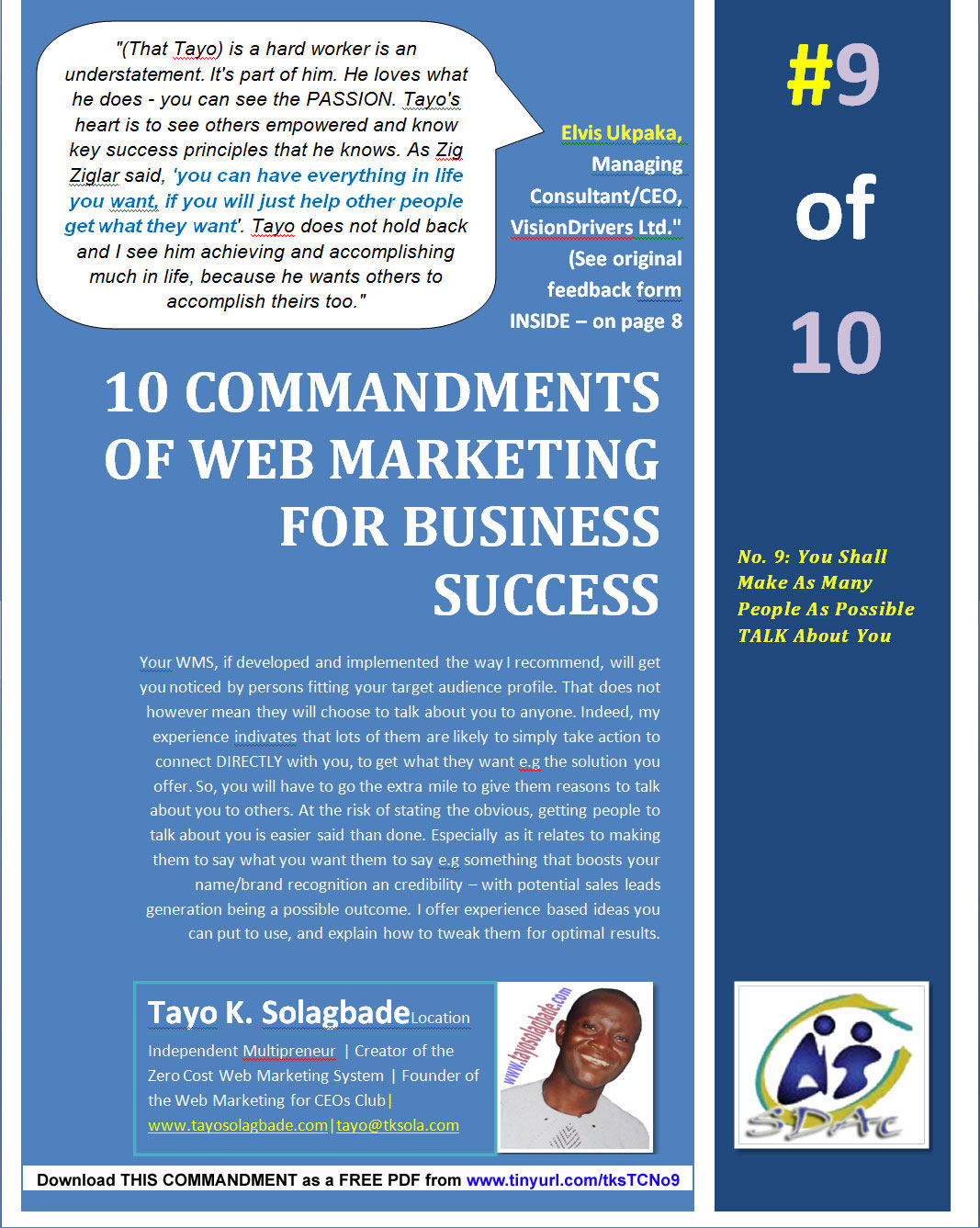 Read The Full 10 Commandments Series Using The Links Below:
INVITE ME TO DELIVER THE FULL 10 COMMANDMENT SERIES AS A LIVE TALK TO YOUR GROUP/TEAM MEMBERS

This talk is based on an educational weekly email series I created exclusively for members of my Web Marketing for CEOs club.

It provides experience based ideas, tips and insights for use by any persons engaged in business, who wish to achieve low to zero cost business marketing reach and impact by leveraging the the power of PC and Internet Technology.

It is NOW available in a specially bundled MP3 Audio and PDF Book package that can be downloaded online or accessed offline on a DVD delivered to you.

Attendees of THIS LIVE talk however get instant membership of my Web Marketing for CEOs club (N50k value – includes FREE weekly coaching via Private Facebook and WhatsApp groups) + FREE download link to the ebook/audios.

Standard FEE for Talk – N100k Promo FEE (Nov/Dec. 2018) – N25k
Get 1 Year Web Marketing Saupport: Become a member of my Web Marketing for CEOs club

Click here to learn how you can join my Web Marketing for CEOs club, and get my 1 year Web Marketing Support Service

Excel-VB Driven Ration Formulator

1. Click here to learn more about this app – watch demo videos etc

2.Click here to watch a 4 part video in which I demonstrate how to use this app to formulate rations using real life data sent to me by an Algerian PhD student.

Click here to contact me about purchasing this product.

EXCEL-VB DRIVEN 

POULTRY LAYER FARM MANAGER SOFTWARE

Click here to download a detailed PDF user guide and watch 15 screen shot user guide tutorials of the Monthly Poultry Farm Manager that I now offer Farm CEOs.

Click here to contact me about purchasing this product.

SDN Blog™

New posts from last week*Monday:

N/A

[Fri

day

]:

N/A

[

Saturday

]:

N/A

[

Sunday

]:

%0