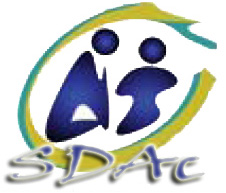 www.tayosolagbade.com
Join my Web Marketing for CEOs Club & Get
Multipurpose Web Marketing Support Services

(& Coaching) FREE for Your Business for ONE YEAR!

This year, I've come up with a new 2-in-1 offer that enables interested persons literally eat their cave and have it, with regard to the investment they make in the range of solutions I offer.

As a member of my WM4CEOs club, if you're ready to learn and work hard, in collaboration with me, you stand to reap multi-dimensional range of time, money and effort saving benefits that will boost your personal and business success.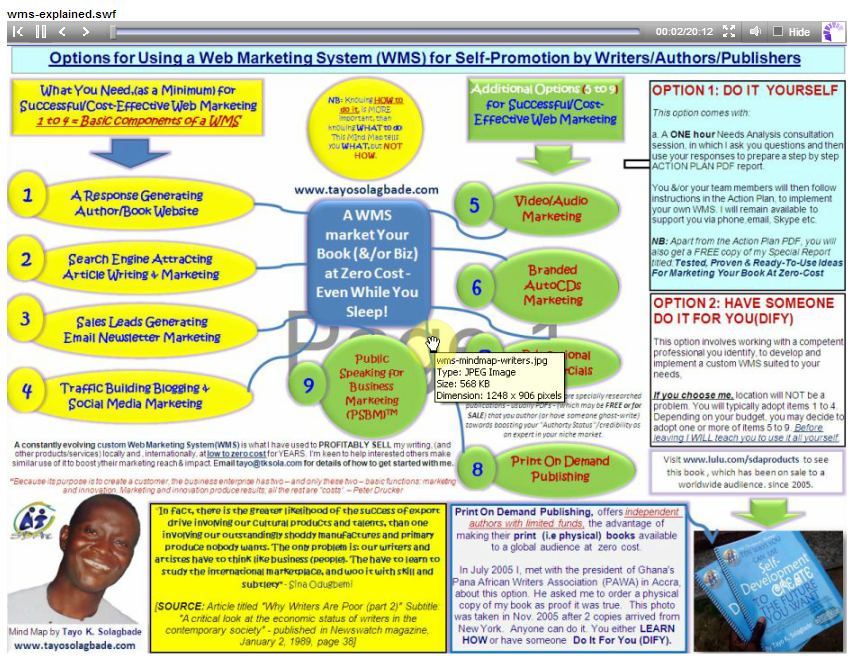 Signup and get 1 YEAR Web Marketing Support & Coaching for YOUR Business (FREE)
Specifically, I will....
a. Build a branded Joomla website (like mine), as well as a branded Wordpress blog (like mine),for you, with promotional content obtained from you (including photos/videos) - republished to social media [Terms Apply e.g you purchase domain/hosting with me]
b. Setup a branded Flagship Facebook business marketing page for you (like mine) and maintain it with articles and other promotional content auto-published from your blog/website.
c. Incorporate subscription forms built in to a and b for potential client recruitment.
d. Design and broadcast - on your behalf - a branded monthly email marketing newsletter (like mine) to subscribers, with promotional content obtained from you.
I will do ALL the above for you, for ONE full year, at ZERO cost to you, including making any updates you request/we agree on, to the content on ANY page of your website, blog, social media page etc.
Building and Promoting your brand ONLINE & 
OFFLINE
In this area, using your Web Marketing System from 1 above, for leverage, I will....
a. Seek out potential clients offline and online, who fit your target audience profile, Send out direct mail pieces to potential clients/buyers I identify, and make offers to them in liaison with you.
The purpose is to boost your name/brand recognition and possibly generate dales leads/enquiries.
b. Create promotional materials (e.g. flyers etc) detailing your offers, and send to you digitally, so WE can circulate them to persons fitting your target audience profile.
NB: I can also arrange for physical circulation in certain localities using my resources. You cover expenses etc.
c. Use bulk SMS to send sales offers on your behalf, to potential clients or buyers.
I Will Search For, Identify and Send Potential Clients/Buyers to You. BUT, You WILL NEVER Have to Pay Me for doing so!
In other words, I WILL NOT be a middleman or agent. You get to keep ALL your profits.
That means you benefit from my full sales and marketing support both on and off the web, as described in above, at ZERO COST, for ONE FULL YEAR while LEARNING from me via my Sales and Marketing Coaching!
Why am I willing to do ALL this?
It's because, I KNOW that if my clients DO NOT win buyers/clients using what I setup for them, I may not be able to either brag about them or even do repeat business with them, since they will not have funds to spare to invest in any new solutions I offer!
As you can see, it is therefore in my best interest to support YOU in any way I can to succeed!
The beauty of this special end-of-year offer to YOU is:
1. You get to pay even less than the required fee for accessing my Web  Marketing Support Service.
2. You actually get to eat your cake and have it, because joining my WM4CEOs Club gets you my Monthly Web Marketing Support Service (which other clients pay N25k per month for) at ZERO COST!
NB: I never make idle claims or promises. So rest assured that what I say here is what I will deliver to you.
I look forward to welcoming you as a WM4CEOs Club Member/Client.
What is the required investment to signup?
The required investment is N150k
(Yes, I call it an INVESTMENT - because, as  many of my clients have discovered, you REAP the returns many times over).
I will have conversations (via phone, email, Whatsapp etc) with you to help you master using what I setup online for your potential client recruitment.
After setting up items 1 to 4 shown in my WMS mindmap for you, based on www.your-website-name.com I will do everything else described above for you at NO EXTRA CHARGE.
Payment options
1. Pay N100k at once (you save N50k)
2. Alternatively, pay the N150k fee in installments as follows
a. Pay N90k to tie down the offer
b. Then pay N30k every 30 days for 2 months to pay up the balance N60k.
WHERE DO YOU MAKE PAYMENT TO?
Payment details will be emailed to you when you submit the form below.
If/when the offer is taken down, the required investment reverts to N200k.
REMEMBER: You only pay once, and I begin to provide you ONE YEAR of FREE Web Marketing Support as described above
FACT:
You cannot FIND anyone with MY level of proven Web Marketing expertise, willing to do this

, for you, ANYWHERE on the planet, at the PRICE I'm offering it to you!

Click image below to view large version, in which a client and 2 proven experts comments about me are reproduced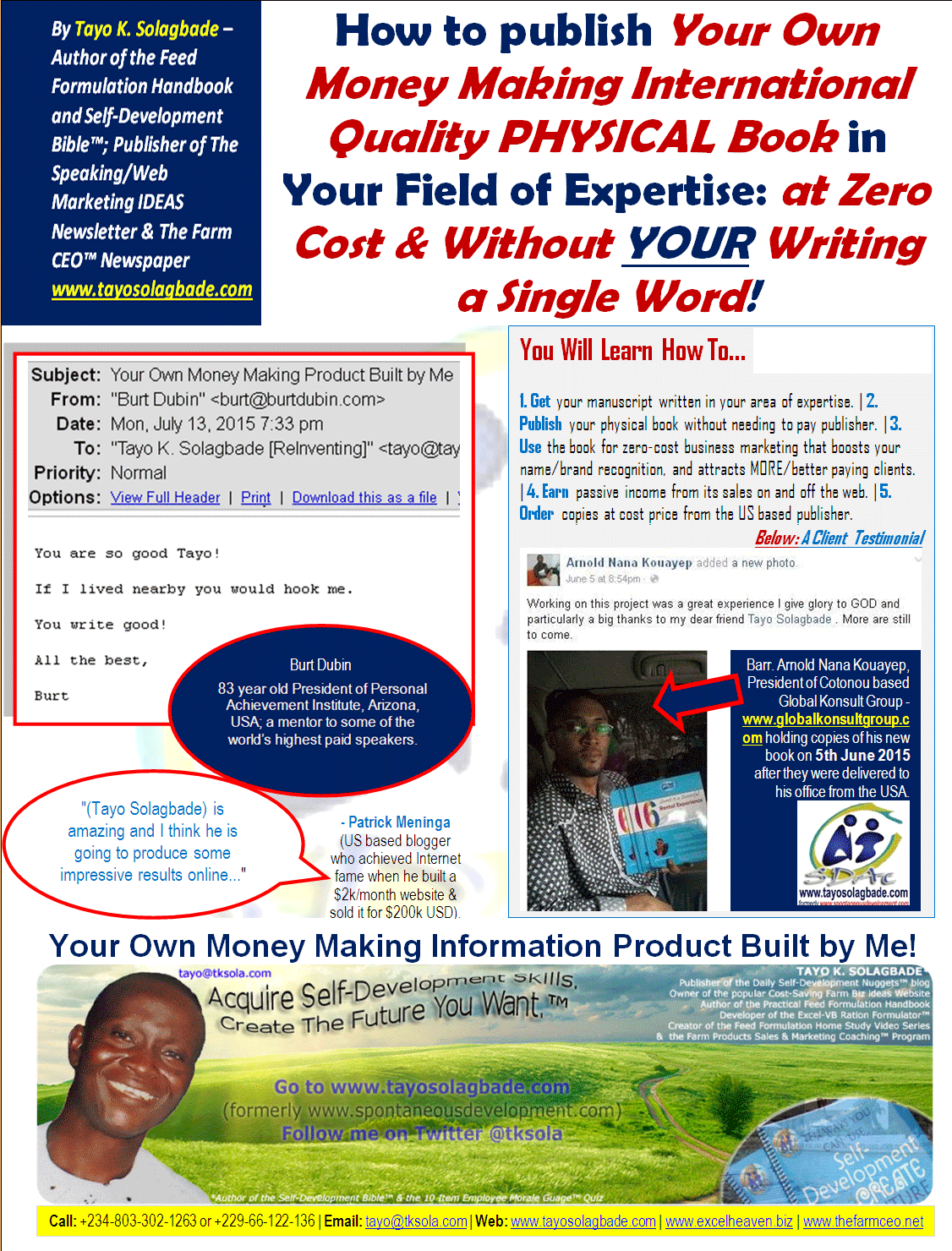 From: (Client name/email address removed for privacy)
Date: Thu, Sep 7, 2017 at 12:31 PM
Subject: Re: [AUDIO MESSAGE] Your WMS - What Happens After The One Year Support Period Expires for www.xxxxxxxxxxxxx.com (A Heads-Up Message Lol!)
Yeah! Mr Tayo,


Thanks for the audio,and the general evaluation, which,I must sincerely say,it corresponds, with mine too.
Yes! There has been a tremendous improvement, so far,in the perception, of my brand,before viewers,which I'm comfortable with,though,I need more improvement,as we move further,leveraging on your expertise, as usual,which I believe, its most ideal for me.

<
Join my Web Marketing for CEOs Club: The insights I offer alone will make connecting with me on this offer well worth your while.
I say this because you came to me via my Web Marketing System. So you have already experienced what it is to be on the receiving end of my marketing efforts.
That's the power I now offer to put at your disposal to generate sales leads for YOUR business!
Start by submitting the form below to let me know you want to join. I look forward to working with you.
Tayo K Solagbade