[Update – 25th June 2018: 6. Use Whatsapp On Your PC/Laptop Browser: I now use an Android Smartphone to do the stuff described below, and LOTS more e.g Providing interactive coaching to clients via private Whatsapp groups like the one in the screenshot below, for my Web Marketing for CEOs club. Note that the screenshot was taken from my Laptop screen interface i.e. I use an browser app extension that allows me to connect Whatsapp from my phone to my Laptop and use it from there, in a synchronized manner. That way I need not go back to the phone, if I'm busy on the Laptop. For me, that's a major time/effort saving convenience that does wonders for my productivity!]

Click the screenshot below to view larger version in a new window…

==========
In my new ebook titled "WHY YOU KEEP FAILING TO ACHIEVE YOUR WRITING GOALS! – 10 Habits That Are Holding You Back, And How To Change Them For Good!" – published on 31st October 2012, I mentioned that 80% of my website content updates were done from my Blackberry Smart phone at the time. As of 3 weeks ago, I estimate that over 90% of my content updates now happen from my mobile device. So I rarely need to carry my laptop with me to keep my updates going. To provide some perspective, below are specific examples of tasks I get done more productively using this approach :
1. Text, Pictures, Videos, Html code Updates On My Websites/Blogs
I've found pictures I took with my smartphone useful for illustrating a point or two on my websites or blog posts. And I've created images using Photoshop on my laptop, that I then transferred on to my smartphone, from where I inserted them into a web page or blog post. Most of my sites are based on either of two popular database driven Content Management Systems (CMS) i.e WordPress and Joomla. And that's what makes doing the above possible. I regularly make all sorts of updates via both CMS from my Smartphone – including adding pictures or images via an Add New Media browser dialog. I use this interface to upload and insert pictures into a post.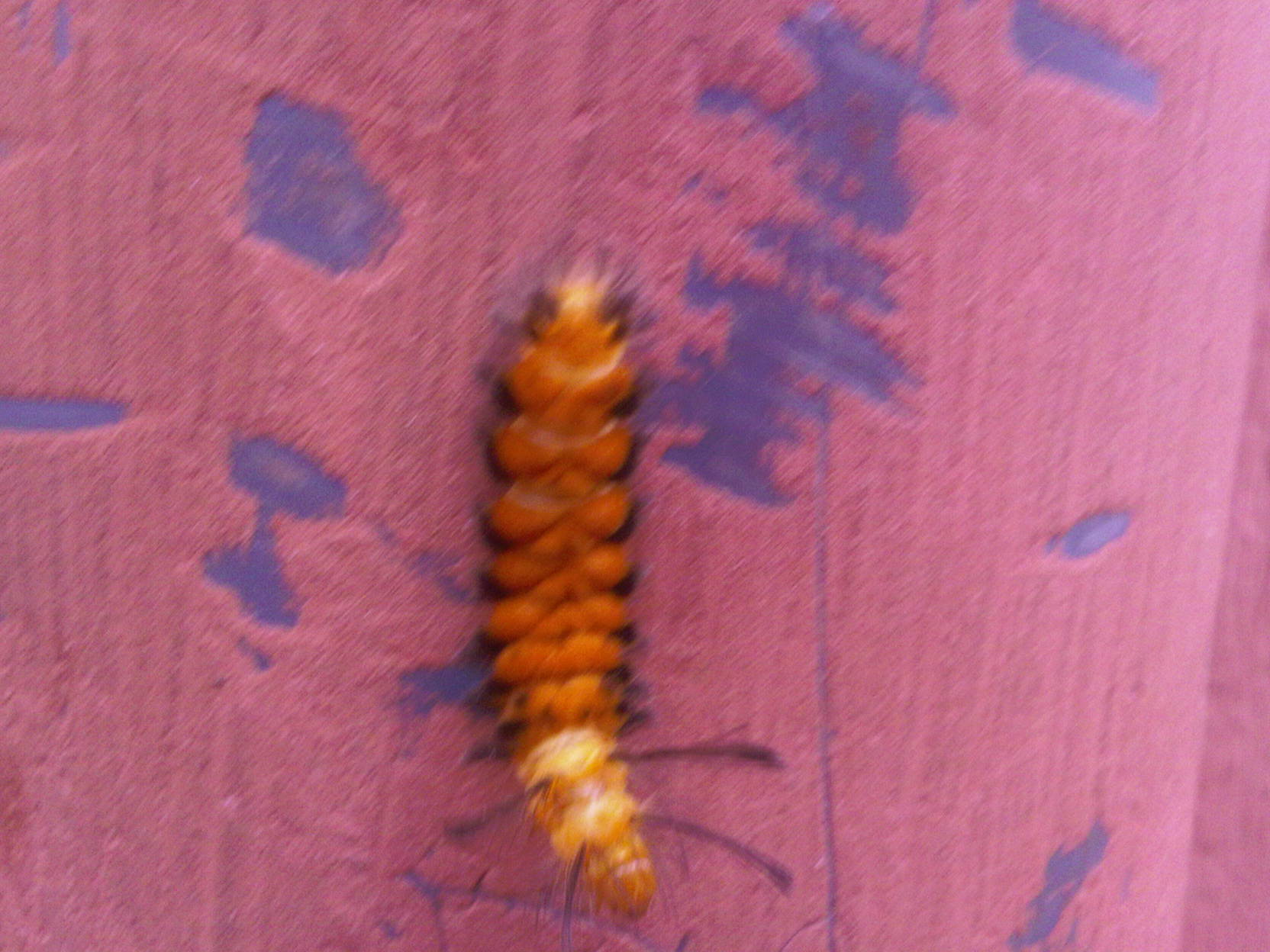 Above: Pix of Caterpillar taken by my kids. But I must say that WordPress has proved itself to be easier to manipulate with predictable results using this mobile interface. Add to the above the fact of Joomla's significantly steeper learning curve, and you'll understand why I now lean more towards using WordPress for my work. And I generally encourage my clients to do so too.
Over the past 3 weeks, almost every single post I've published here on this Self-Development Nuggets blog has been TYPED in its entirety on my Blackberry smartphone: In case you're wondering, that includes THIS post you're currently reading. And I mean every single character, including the opening and closing tags for the subheadings and other html formatting you may be seeing right now.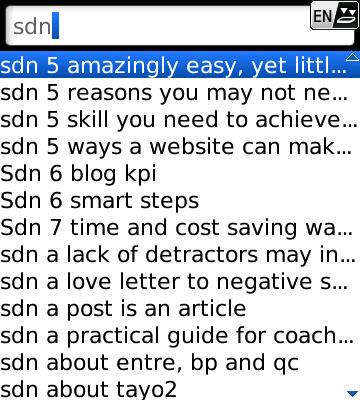 Above: Screenshot of draft articles list in the memo pad interface on my smartphone. That naturally implies one needs some knowledge of basic html and a little resilience in typing on the tiny mobile device keypad!
But that's not necessarily so. You see, I choose to work like this because I've found it suits me. I'm able to keep my writing smarter and less wordy because of the limiting typing interface. However, you can always do all the writing and formatting of your content (including embedding pictures and videos) in your regular html editor's design view. Once you're ready to publish the post, you'd simply highlight the entire body of content with your mouse, then switch to code view and click "copy" to store the html equivalent in your PC's clipboard. Next you'd open a blank notepad file and paste the copied code into the text file. Then save it into an easy to access folder location in your smartphone (this step requires that you physically connect your mobile to your PC using a data cable. Or you could send the text file to the mobile using a bluetooth connection if both devices have that feature).
You'd then open your administrator interface on your blog, and click "Add a new post" for example. Once that edit window opens, you'd simply copy and paste your new post's html contents into it, add a title, choose the category, and fill in the SEO details etc, and click publish (or edit to schedule for publishing at a later date or time). Within seconds your new blog post would be live

NB: Sometimes adding the images or pictures directly from phone to webpage or blog can for some unknown reason fail to go as planned. When that happens, I simply browse – still on my phone – to an upload form page on my main website. Using the form, I would choose the image from the relevant folder on my phone, then click upload to store the image to a folder on my webserver. Next I'd use the image URL emailed to me (within seconds of the upload) by the CGI script that powers the form, to add the html image embed code referencing the image on the server into my blog or webpage. Then I'd click the SAVE or PUBLISH button, and the image would appear as required.
2. Social Media Updates Publishing
By setting up my Twitter and Facebook accounts to "talk to each other" I'm able to publish updates to both at once either way. And because my LinkedIn account is linked to my Twitter account I actually get to publish to all 3 channels at once, anytime I share my updates from LinkedIn. Since I have mobile apps for each of the 3 channels installed on my phone, you can imagine how easily I'm able to publish updates about my blog content to them right from my phone. Incidentally RSS Graffitti, a popular Facebook plugin also automatically publishes every new post I add to my blog, to every Facebook page and profile I've set it up on. So that provides a backup update publishing of sorts.
3. Web Marketing Tasks Implementation
Regular readers will know that I constantly refer to my dependence on a carefully crafted Web Marketing System, which helps me cost-effectively generate high quality sales leads for my various products and services. One way it works is that anytime a potential buyer takes action to request more information about a specific offering by submitting a request form, I instantly get her enquiry on my phone via email push technology. What this does for me, is that I no longer have to go checking for emails that have arrived. Even better, I don't have to worry about missing emails that get sent into the spam or junk mail folder by an over-aggressive email filter. Before I began using push email, the foregoing sometimes had me arguing with a client. One one occasion, a client repeatedly insisted he had sent me an email few days earlier, and I equally insisted I'd not seen it.
Then one day, weeks afterwards, I checked my spam folder, and there it was!
But that's not the only advantage I enjoy from using my web marketing system on my phone…
Each request form on my website caters for a particular product or service enquiry. I therefore took care to configure all the forms to deliver the enquiry via email to me using a unique subject line that lets me know – even before I open it – which product and/or service the enquiry is about.
Now, to save time and effort in responding to each email, I use a CGI script that delivers a specific custom message for each form to the submitter's email address within seconds. Then, to follow up, I have pre-written boiler plate messages stored as individual memo pad files on my Smartphone for each enquiry. Within a few minutes I'm able to insert names and other unique recipient details to the template.
And I then copy and paste, into the reply window, to send to the enquirer. Because I've prepared virtually all the information I need to make my responses in a ready-to-use template, it often takes me relatively little effort or time to make all of the above happen, from anywhere I am – even when I'm on the move! Without access to the powerful features of a smartphone, doing this would not be as easy, convenient or timely.
4. Streamlined Bank Transactions Updates Tracking
Like I've stated elsewhere, due to limiting infrastructure in my society, I have to provide traditional (cash) payment options for local buyers – just as I offer more up to date and convenient channels for international buyers. In the past (i.e for local payments), I depended on getting mobile phone SMS alerts for deposits into my bank account by buyers. Each alert attracted a small charge from the bank to me, and depending on how active the account got (for both withdrawals and deposits), that amount tended to add up at the month's end.
I naturally wanted an option that did not deplete my bank balance in any way, hence my adoption of email alerts

However, a more compelling reason I had for choosing email alerts, was the inherent difficulty of keeping track of the bank alerts sent via SMS. There was also the greater possibility of SMS storage space outage on a busy mobile phone used for business. As a result of the above considerations, the option of getting instant ZERO cost email alerts on my smartphone has remained a preferred alternative for me. Making timely payment confirmation and fulfillment of orders has become easier as a result of the above. And that has greatly enhanced smooth interactions with local buyers.
5. Browsing 50% Cheaper By Using My Smartphone As A Modem
Do you own a smartphone and still invest in routine cyber cafe visits to do your browsing? Or do you make heavy monthly Internet browsing data purchases to use a wireless modem (which you had/have to buy) for browsing on your PC? If you said "yes" to either of the above questions, then this last point could help you save a huge chunk of the money you've been spending to get your browsing done.
Since November 2011(over a year now) I have used my Blackberry phone as a tethered modem for browsing on my laptop. During this period I have successfully carried out ALL the tasks I normally used to do on my Starcomms wireless modem and in cyber cafes without problems of any sort. And that includes adding video demonstrations (80MB to 140MB) for my Excel software guides and demos to my Youtube channel.
Click the preceding link or Youtube icon below this post to watch some of them. This has helped me cut down my monthly expenses by about 50%.
IMPORTANT NOTE: I must make this observation that it's not been rosy all the way. Over the last 3 months or so, I've however noticed a significant drop in the connection speeds delivered by Etisalat, my ISP. Despite my complaints they've not been able to impove the performance. So I'm looking to see if any of the other providers can do better on a long term basis. Having said that, you will agree with me that THAT problem is not due to my use of the Blackberry as a modem. It's due instead to poor connection speeds from my ISP.
So except for video uploads which now rarely succeed, I still use my Blackberry modem to meet all my heavy duty browsing needs on a routine basis. And the time, effort, convenience and cost savings STILL remain very substantial. No exaggeration. I won't say much more here about how this is possible, since I already have a page on which I excitedly shared this massive cost-saving alternative many months back. So just click here to learn more .
Final Words
If you plan to make the most of yourself in your personal and business life in today's world, you must explore the benefits derivable from using your smartphone in the ways I've explained above. And that's just for starters. There's so much more you can learn, that will make you superproductive. You only need to be ready to learn. If you are, I can help you implement a self-directed private learning program that will take you as far as you're willing to go. Send me a message using the contact form on this blog with details of your needs.