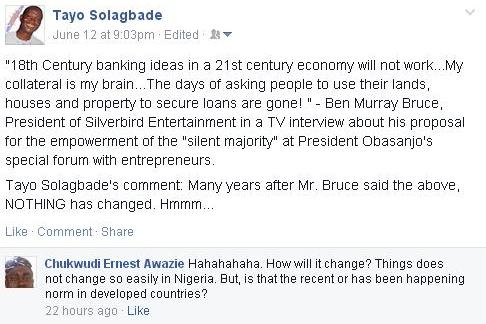 The above screen shot shows my Facebook post quoting Ben Murray Bruce, President of Silver bird Entertainment as saying: '…My collateral is my brain…". Basically arguing that financiers (individual or corporate) need no physical collateral from people with "bankable ideas".
I saw his point, and agreed with him.
However, like I said in my post (and as the comment of a friend –Chukwudi Ernest Awazie – indicates) nothing has changed since he said those words, about 10 years ago!
But a question Ernest inserted right at the end of his comment got me thinking…
He wrote:
"…But, is that the recent or has been happening norm in developed countries?"
That question inspired me to write THIS article.
We need to appreciate how things we struggle with, WORK in other climes, to understand what we CAN do in our world, to make things work better.
Virtually every word that follows below was typed on the small keyboard of my Blackberry Pearl 9105 smart phone, under 20 minutes.
I did not stop till I was done. If you are familiar with that phone, you know it does NOT allow for two-handed typing.
That should give you an idea of how INTENSE I was in putting this together. I simply could NOT bear to wait till I put on my laptop!
Hopefully, you'll find this to be useful reading…
Maybe I'm asking for too much from Nigeria, it's people and the organizations they run.
You see decades ago, in developed societies. Even before Thomas Edison's time, "Bankable Ideas" had ALWAYS enjoyed access to ready financing.
People who had such ideas earned the recognition and support of those with access to what was/is aptly called "Risk Capital".
How else do you think Edison managed to keep going "trying" many different experiments and failing for so long before breaking through?
E.g. Until he discovered the tungsten filament that made his invention of the light bulb possible?
Remember that he had to maintain a lab, with equipment and staff to pay salaries too.
Without funding, he could not have gone far.
Note also, that Edison only had a few months of formal schooling. So that would have been a handicap of sorts at first!
And since he had not yet succeeded in a major way, at the time, he had no serious claim to fame that could have gotten him funds.All he had were his ideas – and the practical purposes to which he applied them for ALL to see!
With courage, and persistence he proceeded.
The people who went on to back him were not bankers. They were mostly wealthy individuals or groups, who saw an opportunity to grow their fortunes via mass marketing profits, if his idea, that they saw had useful potential, worked.
And it eventually did.
Those financiers were not eternally patient either. Some complained whenever they felt "results" were taking "too long" in coming.
One account I read has it that Thomas Edison once told those not comfortable with the rate of progress, to feel free to pull out.
In other words, he wanted them to be in it for the long haul, like he was. They had to be willing to trust his judgment, and genius.
His famous statement (below) was made when an associate suggested there was no point doing more experiments, since he'd not gotten any results:
"Results! Why man, I have gotten a lot of results! I know several thousand things that won't work."

(Source: http://quoteinvestigator.com/2012/07/edison-lot-results/ )
Talk about keeping the right perspective about what you're doing. That's what Edison did that made him so successful.
Those who stuck with him reaped the rewards for their patience.
Without "Risk Capital" invested in the idea from "Edison's brain", the light bulb we all take for granted today, would not exist.
Who knows, we would probably have continued using some advanced "lantern" of sorts!
Everything I've Said Above Also Applies to Edison's "Rival" of Sorts: Nikola Tesla
Tesla achieved fame and recognition for his achievements in electricity generation – filing an impressive number of patents under his name.
I've used lots of anecdotes from Edison in past articles. This article offers one or two from another man who used his "brain as collateral".
Below is a screen shots that shows an excerpt of how Tesla went from being penniless, after losing his company, to starting a new company, and going on to even greater successes.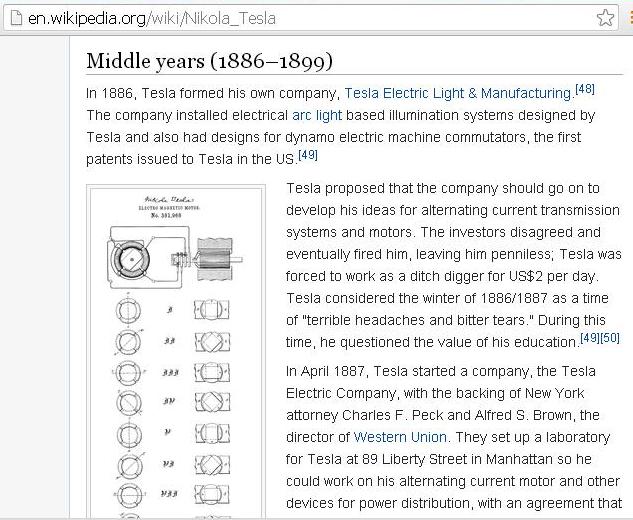 Note that during the "interval" before he found new success, he had to actually WORK as a ditch digger, for $2/day! He was quoted as having questioned the value of his education during this period.
Dear reader. I believe I know what Tesla felt to have made such a comment…
Some of my entrepreneurship talks involve telling my audience how I developed a near hatred for "traditional schooling" during the really dark YEARS I endured as a startup in NIGERIA.
Today, I've channeled that "anger" towards re-orienting all who will listen, about the need to augment what one learns in school, with practical lessons about what it takes to survive in the real world.
Click here to read an absorbing Wikipedia account of Tesla life history.
As you read it, notice the common theme of how with each loss or setback he suffered, Tesla he simply reused his "brain" as collateral to attract funding to enable him bounce back, continue work, or take it to the next level.
That's what Ben Bruce was referring to!
Thank heavens for "Risk Capital" and the great minds that have been granted access to it!
A lot of today's wonderful man made innovations and inventions would never have seen the light of day, without them.
Note, in the screen shot below, how ONE wealthy individual on his own "invested" a hefty $100,000 (One Hundred Thousand Dollars) with Tesla.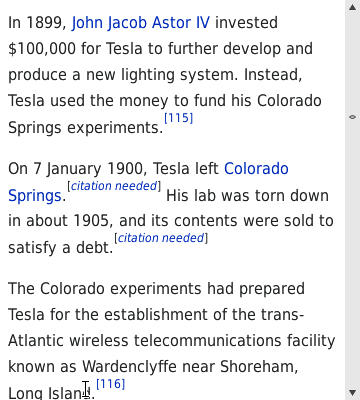 This was apparently for pursuit of further research work in a specific area the giver hoped to reap benefits.
Sadly, Tesla diverted the funds into a new project he was working on. But the point being made here is that Tesla's brain was the only collateral involved in that exchange!
The above shows that people of means can be won over, by an individual's demonstration of COMPETENCE and PASSIONATE COMMITMENT to a cause.
And when you combine all that with being (what I like to call) an "Ideas Generator" and "Genius" – which both Edison and Tesla epitomized, it will rarely matter how badly you fall.
Your reputation would basically speak for you!
You will be most likely to subsequently find people willing to give you the money you need without asking for ANY collateral to secure it. That is of course, IF you do as Edison suggest by not giving up, and PERSISTING instead!
If you're someone looking for financing or other forms of support for your idea, take note of what I've said above.
It's the key to "attracting" and winning over those who can help you.
Entrepreneurship continues to flourish in most developed societies across the world up till THIS DAY, for the above reason.
In other words, it is still happening.
People with bankable ideas are still getting financing they need without using physical collateral.
The PC and Internet technology revolution has even taken it to a whole new level!
It's now really up to every society to make the most of what's obviously possible.
Do your research and you'll see that what I say is true!
Interestingly, this also happens here in Nigeria/Africa, but not on the scale that it would have the incredible wealth generating impact that it does in places like America. Out here, the examples are few and far between.
I can say this because it has happened to me – as an entrepreneur – over the years.
But it has always been on a much smaller scale, that it could be.
Why?
Because we are basically, we are too risk averse for our own good.
Only when that changes will we – as a people – reap the fortunes of innovation and creativity that other societies we wish to emulate do!
In Nigeria/Africa, wealthy individuals, and businesses/finance houses that have funds, need to look out for good ideas to invest in, like their counterparts in developed societies do.
And when they find them, they need to apply the thinking described above, which has helped developed society produce the world's top entrepreneurs, who in turn now create wealth for their economies.