Apart from attracting new members to join your group/organisation, this offer can make your existing members value their membership more.
Plus it can actually earn the body extra income at zero cost.
Interested persons can reach me using details provided below.
Click here to download the generic one page flyer that spells out details of my offer.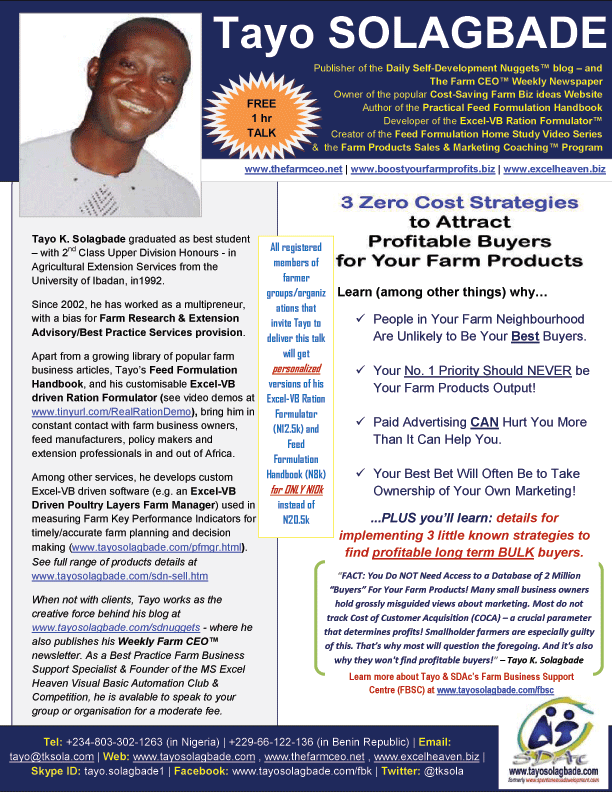 What I propose can benefit your group/organization in multiple ways:
1. My FREE talk offers useful information/education about how to sell farm produce more profitably and in a sustainable manner.
Your members will greatly appreciate the extensive experience based knowledge and insights I have to offer.
2. I offer my popular Feed Formulation Bundle at a huge discount (over 50%) to registered members of every group/organisation that invites me to give the above FREE talk.
A. You can use that to attract more people to register/join your organization I.e if they join you, they get to pay over 50% less than they would, if they bought directly from me: see normal prices at www.tayosolagbade.com/sdn-sell.htm
B. You can also use this hefty discount benefit to boost the prestige/bragging rights of your existing members, making them value their membership more – and they would tell others.
3. What's more, your organization/group can also earn additional income if up to 50 or more of your members order my Feed Formulation Bundle.
Contact me for details about this – click here.
Let me know if you'd like to take up this offer.
Note that the organisation inviting me to deliver the FREE talk will cover relevant costs (transportation etc).
I can be reached on +234 803 302 1263 (in Nigeria – where I'm currently with my family) or +229 66 122 136 (in Benin Republic – which is my base).
IMPORTANT NOTE
Before you call me, you need to first of all click here to send me a formal notification with your full details in my website request form – click here now.