Here's my key guiding philosophy as a Best Practice Parenting Practitioner & Advocate:
"If I fail as a parent to my kids, I've failed in life. A parent is meant to share his/her experience based know-how in a way that gives kids EQUAL or BETTER preparation (than s/he – the parent – had), to succeed in the real world. Any parent who does NOT do that, has failed…no matter how successful s/he may be in his/her personal life!" – Tayo K. Solagbade
The only parents who MAY disagree with what I say here, will be those benefiting from the problems I highlight in my discussion – and they happen to be the majority in the Nigerian society.
I however have no thoughts to spare for them. They will be rewarded by the creator for failing in their parenting duties to help the kids entrusted to them achieve self-actualization. And when – NOT if – that happens, I will shed no tears on their account.
I call myself a Location Independent Multipreneur because I RARELY need to physically meet clients to serve them
In other words, I do virtually nothing for my clients that I cannot do remotely from any location I choose to be – as long as I have web connectivity.
The major reason I prefer staying in Benin Republic's Cotonou, as I've said in past articles, is that my spreadsheet based estimates clearly tell me that it costs me 3 times LESS to work from there, compared to Nigeria's Lagos – and it's also a more conducive sociopolitical environment e.g. I can walk around at 3a.m without fear of getting mugged etc.
But a recent review of my absence from home, especially when I stayed away for over 6 months at a go in my first 2 years in Benin, revealed a parenting problem I knew I would have to address.
When I relocated from Lagos to Cotonou on 1st April 2013, it was to reinvent my brand to fully establish my Web Marketing System in a way that would enable me generate 80% passive income.
Within 6 months to a year, Benin's steady power supply and conducive socioeconomic situation enabled me do the quality and volume of work that enabled me achieve the critical mass of quality content to attract pre qualified prospects for my products/services.
Today, that system continues to work for me, and I've even survived a poaching of the 9 year old domain I started with (spontaneousdevelopment.com), to take it to even higher levels of productivity in terms of buyer recruitment and sales.
The above progress has since made it easier for me to travel with more frequency, away from Benin, and to stay longer periods before going back. My system continues to generate leads for me, regardless of my physical location.
If there was ever a time I needed that advantage, it has been between last year and now.
You see, I discovered that the impact of my prolonged absence as a father, from my kids (I have a soon-to-be 17 year old, who 2 other teenage brothers, along with 2 sisters – 10 and 7 – as well as a 2 year old brother)…was showing up in them via wayward behaviour, and a scary lack of appreciation of what awaited them in the real world of the society they had been born into.
What I saw convinced me I needed to devote deliberate time and effort to COACH and TRAIN them – to develop the right character and more importantly, to develop the SKILLS to function as independent minded, competent income-earning adults in society.
Considering the decay I've seen out here, I realize that what sets me apart from the crowd is what I must give my kids: And THAT is my strength of character and versatility in earning income.
That's why I decided that I would begin staying home longer to coach my kids – especially since my plans to bring the family to join me in Benin was still work in progress.
The Nigerian society has corrupted TOO MANY people I know, for me to make the mistake of NOT giving my kids what they need to RESIST its corrupting influences!
Sadly, Nigeria has too many phony parents raising phony kids! The 2 quotes in the images below confirm what I've said above. They are words uttered in a TV show by a guest and a caller just a few days ago.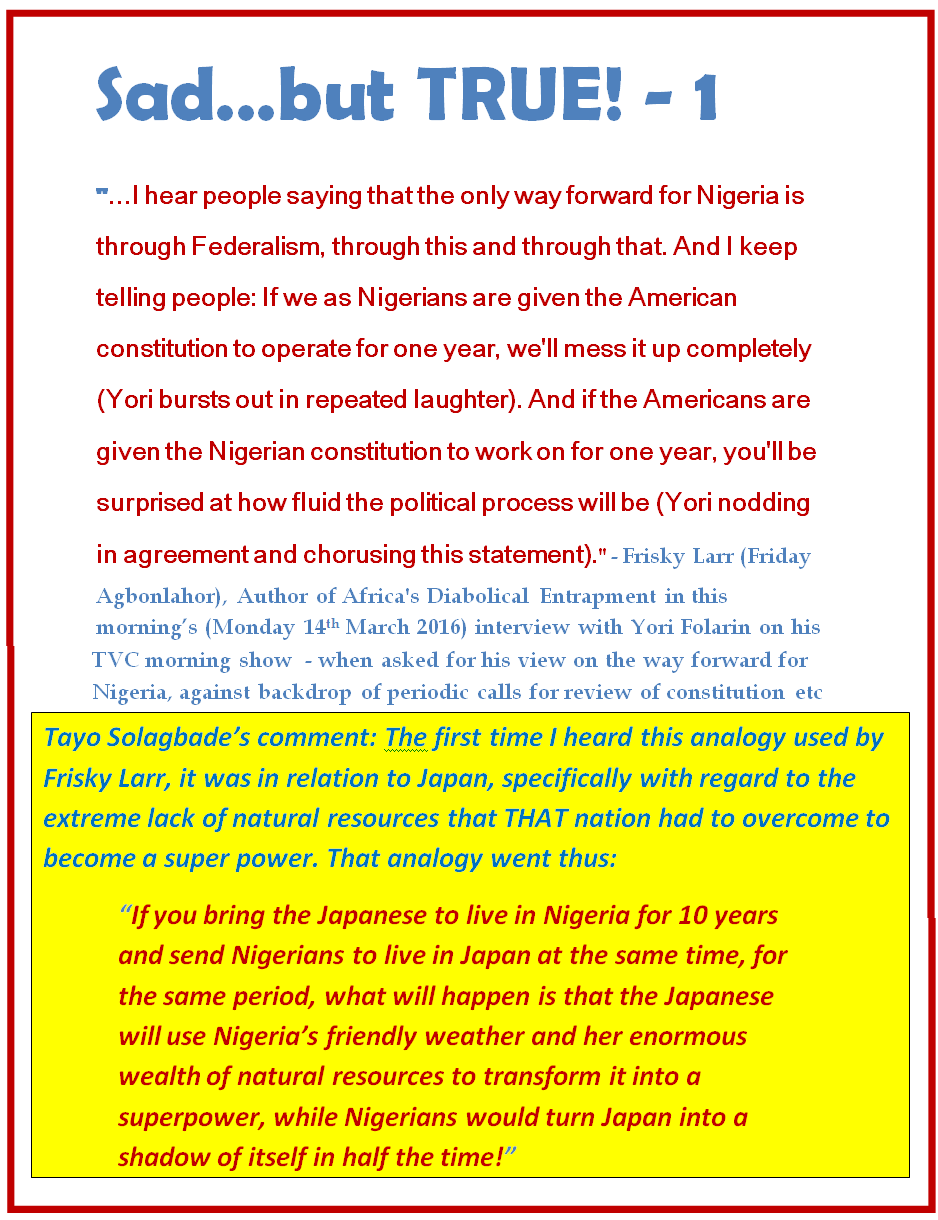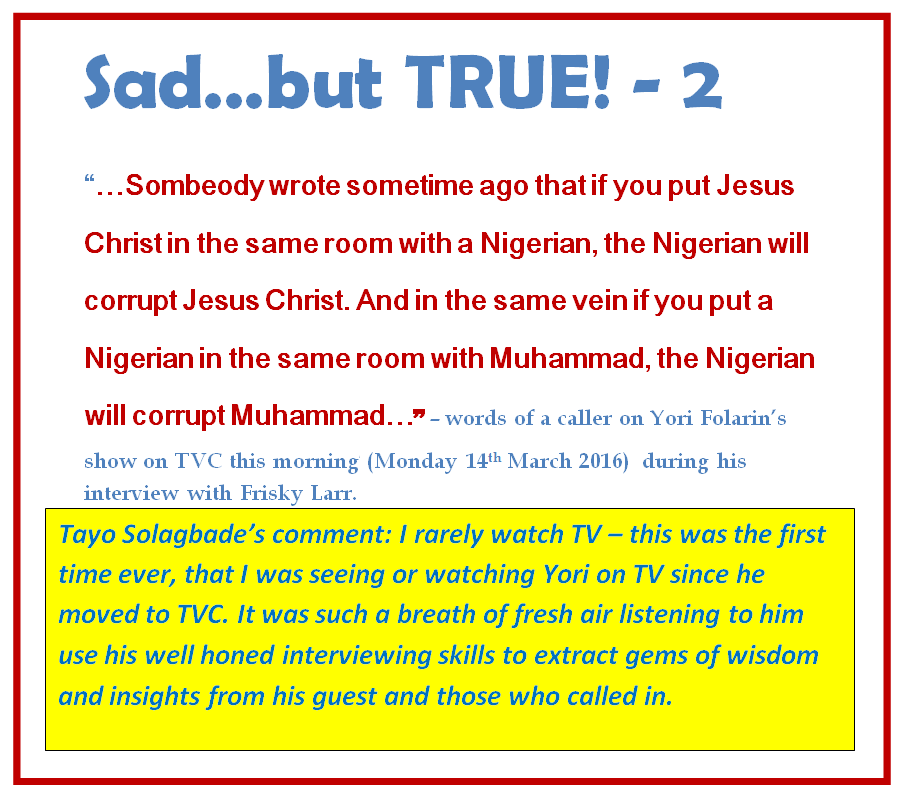 My priority are my kids. I will continue to say that wise parents will take time to read my parenting articles – and use the ideas I offer to prepare their kids to emerge as authentic achievers, and role models, that the Creator himself will reckon with.
I've now gotten my kids their bank accounts – as they have been starting their micro businesses e.g. my 10 year old daughter and her sister are in their 3rd week making cookies, chin-chin and home made bread.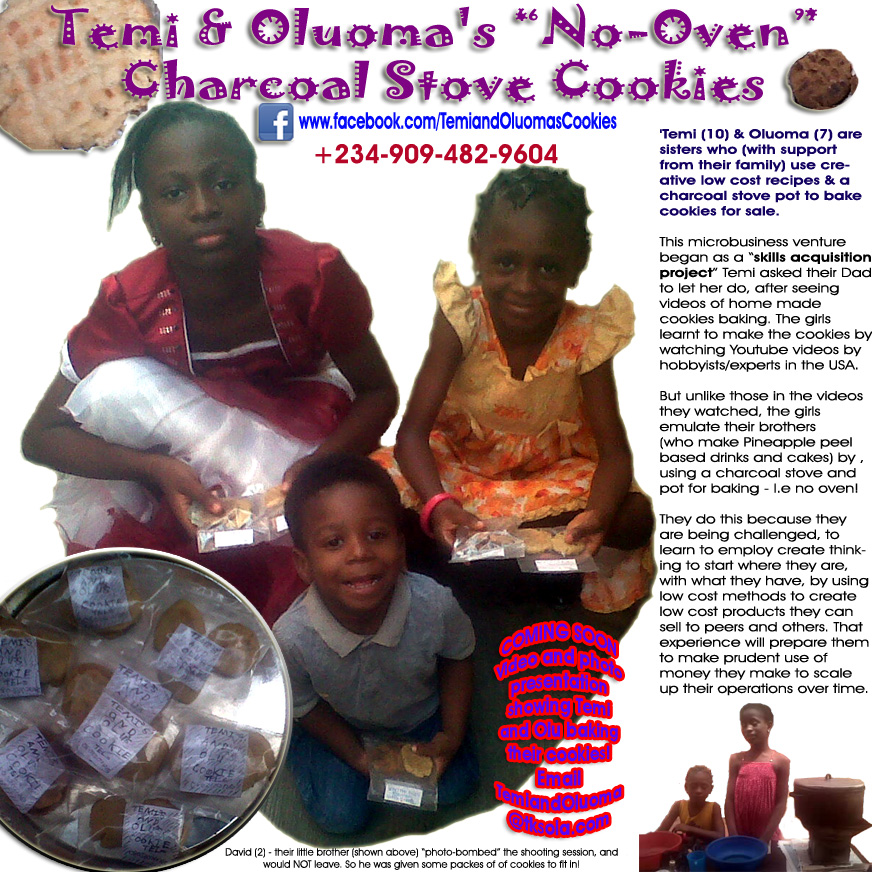 Here's the Facebook page I setup for them(click) and which I've been challenging them to share their "experiences" and true stories on. This is my way of training them to develop thinking and writing skills while internalizing practical product making and marketing lessons they are learning. :
We have now printed labels for them (see below), and use my impulse sealer to seal the packs. Last weekend I went with her to make her second sale in a residential estate they periodically visit to attend a function.

Click here to watch my video recording of the first functional bike he made at his very first attempt just 24 hours after he watched the video.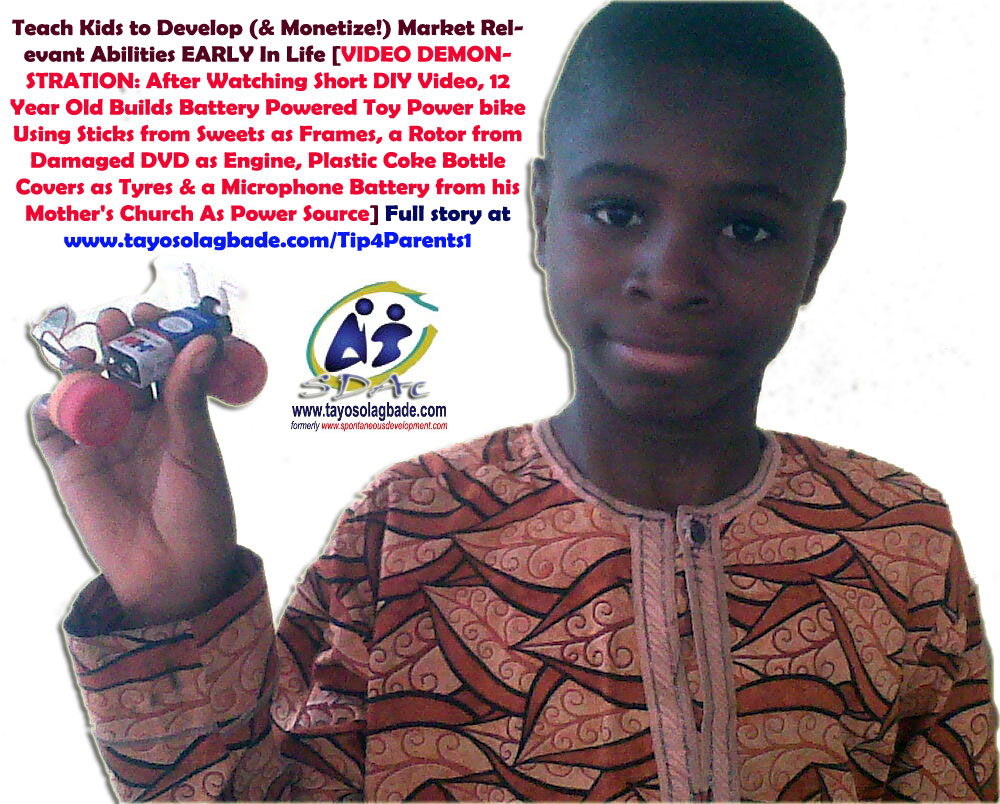 I told him how a small made-in-China toy car that does NOT move was put on sale – for N200 (two hundred naira) – in a neighbourhood shop, and suggested that we explore making painted versions of his for sale to kids, with a a FREE after sales repair guarantee to every buyer.
He bought the idea, and with help from his soon-to-be 15 year old brother, they did a 4 part video recording that we now plan to give out on DVD to kids who attend a practical workshop I want him to conduct, in which he will teach interested kids how to make the bikes themselves.
NB: My 16 year old's blog on a subject he's so naturally gifted about is to go LIVE soon. I've been guiding him to prepare content for it, and the intention is to build traffic and then monetize in various ways.
Indeed, if you've been following my writing a while, you'll have read MANY past articles of other projects the kids have been exposed to.
In case you don't know EXPERIENCING or DOING is the best way for human beings of ANY age to learn.
And when you stir up the interest of young minds in doing and especially CREATING original stuff of their own, that they see can add value to others in a way that earns them financial and other rewards, they WILL embrace it.
I am a PARENT first, and an entrepreneur 2nd. I have completely LOST faith in the Nigerian schooling system's ability (regardless of how "classy" it is!!!) to protect the genius – and build the character – of my child.
Over 90% of the people I see around and interact with, especially in the Nigerian society, continue to behave in DUPLICITOUS (say-one-thing-but-do-another) ways that convince me I MUST COACH my kids to develop the STRENGTH of CHARACTER and skills to defy such 2-faced people!
Back then we had "societal parenting": adults in schools, churches and other areas of society acted as parents to every child with fairness and impartiality.
During that period, when a child failed to pass the promotion exams. s/he had to repeat that class, and his/her parents would accept it as necessary. For those who failed their final year exams they had to enroll for "Remedial Classes" run after normal school sessions, or in private tutoring centres.
And then they returned to retake the exams till they passed. The best part was that when you met such a person who had "passed" exams, s/he often was able to demonstrate competence and proficiency to convince one that s/he indeed sat and passed by him/herself.
All of that is gone now. No one repeats for failing anymore. And today, in place of remedial classes/tutoring centres, we now have those that GUARANTEE 7 distinctions, for instance, at first sitting!!
It's so bad now, and since the majority are doing it, it's VERY hard for kids with young impressionable minds to see anything wrong with it – especially when those doing it are in such numbers that they gang up to manipulate evaluations systems everywhere to get ahead of those unwilling to cut corners.
I say the above because even well schooled persons from "good" homes are increasingly being revealed to readily compromise their values and/or morals often in a bid to get more without earning it.
A culture of intellectual and physical laziness has overtaken us, today, to the extent that those who display a willingness to earn what they get are actually looked down upon as "fools" – or as NOT smart (in Yoruba: "Awon ti o ja si") by majority in the Nigerian society!
That's why I've resolved to stay longer with my kids and give them that guidance. Thankfully, being a Location Independent Mulitipreneur affords me the freedom to adopt this parenting strategy.
I see today TOO many people who think spending money on kids equates to parenting properly.
That's a BIG mistake.
This period of their lives requires the greatest amount of personal attention you can give your kids. Once they leave this phase, your ability to influence them will dramatically diminish!
A Warning: Best practice parenting – of the kind I advocate for adoption here – is NECESSARILY messy!
Yes, I need to end with this warning: nice as the rewards to be reaped may sound, you will need to do a lot of hard, unrelenting work to make it happen!
Don't expect your kids to just fall and stay in line. There will be lots of mistakes, and they will get discouraged and distracted – but THAT is where your role is critical as a COACHING parent.
You must provide the needed guidance, and inspiration as well as support to keep them focused on getting to the desired end!
One example: This past weekend, my girls, with usual support from their brothers, made a new batch of chin-chin, but unlike last weekend, it did not all go well:
1. They used more flour than was specified in the recipe, because they added excess amount of water. The chin chin came out fine, but we knew our cost per pack would be greater. Meaning lower margin gains. (Yep: I've taken them through basic product costing calculations several times).
2. Due to a fault with the generator, the finished chin-chin could not be packed into their N50/pack nylons using the impulse sealer. So we had to keep them in a bowl till the next day (i.e. this past Monday) when the generator was fixed.
I was away from home when the sealing was done, but when I arrived at 9.30p.m, and asked to see the labeled packs, the tray they brought to me had ONLY 5 packs.
When I asked what happened to the remaining chin-chin, all the kids began pointing accusing fingers at one another. Simply put, they'd been eating the chin chin since they were produced, until all that was left could only make 5 small packs – which were even smaller than the ones from the previous Sunday for which we'd used LESS flour!
I was upset, and told my girls I was disappointed in them – then I proceeded to give 2 packs to their 2 year old brother, while I sat down and gobbled up the remaining 3 packs – completing the cycle

But I gave them a pep talk about why letting that happen again would keep them from making sales to grow the money in their bank accounts. I think that got their attention, and I believe we'll go back to our "winning ways" in the next run.
Like I said this will NOT be easy, but mark my words, dear parent-reader: If you do the hard work now, you will end up with kids you have little or no reason to worry about in your old age!
I have helped other people's kids discover their purpose and aim for self-actualization over the years(click to read some testimonials).
It goes without saying that I MUST put this gift I have to the benefit of my own offspring!
The funny thing about "coaching" kids as a parent is that it is a slow – invisible – process, and the results will rarely emerge quickly. But if done right, the child will rarely be in doubt as to how s/he "made it". S/he WILL thank you for your great parenting efforts!