Monetizing Your Expertise – The Full System
This blog announces a PDF outline (and the accompanying 13 minute Educational Audio Podcast) for the 2 part system I develop for clients, who engage me to help them monetize their expertise, along the lines of what I recommend, based on my experience based achievements.
1. Create Cash Flow Generating Assets (CFGA) ™ that make money for you…
(A) even on public holidays

(B) even when you have no client projects in hand

(C) even when you're on annual leave

(D) AND…even when you're ASLEEP!

Option 1:

Learn to Do-It-Yourself from Me…

I tell/show you ALL I know, and then support you via email, phone/Skype, and online chat to get it done by yourself.

Program Duration: 4 Weeks

Fee: N50k

Option 2:

Learn to Do-It-Yourself from Me While I DO IT FOR YOU…

I still tell/show you ALL I know, but you end up with a product ALREADY on sale in both digital and print formats, in YOUR OWN online store.

Program Duration: 12 Weeks

Fee: N150k
2. Create a Problem Solving Client Support System
Learn how to develop a comprehensive system to provide cost-saving problem solving consultancy support to clients in the businesses.

I will liaise with you, to outline a detailed MS Excel based template that is print ready, for use in presenting your client a menu of consulting support options to choose from.

Using the responses given by the client, you will be able to generate a profitable costing of work to be done, that will be easy to justify to the client.

Program Duration: 1 to 2 weeks (depending on availability of required information, and resources)

Fee: N150k

NB: Members of my Web Marketing for CEOs club enjoy the benefit of a lifetime 50% discount – which means they only pay half of the above stated fee for ANY of the options listed.
Click the image below (or HERE) to download and view the PDF outline for this 2 part system offer…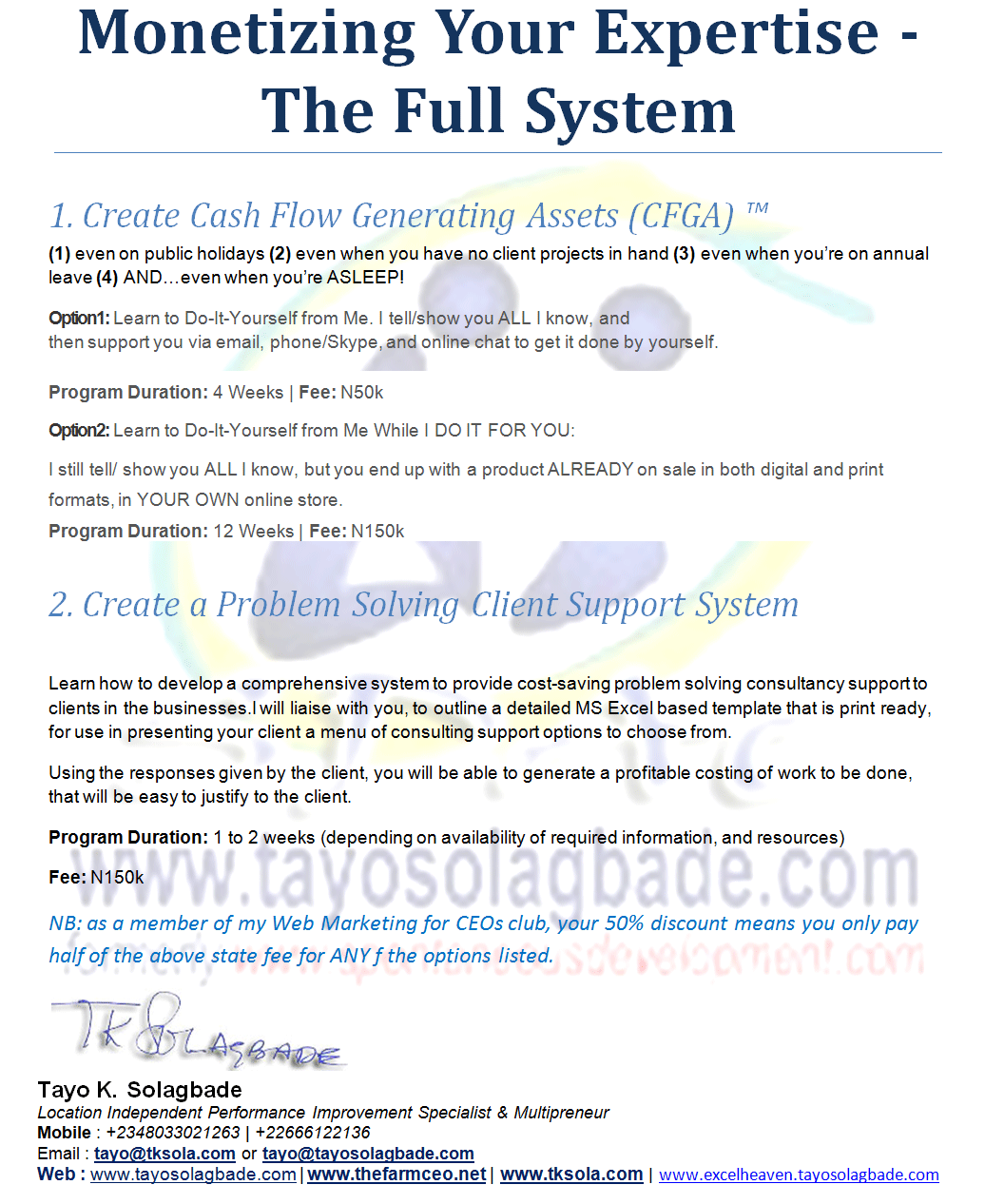 Related Article
Spontaneous Coaching™ Program: Monetize Your Expertise to Make EXTRA Money With LESS Effort by Creating Cash Flow Generating Assets (CFGA)™