Two 2 days ago (on Wednesday 14th March 2018) I got a call from the Ministry of Youth and Social Development.
The lady asked "Is this Mr. Tayo Solagbade?".

I replied that it was.

She then went on to say they had received and read a cover letter and the 62 page version of my Work-In-Progress version of my Best Practice Parenting Report titled "Schooling Is a Means to an End and NOT an End In Itself", which I'd submitted in printed form to the offices of the Honorable Commissioner as well as that of the Permanent Secretary.

She asked "When can we meet with you?"

I replied "Anytime at all you prefer will be acceptable to me."

With that we agreed that I would come in to her office at 2.30p.m the next day (yesterday) and she hung up.

 
Below: Photo of my copies of the 2 letters beside a printed version of the 62 page report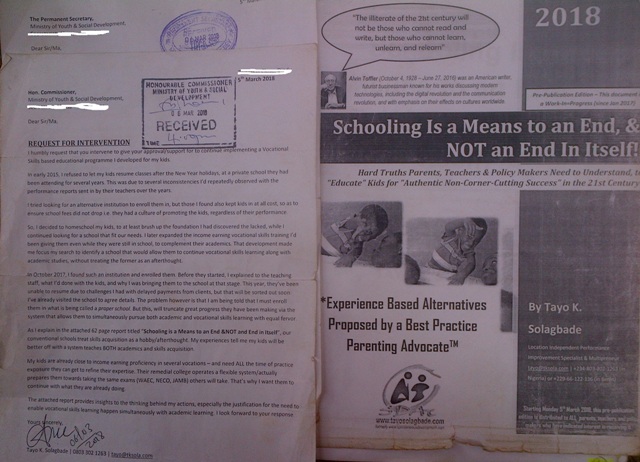 I got to her office about 15 minutes ahead of time yesterday p.m
And I recall having to get past a gatekeeper who initially told me she was out, until I mentioned my name and insisted I was given an appointment by her for 2.30p.m. Then he went "inside" and I overheard her exclaim "Aaaah….". Next thing I knew, he came back smiling and motioned for me to take a seat.
About 10 minutes later, she came out of her office and we greeted briefly as she went out. Not long after, another lady popped her head into the office and asked if I was the person waiting to see the "Director". I looked at the gatekeeper for guidance, and saw that he was nodding that I was.
I got up and walked towards her. She said "So you're the one who wrote that paper – with a look of surprise in her eyes". I replied that I had written a paper that I'd sent in to the ministry, but wondered why I was to see the director and not the lady in whose office we were.
That was when she explained that THAT lady had other assignments to attend and would be represented by her at a meeting that had been arranged for me to have with the Director.
When they Director's name was mentioned, I smiled inwardly, because she was someone I'd met before and had extensive discussions with on the theme of the paper I'd now published.
For me, it was therefore fitting that I was to meet with her again. The first time we'd met in 2015. Back then I'd explained what led to my decision to start homeschooling my kids, via a Vocational Skills Acquisition based strategy, as I searched for an academic institution that would enable them continue doing so, along with their academic studies.
[NB: Full details are provided in my 62 page report, which anyone can request by sending me a message via my Facebook at https://www.facebook.com/tayo.solagbade]
The meeting soon got started and she explained that the "PS" (Permanent Secretary)  had sent her my paper, with the cover letter with notes that she was to invite me for a meeting to discuss the ideas I'd described in my paper.

To start off, she acknowledged the points I'd made in my report about the inadequacy of the current schooling system, and noted that what I had done, by CHECKING what the schools were DOING and taking action to develop an alternative that worked was the way to go.
The following were some of the questions I was asked (as her PA and the Deputy Director on either side of me) took notes while I spoke.
Do you want to government to collaborate with you on this project?
Are you proposing a change in the educational curriculum used by schools in the state? If YES, you will need to contact the Ministry of Education, as we at Youth and Social Development cannot take decisions binding on them(She added that work was already ongoing to review it, but that more could be done as per the issues I'd raised in my report)
We have a parenting support network and we're thinking of adopting your report's ideas for use in that area. Can we invite you to give an experience-sharing talk to parents we work with?
Among other things, she noted that I could take what I was doing to the next level, by doing a summary or abstract to the Deputy Governor for higher level support.
The truth is that most of the questions they asked and the comments they made were consistent with my purpose for writing my paper in the first place. I wanted to ROCK THE BOAT of the Nigerian Educational System as currently run.

Not for any selfish attention getting motive, but for the sake of MANY parents who I believe may not realize how bad the system is for the kids they gladly push through it. The reaction I've seen so far confirms that a desire exists on the part of the policy makers, to do better.

I believe a good number of parents also want something better, for their kids. And if that is so, then the teachers are bound to fall in line and give the other 2 groups what they want: REAL WORLD RELEVANT EDUCATION that works for learners to survive and flourish in life AFTER school!

And that's why I've been GLADLY sending this report to ANY persons who have requested it. Get your copy by sending me a message via my Facebook at https://www.facebook.com/tayo.solagbade]
Note that what I sent to the ministry, and which I offer NOW, to anyone is the 62 page pre-publication edition, so I am still working in more content, and refining it towards final publishing.
However, even as it is now, which is what I sent to the ministry, it offers massively useful volume of information and education for parents, teachers and policy makers willing to study its contents diligently.
Here's an excerpt from the report:
"My parents told me they worked while in school, to pay their way especially through tertiary education. This cannot be bad, because it forces the learner to develop income earning competence in readiness for his/her entry into the real world. Sometimes that competence could evolve into a successful vocation.

Some big names we know today, like Steve Jobs, Mark Zuckerberg, Bill Gates, Richard Branson – all started engaging actively in business while still students in school – some even from their high school days.

The child that is guided to do this can only end up better off in the long run. I think it's a shame that we are being told to spoon feed kids right into the completion of their formal schooling.

My experiences and observations/studies clearly show that it is the wrong thing to do. And that is another reason why I have supported my 8 and 11 year old daughters to venture into various income earning vocations like make-up and gele tying, hair styling, baking of a variety of confectioneries in addition to drinks making, PLUS snail rearing on a micro scale." – Tayo K. Solagbade, Best Practice Parenting Advocate, in "Schooling Is a Means to an End and NOT an End in Itself" – Request your FREE 62 page copy via www.tayosolagbade.com/contact.htm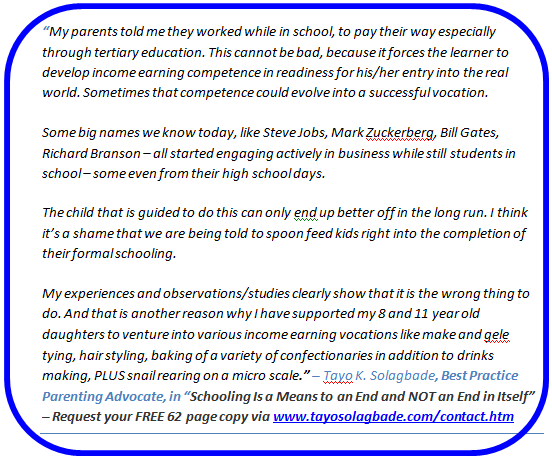 Do you want to get a copy of my 62 page report?
Title =  "Schooling Is a Means to an End and NOT an End It Itself"
Alternative Title = "Why I Do NOT Want My Kids to Get the Kind of Formal Schooling I Got"
Subtitle = Hard Truths Parents, Teachers & Policy Makers Need to Understand, to "Educate" Kids for "Authentic Non-Corner-Cutting Success" in the 21st Century!
Simply send me a message via my Facebook at https://www.facebook.com/tayo.solagbade – and I will send it to you as an attachment via that same channel. For those who do NOT wish to use the Facebook channel, fill/submit this web form.
Below: Screenshot of a page from the 62 page version of the PDF report