Last week, I had an interesting telephone/email based exchange with a lady banker who called about purchasing my "Ten Storyfied Yoruba Proverbs for Children" audio book DVD. It turned out she knew me from way back in 2002, my startup year, when we both served with an NGO as volunteer tutors. In addition to buying my DVD, she had some VERY nice things to say to me, about me, with regard to how I'd influenced her without knowing it.
1. After our phone conversation, in response to my request, she sent in the formal email below, requesting my account details…
===Starts===
From: ", Taiye" @>

Date: Wed, 4 Feb 2015 13:38:54 +0100

To:

Subject: Account Details & Training Calendar

Dear Sir,

Thank you for the detailed update on Yoruba Proverbs. Kindly send your account details to enable me make payment for the book: Ten Storified Yoruba Proverbs for Children.

I plan to attend some personal development courses this year (Excel Sheet, Personal Efficiency et al), kindly forward your Lagos Training Calendar for the year.

Please find below my details for Book Delivery:

Taiye

Bank

Operational Risk Manager

Victoria Island

Landmark: My office is opposite Victoria Island.

I look forward to your response.

Thank you.

Regards,

Taiye
===Ends===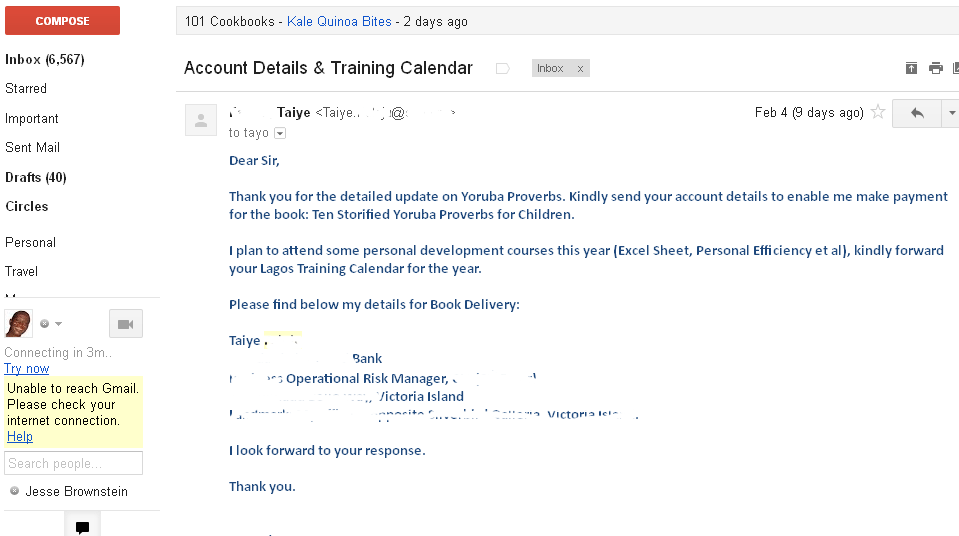 2. Then I replied as follows:
===Starts====
From: Tayo K. Solagbade [tayo at tksola dot com]
Sent: 04 February 2015 14:48
To: , Taiye
Cc: M; Tayo Solagbade
Subject: Re: Account Details & Training Calendar

Hi Taiye,

Thanks for your phonecall. It was great speaking with you.

Find payment details below:

It appears I mis-heard you, when we spoke earlier, as I'd assumed you wanted to pick up the DVD from the address I mentioned.

But from your Victoria Island delivery address, and your descriptive notes, it's obvious you want it dropped off for you on the Island.

2 options:

A. Let me know if it's possible to have it dropped off for you at your Ikeja office – I imagine you have an internal mail system that can get it to you.

B. Include extra payment to cover hand delivery to you in VI by a young man I can send over…or for dispatch via Fedex from here in Ikeja to you.

Note that I'm not sure how much either will be. For Fedex, I've only done inter state dispatches to buyers of my ExcelVB apps across the country.

Lastly, I'll get back to you regarding my On-Demand learning events tomorrow.

Thanks for your interest in my work. It is gratifying to know that you find what I'm doing of useful relevance.

With kindest regards,

Tayo K. Solagbade
Location Independent Performance Improvement Specialist & Multipreneur


Sent from my BlackBerry wireless device from MTN
===Ends====
3. She responded with the email below, seeking clarification on payment details…
===Starts===
From: ", Taiye" @>

Date: Wed, 4 Feb 2015 15:02:44 +0100

To:

Subject: Thank you

Thank you for the kind gesture.

For ease, I will prefer delivery at the Victoria Island Head Office. I plan to include NGN2,000 (if this covers his cost) for the delivery by the gentleman you would send.

§ Please should I credit your account with NGN7,000 being NGN5,000 for the pack and NGN2,000 for delivery? Or credit your account with NGN5,000 and pay the gentleman cash (NGN2,000) on delivery?

§ Kindly confirm, does the package include a book & DVD? Or I need to make payment for the book separately?

I look forward to reading your content, I wish I could get it today. I must confess that you inspired me while volunteering at years back at . I was also a volunteer but your sense of responsibility, discipline and passion for what you did made a lasting impression on me, Thank you so much for 'silently' teaching me some of those values which has helped me to be a better me.

Regards,

Taiye
===Ends===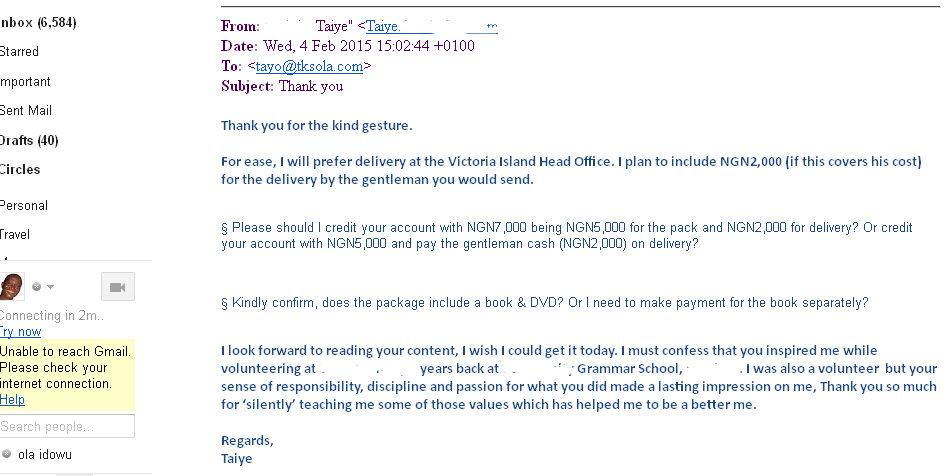 4. I replied her queries, and offered additional details about multiple FREE bonuses available to every buyer of the DVD…
===Starts===
From: Tayo K. Solagbade [tayo at tksola dot com]
Sent: 04 February 2015 15:50
To: , Taiye
Subject: Re: Thank you

Make the entire payment into the account.

The book comes on the DVD as a PowerPoint Slideshow with clickable links to the audio files.

You will be able to copy the audio MP3 files from the DVD to your phone or MP3 player. That's how my kids use them(I bought each child an MP3 headset with rechargeable battery. Then they also have a box like player which uses a card reader with rechargeable battery).

Now, if you want the book in printed and spiral bound form, you will have to include an extra N3k, so I can prepare that and send it in a larger envelope along with the DVD containing the Slideshow and audio versions.

Regarding getting it today, if it was not for the erratic Lagos traffic, one could be sure of getting the hand delivery done today. Indeed, back in Cotonou, I readily commit to tight meeting and delivery deadlines. My Lagos experiences have however taught me to temper my enthusiasm with realism.

It's 3.30p.m now.

Let's see what can be done. If it does not reach you today, you'll definitely have it tomorrow a.m.

Tayo
PS:

A. I send every buyer of this Proverbs book a FREE PDF copy of my new Best Practice Parenting paperback book titled "Kukuru Danger". See it on sale in my online store at www.lulu.com/sdaproducts

Buyer name is printed on the PDF book cover, with a message from me, thanking him/her for buying my Storyfied Proverbs book.

B. I must thank you for your kind compliments. I never realized I was being so closely observed! Glad to know you found my conduct worthy of emulation. May we continue to add useful value to one another.

Cheers,

Sent from my BlackBerry wireless device from MTN
===Ends===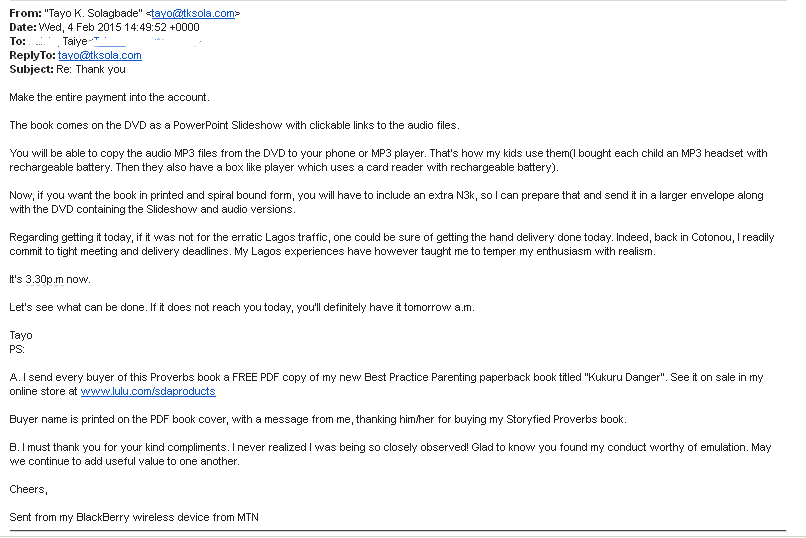 5. And that proved adequate to convince her to respond with confirmation that she would go ahead and do the e-transfer to my account…!
===Starts===
From: ", Taiye" @>

Date: Wed, 4 Feb 2015 16:03:54 +0100

To:

Subject: RE: Thank you

Thank you very much for the detailed update.

The DVD format would suffice as I can copy it on my device to listen and read at ease.

I will credit your account with NGN7,000 shortly and anxiously wait for delivery tomorrow. In the mean time, I look forward to reading the personalized PDF copy of your new book Best Practice Parenting titled "Kukuru Danger".

Thank you for the opportunity to learn from your wealth of knowledge.
===Ends===
6. As I always do with every buyer, once payment came through, I sent her direct download copies upfront, prior to delivery of the DVD…
===Starts===
From: Tayo Solagbade [mailto:tayo at tksola dot.com]

Sent: 04 February 2015 19:02

To: , Taiye Subject: Re: Your Storyfied Proverbs book etc…

Hi Taiye,

Find below, download links to the following:

1. A password protected PDF version of the 10 Storyfied Proverbs book

http://tayosolagbade.com/.pdf

Note that it is locked for viewing. Password to open is: tks2019 (type exactly as it appears) 2. A complimentary copy of my new Best Practice Parenting book titled "Kukuru Danger" – personalised for you, with a thank you message…

http://tayosolagbade.com/.pdf

3. You may also enjoy reading the sneak preview of a new book I'm writing with my sons as co-authors, on how we bake cup cakes for sale using charcoal stoves and NO oven.

It's available for download from an article I published on my blog last year:

http://tayosolagbade.com/sdnuggets/sneak-preview-how-we-cheaply-make-cup-cakes-without-an-oven-or-cooker-pdf-by-tayo-fela-emekaand-chika-solagbade/

Tomorrow morning, I will dispatch the autorun DVD to your VI address and let you know.

In your service.

Tayo
===Ends===
7. Due to unexpected developments, I ended up belatedly, having to decide to hand-deliver the DVD by myself…and luckily, I made it on time…below is the email I sent after returning to the mainland.
As I noted in the message, it was actually the first time I was visitng the Island since 1st April 2013, when I left Lagos for Cotonou.
===Starts===
—–Original Message—–
From: Tayo K. Solagbade [mailto:tayo at tksola dot com]
Sent: 05 February 2015 15:33
To: Taiye
Cc: email removed; M; Tayo Solagbade
Subject: Delivered: Your 10 Storyfied Proverbs DVD – Guiding Notes

Handed over to Aina at reception, as you requested.

A few notes…

The DVD is setup to autorun. Just insert and let it load the custom navigation menu.

The menu buttons open the documents or links indicate.

When the PowerPoint book show opens, each slide will autoplay the relevant audio narrative.

Speaker icons provided are clickable and enable you replay each audio narrative, as well as the clips of my kids reading out the proverbs.

A menu button provided opens the folder on the DVD, in which all the audio files are stored. From there you can copy them to your memory card, PC/laptop, phone or other device.

If you need any help, let me know, and it would be my pleasure to provide it.

In your service,

Tayo
PS: It was Interesting that you called me just as I arrived the "mail room", where Aina had directed me from the reception…

When eventually I got back to him, I asked him to let you know the branded label for the proverbs package DVD could not be printed to the finish quality, in colour, that I wanted. The late opening of business centres today made trying to find a better service elsewhere impractical.

I'm a stickler for adhering to challenging standards, and also for keeping promises I make.

So, I chose to NOT use a shabby label, plus when a 2nd chap (who I'm coaching on Web Marketing) that I'd hoped to have drop off you pack told me he would not be available till 3p.m, I knew I had to drop it off myself and return without getting stuck in the famous Island traffic…

It may interest you to know that this is the first time I've visited the Island, since relocating to Benin Republic on 1st April 201(3).
===Ends===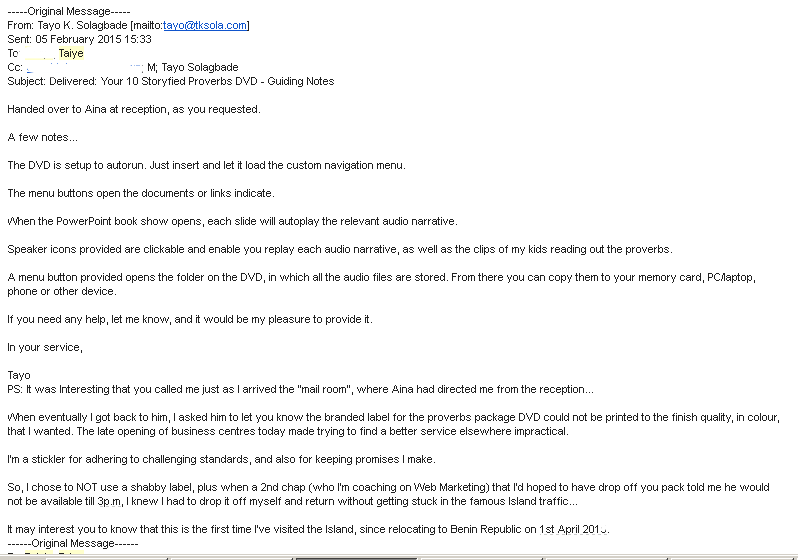 8. And this was her final response, upon receicing the DVD pack I dropped off for here…
===Starts===
—–Original Message—–
From: ", Taiye" ;
Date: Thu, 5 Feb 2015 17:27:30
To:
Subject: Thank you so much.

Good Afternoon sir.

I have been in a meeting. I must confess that I truly appreciate your kind gesture in going an extra mile to keep to your word.

To be honest, after speaking with you (before rushing into the meeting) and you said you were downstairs, I told myself that you are still the same Mr. Solagbade that keeps to his word. I said that because of a few encounter I have had with you in the past. Interestingly, you 'indirectly' taught me one core value I have upheld… Discipline.

I still teach at . Over the years, I have taught my young friends/students the importance of that Life Lesson your taught me (it is easy for me live by this because you taught me by your ACTION unknowingly) and this forms one of my 3 Core Values. Thank you.

Once again, thank you so much for your kind gesture.

Regards,
Taiwo
===Ends===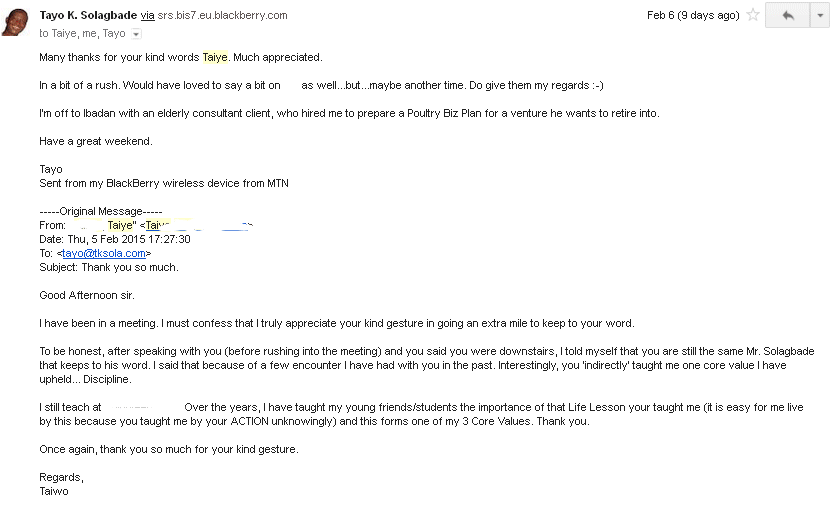 By the way, here's what she got…in case you're wondering…
The auto run DVD she got contains a slide show version of the proverbs book, with auto playing audio narratives in my voice, and click able audio clips icons that playback the voices of some of my kids reciting the proverbs.
My kids enjoy listening to it.
The MP3 files can be copied from the DVD to phones and other media.
In fact my mother (grandma to the kids) made me copy them to her phone so she could listen, especially to the kids reciting the proverbs.
I'm having connectivity issues uploading, so the following 2 items will come LIVE in this article tomorrow morning…
1. A screen shot of the DVD's branded navigation menu, which is always personalized for the owner will be embedded below tomorrow…
For now, click here to view a copy on Facebook…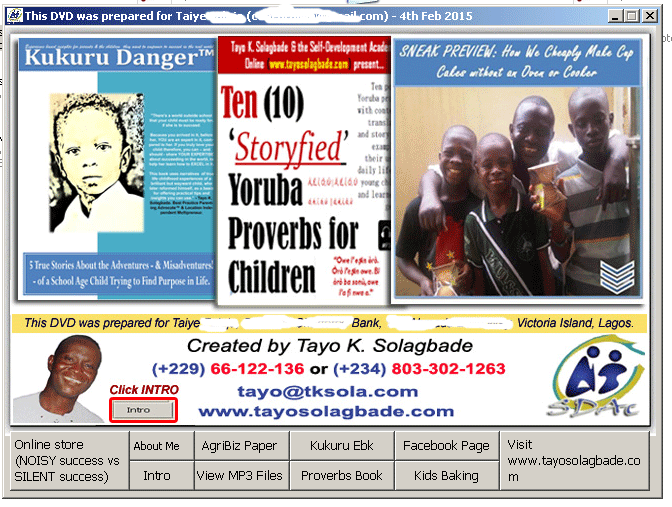 2. A short Youtube clip showing the DVD in use will be embedded below tomorrow…
The DVD sells for N5k, and comes with PDF versions of some other books I've published as FREE bonuses. Buyer just pays courier fee.
[NB: Read this article (click) in which I first announced this proverbs learning product for sale. It's available in my online store as a PDF. Those who want the Slideshow audio book version with clickable links to MP3 files, that's delivered on DVD have to send me a message for details of how to get it using THIS form (click)]
I had to take a last minute decision to deliver it myself, to avoid disappointing her, when the young chaps I'd planned to send down could not make it.
I visited Fedex, at 11a.m in their Allen office, but they told me next day delivery in Lagos costs N500, but same day delivery would cost N8k. I'd not known that in 2 years of using their service, since I'd never had a same day delivery client order!
At this point, only ONE other option was left.
So, after sorting out work I had to finish, I took a BRT bus at close to 3p.m down to CMS. Soon as I alighted, by some wonderful "coincidence" a commercial power bike rider called out to me (there were 2 of them, so I got to choose). I promptly agreed to his N300 fee when he said he could get me through bad traffic to the lady's her VI office on time for me to RETURN to mainland without getting stuck in the crazy traffic jams for which that area of Lagos are famous. True to his word, he did – see email below!
LESSON to Take Away: The above highlight emphasis (circled in red in the screen shots) is deliberate.
There are 2 key lessons I believe one can draw from this story….
First, it's the fact that the web marketing strategies I advocate can enable anyone with diligent perseverance, successfully monetize any useful information or knowledge s/he has.
Think about it. I now sell my DVD Yoruba Proverbs book and audio files…!
I know many who thumbed their noses at the idea when I first muted it…they are not laughing now I tell you…lol!
But here's the more important lesson to be had from this exciting experience that happened in a window of 24 hours…
Taiye, the buyer, had told me during her first phone call that she knew me from back when I (like her) was a volunteer maths tutor for a project sponsored by a very well organized Nigerian NGO. The NGO's project mainly helped secondary school students with FREE maths and english tutorials in their final year.
The problem was that I struggled to recall her face, even though the name rang a faint bell…but I did not tell her that

When she went on to say the above (and more in her final thank you email post-receipt of the package), I realized how important her feedback was, and why it was important for me to WRITE about it, for others to read.
You see, I believe her words – which basically amount to an "unsolicited testimonial" confirm that it pays to be true to yourself at all times.
Seek to add value with honesty and integrity at all times.
You never know who will be watching and drawing inspiration from your selfless efforts.
Like the popular saying goes: "Be The Change You Want to See In The World!"
That was what I did back then, that she saw and chose to emulate. That's why I continue to do today, that has NOW made her buy my latest information product…and that NOW makes her even more inspired than ever, to go and do MORE of what she learned.
If more of us did this, our societies would become much better places than they are today. It only takes EACH person making up his/her mind to begin…
Will you?