A young couple tackles unexpected challenges in running their commercial layer farm. This story illustrates how Cost-Saving Best Practice ideas, tools and strategies, can be used to solve problems, and boost long term farm performance/profits.
=Story Begins=
Chike looked at the growing layers of egg crates in the farm shop. They were rapidly running out of free space to put new arrivals from the farm.
Ever since they returned to using the right quality ingredients – based on their derived ration formular – their 8,000 layers had been producing eggs at a Hen Day Percentage (HDP) of between 70 to 75% daily.
And this had translated to over 25% increase in egg collections, compared to what they were getting before.
To keep track of the farm's Key Performance Indicators(KPIs), Chike and Shade (his wife), had always used their Poultry Farm Manager software.
In addition to other KPIs, it auto-computed the daily HDP for each of the layer pens.
Then it plotted the daily value for each layers pen into ONE line chart. This made it possible to compare the performance of the groups of birds in the different pens.
So far the plotted lines remained fairly close together, and had now stayed above 70% for over 4 weeks.
This assured Chike that the birds were all doing fairly well.
Screenshot: Layers Key Performance Indicator Line Charts – Plotting Daily HDP Percentages

But the situation had been quite different, over 2 months earlier.
The couple had noticed a progressive downward sloping of the plotted HDP lines.
From well above 75%, the points plotted had dropped under 70% and plunged below 60% within 2 weeks!
It was an alarming change, and did not appear to be slowing down at the time.
Shade had posted data from the Farm Production Records Form filled by the farm hands, into the spreadsheet software on the Monday starting the 3rd week of the drops in HDP values.
What she saw had made her quickly call Chike on the phone
"I think we have a problem. The HDP just dropped below the 60% lower limit. These birds are not doing well at all!" she said

"But we've checked and confirmed there's no sign of infection. We've diligently used all relevant medication in their feed.  What else can we do? " Chike replied.

Shade said "Chike,  think it's time we took a look again at what we're feeding them dear. I know we asked Jero the last time and he said he was using the ration formula we gave him.

But I have a feeling we're still missing something at that end.

Look, even when one has a good ration formula, you know compounding the ration properly is another matter entirely. How are we sure the feed being bagged for us, is actually properly compounded to deliver the benefits of our ration formula?"
Chike was quiet for a while. Jero was his friend, and he felt it would be unfair to subject him to suspicion in a way that could damage their relationship.
But he also realized that his wife was making a good point.
So he agreed.
And they paid Jero an unannounced visit at his feed mill on a day/time he'd mentioned he would be producing the next 2 tonne batch of feed for their farm.
They were shocked to discover that Jero had quietly changed the composition of feed agreed, to reduce costs, while still selling to them at the normal prices.
This was their long term supplier, with whom they had had a contract arrangement to produce bagged feed, since they started out 4 years earlier!
They also found out he'd been using weevil infested maize grains from an isolated silo, to compound rations for unsuspecting farmers.
That explained the growing presence of weevils they'd noticed in some batches of feed.
It was heart breaking for Chike especially.
He and Jero went way back.
Jero tried to explain. His operating costs had risen due to the fuel scarcity crisis. He'd had to run his diesel generator for much longer periods, and the costs had really eaten deep into his cash flow.
That was when he recalled the isolated silo of grains.
Normally he would never have considered using it, but he was running low on the good quality stock of maize.
So he decided to mix a little from the infested one with each batch of feed. Then when he got no negative feedback, he'd increased the amount added.
It was the eventual impact of poor quality ingredients on the bird's performance that led to Chike and his wife paying him the visit.
Chike and Shade had always felt they needed to have their own feed mill.
They knew it would enable them have closer quality control on the feed manufacturing process for their birds. And they'd been pursuing funding with their bankers for that purpose.
Following their discovery of Jero's deceit, they renewed their efforts.
Their bankers eventually agreed to finance the setup of a 2 tonne feed mill.
The feeding problems soon became a thing of the past: And then another problem reared its head!
They were not the only ones who had eggs to sell. What was more, two new farms had also commenced operations on the other side of town.
With the couple's own dramatic increase in production, a glut of sorts had occurred.
Unfortunately, there was no festive season around the corner to look forward to.
Normally, festivities meant purchases would increase, and they could quickly sell out excess stocks of eggs.
But it was just late August. Christmas was still far away.
The couple's farm shop store rarely got half filled. This was because the market women often came daily to buy between 5 to 50 crates (in groups).
However, these women always bargained hard. And they had no loyalties to anyone.
They kept communication links with competitor farms through friends and other sellers.
Chike knew they often compared prices offered from his shop with that of other farm owners, and used that to negotiate concessions etc.
He did not mind giving in, as bulk sales often made up for it.
However, during glut periods, the women tended to really get mean.
That had been the case since the start of this week. They had been coming around but not buying.
Instead they would claim Mr. A's farm was offering them N10 less or even lower.
The women knew many farmers were scared of letting the eggs get spoilt from over staying in storage.
Their farm shop stores were not built for long term storage. Poor circulation of air and presence of rodents were a major concern.
And this often made farmers accept exploitative offers from the market women during glut periods.
Chike Naturally Felt Betrayed, and a Little Bitter
These women had been buying from him for the 4 years since he and his wife started their farm business.
He had often let them take products away without in full, sometimes without paying at all – so they could pay later.
Some had even come so close that he loaned them money to pay their kids school fees, and they paid back as they sold the eggs they collected on credit.
Yet, during periods like this, some would gang up and basically try to eat their cake and have it.
If one was weak, s/he would end literally giving the farm away out of fear of being stuck with excess eggs no one would buy.
As he stood thinking, the mini van – filled with another load of eggs from the farm – arrived with his wife behind the wheel.
They'd let the driver go a month before. He'd complained about the work load and demanded an increase in salary they could not afford at the time.
They were now wondering if that had been a wise decision, as it was beginning to tell on them.
The bus was filled with eggs from yesterday's production.
And as she joined him, Shade handed him the Farm Production Records form. The handwritten entries showed the birds were not relenting in churning out more eggs as at the the second collection for the day.
It was the only time he'd ever found himself wishing the layers would NOT do so well!
"What are the women saying dear?" Shade asked

Chike replied saying: "The same thing they said yesterday. They basically want us to sell to them at cost price, or they'll not buy as much as they normally do. They claim some other farm is offering more. I've asked them to consider the cost of transportation to get the eggs from that other farm. But they insist it does not matter. But you and I know it does. They just want to take advantage of the situation" he replied in resignation."
As he said those words, Chike recalled a conversation they'd had with Bello (their Farm Business Best Practice Consultant), about their sales and marketing strategy.
Bello had pointed out that it was risky to depend too heavily on individual, low price buyers, especially as they (i.e Chike and Shade) aimed for much higher farm output.
He noted that apart from the stress of handling smaller transactions, there was also the challenge of emptying the store in a timely manner, to avoid build back to the farm.
It occurred to Chike that THAT was exactly what they were facing.
Bello had advised reaching out to businesses that made regular use of eggs and chicken meat (for disposal of old layers).
He'd recommended that Chike and Shade make special bulk offers to such businesses (e.g. hotels, restaurants, bars, catering outfits etc) – possibly with an agreement to either let them pick up the products from the farm shop, or to transport it to their premises for a fee.
The objective would be to establish a long term arrangement with as many such potential bulk buyers at possible. That way, as they found need for more buyers, they could simply call them up.
Bello had warned that succeeding with the strategy would require some persistence. But he'd also assured that it would work quite well, once in place.
Now resolved in his mind, Chike grabbed Shade by the arm, and said "You know. I think we can do better than what we're doing now. At the level we're operating, we cannot simply let these women hold us to ransom like this. Do you remember what Bello told us to try doing?"

"You mean reaching out to owners of hotels and restaurants to buy from us on contract basis?" asked Shade

"Yes. I think it's what we need to do. Apart from ensuring we no longer run out of possible buyers, we'll also be able to sell out faster, since these kinds of people would buy in bulk" said Chike.

Shade said "Hmm. I think you're right. But it won't be easy, as Bello said. However, given the experience we're having in the hands of these women, I think we now know it's better for us to explore that option. In fact, even if there was no glut situation, selling out faster in bulk appeals to me.

It means we'll have more free time, and worry less about managing large stocks of eggs in the stock. We'll just need to keep those we approach informed of the next availability of bulk eggs stocks for purchase."

"Well, we better get started then." Chike said, with a note of excitement in his voice.

"Let's begin with the hotel near the roundabout on the way to the Governor's office. When I was still working with Business Machines Limited, we used to hold our sales training sessions in their meetin ghalls. We might be able to strike something off with him."
=Story Ends=
Take Away: Do Your Marketing BEFORE You're Ready to Sell!
The above message is not necessarily jusf for poultry farmers.
If you're a farm business owner, I doubt that I need to say much more here.
My message is this:
a. Adopt Best Practice based Continuous Improvement Systems in your farm business, to help you avoid and/or resolve potentially serious problems.
b. Do your marketing well ahead of when you will have need for buyers to take your farm products off you!
That way, you'll make better profits, and also go through less stress.
Need help in making use of the above ideas?
Shoot me an email via tayo at tksola dot com – or use this form.
Disclaimer
The above story is a work of fiction in its entirety. Names, characters, places and incidents are either products of the author's imagination, or are used fictitiously. Any resemblance they may bear, to actual events or locales or persons, be they living or dead, is entirely coincidental. I'm going to say that word again: COINCIDENTAL. Thank you :-))
*****Click here to download a PDF Describing the Low Cost Version of my Poultry Farm Manager****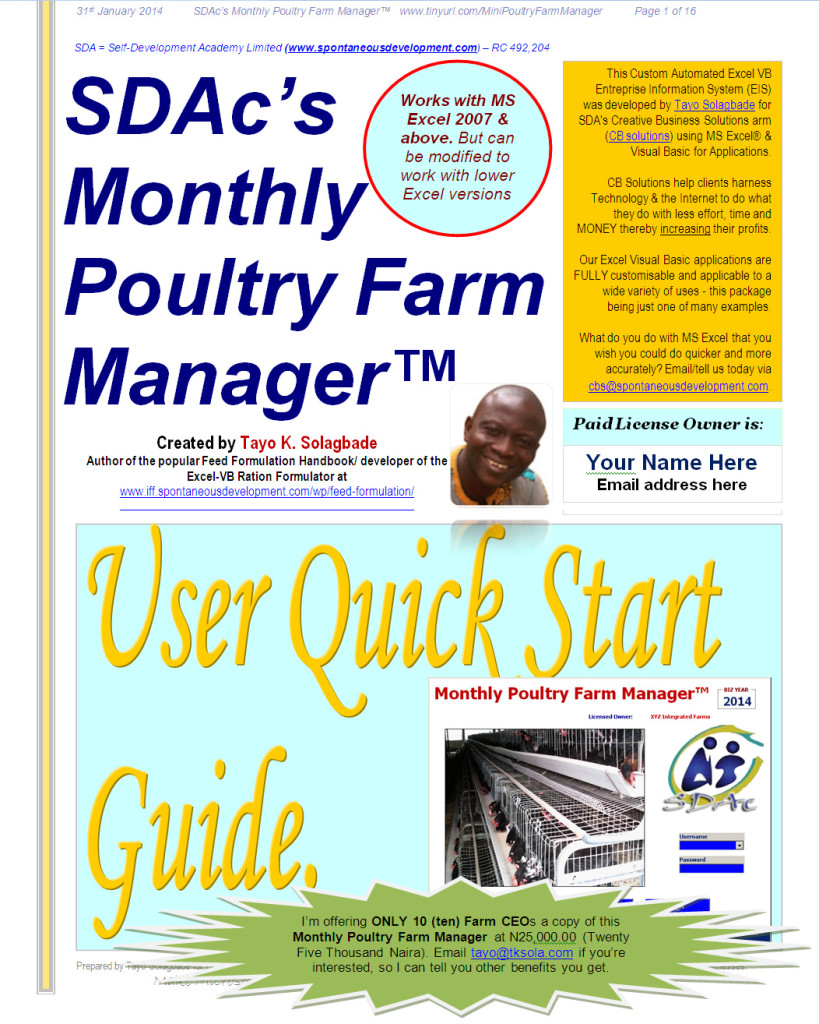 Screenshot: Layers Daily Operations Data Entry Table – Showing Computed Mortality Rates, Feeding Rates, Egg Collections and HDPs per cage line of birds.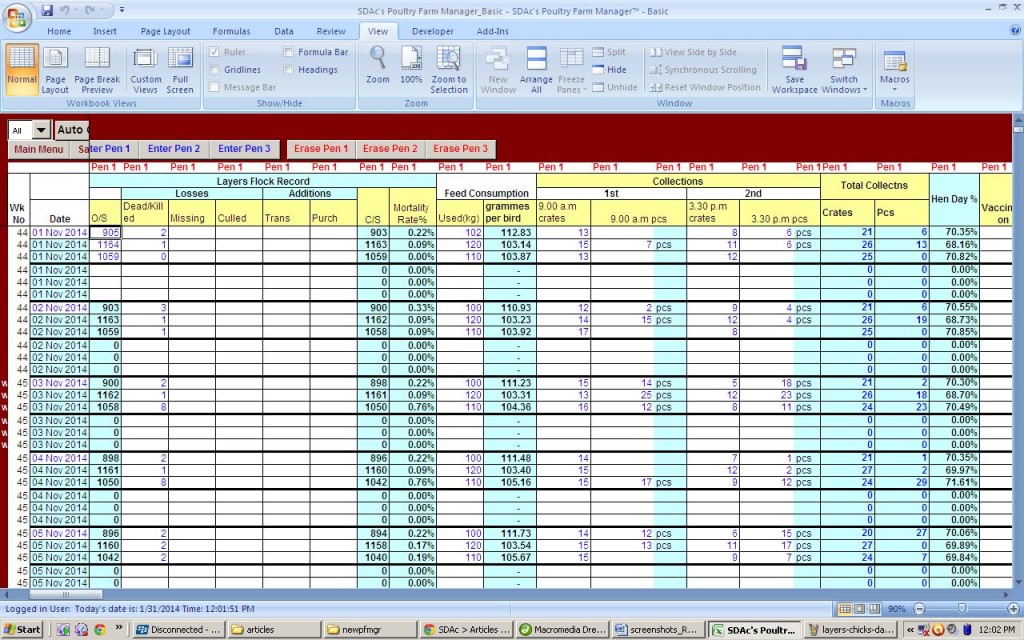 Screenshot: Layers Key Performance Indicator Bar Charts – Plotting Monthly Mortality Rates Alongside HDP Percentages