My new book's title – Defeating the Devil Inside (photo: inside page) – will raise eyebrows…and that's (partly) the idea.
However, unlike past efforts, this is a work of fiction, and it's based on the script I wrote for a play in 1987 at the age of 17, which was dramatized (I played the "Devil"!) by the youth wing of Christ Baptist Church Gbagada, in Lagos-Nigeria.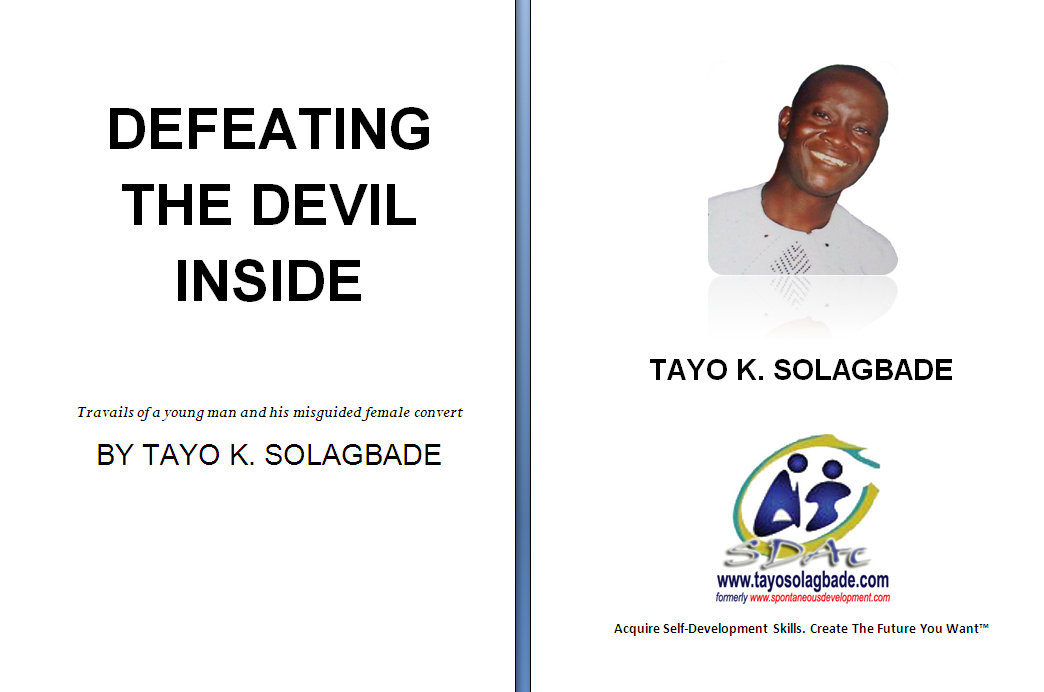 I actually stumbled on the badly worn handwritten script (photos will be posted along with the book cover on Sunday), few months back while doing some packing. After reading through it, I knew I needed to turn it into a book, but with an invitation to interested persons to dramatize it, if they wished.
If you've been following my writing for any length of time, there's a good chance you know I'm NOT religious.
That probably makes you wonder what I'm doing writing a book that for all intents and purposes reads like a protestant preacher's story based sermon!
The truth is I was born and raised in a strong Christian home – by deeply pious parents, who still attend church today.
Indeed, I should point out that when I wrote the original script back in 1987, I was still a strong member of Students Christian Movement (SCM), in UNIBADAN.
However, from 1989 I stopped attending church formally, and have not done so till date.
Yet, my life's achievements since then are PROOF that I have NEVER been more connected to the Creator that I am today.
So, what went wrong? Why did I stop attending church before I turned 20?
Well, that's a story for another article, or book.
Suffice to say, for now, that I've written this book because I am a diehard Extension Services Provider!
In other words, I do whatever it takes to communicate successfully with my intended target audience. Even if it means using religion as a "sweetener" to pass across  what I feel may be a potentially "bitter" message across.
Now, on the surface, this book's title and the story line itself may appear to be primarily about religion i.e. the devil, angels and Christians battling evil.
But in fact my core purpose is to communicate a message about the following:
a. the importance of upholding the time honored values of honesty and integrity, no matter what.
b. the need to pursue part-time or full time business ownership as the path to achieving financial freedom in today's world.
So, I've only used the wrapper of "religion" to make it more appealing to the majority of people, in my target audience, who I know to be partial to "religion"
It goes without saying that when I wrote the script almost 3 decades ago, as a teenager, I was NOT thinking like I AM now!
It's the years of exposure to the realities of the real world as an adult, that have influenced me to use that same story in this manner.
It's now designed to teach adults – regardless of religious preferences – who wish to LIVE right before the Creator, that they WILL be continually tested in various ways, in their efforts to fulfill that goal.
So, the message in this book is NOT really a religious message as such.
Instead it is one for ALL who wish to connect with the Creator and let Him direct their affairs daily. So, you can be an adherent of any faith – what matters is that you BELIEVE in the almighty God, and in His ability to reward you for living a life worthy of His approval.
Adversity will be visited on you from far and near. Friends, even loved ones, may let you down or even plot to bring you down.
But if you have unflinching faith in God, NOTHING they do will make you fail or fall.
This book's story illustrates the foregoing, based on the narrative of the travails of a young believer and his young female convert.
In spite of a series of painful setbacks in his personal and work life, the young man remains courageously faithful to God, and supports the young lady with unconditional love even when she strays off the path, into bad company.
Lessons to be learnt from this young man's example include:
A. The importance of staying strong in times of adversity, keeping faith that God is in control
b. The value of loving others unconditionally, and supporting them no matter how badly they fall or fail, or how hard things get for YOU, or them.
c. The need to take diligent personal action, with prayerful faith for God's guidance, to turn bad circumstance around for the better.
d. The understanding that sometimes hardships will befall us because God wants us to learn something important i.e. not all setbacks are negative.
e. The insight to know that when we're going through adversity, some tempting offers of help we get may NOT be from God. Sometimes accepting such "help" may lead us to bigger problems. So one needs to stay connected to the Creator – and it's crucial to have a confidant to consult at times like this. That's why parents need to get close to their kids, so they feel safe confiding in them.
Once again I emphasize that this book's story, though based on Christian religious practice, is meant to provide guidance for ALL who strive to live right before God
My attitude is one of keeping an open mind towards all possible sources of spiritual enlightenment, as directed by the spirit of God inside me.
So, I learn from ALL – and I share with ALL who will have me.
The Dalai Lama (the great Tibetan spiritual leader) has been an inspiring role model for me.
In fact, he is someone I think ALL of us need to learn from in terms of how to RELATE with others who have religious preferences that differ from ours!
NB: The above is a verbatim reproduction of the PREFACE of my forthcoming book, titled "Defeating the Devil Inside" which will go LIVE in my online store at www.lulu.com/sdaproducts on Sunday 16th August 2015.