Today, I enjoy the privilege/benefit of being able to win buyers for my custom Excel-VB driven software from within and outside Africa.
Working 100% online to get found using a unique Web Marketing System I developed for myself, I continue to convince total strangers to send me payment for my custom automated workbook applications.
It's however been a long – and difficult – journey getting where I am now – especially starting-up a software solutions development business, as a complete NOBODY, in a Nigerian market notorious for reckless software piracy and abuse of intellectual property: a VERY hostile environment indeed.
Yet I did it. Though it took lots of hard work and endurance.
What I did and why I did it, is explained in the special report I will publish on my SD (Self-Development) Multidisciplinary Nuggets blog tomorrow – 3rd March 2017.
Go to www.tinyurl.com/tksxlvbNigeriaStory from 6p.m or 3/3/2017 (That URL will NOT be active until then).
I outline 10 elements of my code of ethics below – noting that anyone, including YOU, can successfully adapt them for use in paid or self-employment/business.
In my case, this code has guided for YEARS me in relating successfully with ALL clients I provide my multidisciplinary range of solutions.
Purpose: I aspire to provide flawless service that will make my clients feel good about investing in me, and even brag to others about what I've done for them.
To do the above, I ALWAYS strive to be as flexible – and response – as humanly possible to the needs and circumstances of EACH client – in line with the following code of ethics:
Article 1: The well informed – and profitable – client is always right.

Article 2: If the client is not well informed, I haven't done my job.

Article 3: The services/products I provide answer to the needs of the client.

Article 4: I don't do "miracles" and I know when to say "NO".

Article 5: I haven't been hired to prove that I am smart, but to be useful.

Article 6: My services/products enable the client master the use of computer and/or Internet technology to run his/her business operations, and not the other way round (i.e. my solutions do NOT overwhelm or intimidate my clients!)

Article 7: If the client feels stupid or thinks I am "God" there is something very wrong going on.

Article 8: What I do, the client could do, if s/he had the time and training.

Article 9: My services/products are public and I have no secrets.

Article 10: When I leave, the client who is interested is empowered.

*Adapted from Code of Ethics developed by Pierre Le Clerc, Excel-VB Developer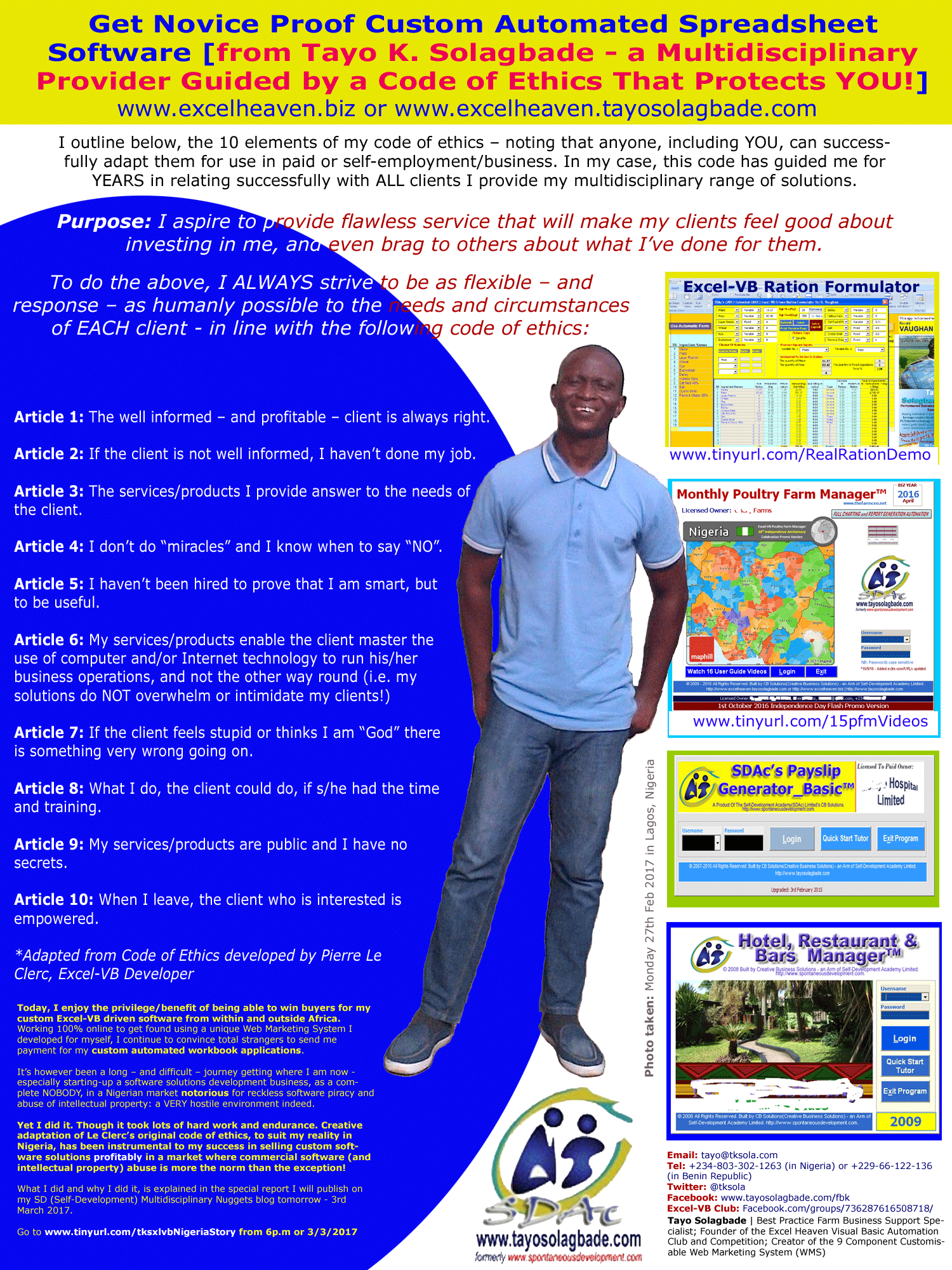 Email: tayo at tksola.com
Tel: +234-803-302-1263 (in Nigeria) or +229-66-122-136 (in Benin Republic)
Twitter: @tksola
Facebook: www.tayosolagbade.com/fbk
Excel-VB Club: Facebook.com/groups/736287616508718/
Tayo Solagbade | Best Practice Farm Business Support Specialist; Founder of the Excel Heaven Visual Basic Automation Club and Competition; Creator of the 9 Component Customisable Web Marketing System (WMS)
Related Articles
1. [TRUE STORY] He was NOT smiling when we met, face to face, for the first time, today – because of My Excel-VB Poultry Farm Mgr!
2. PII 055: To Succeed Even When Things Go Wrong, You Need Mastery of Your Craft – Part 1 of 2 | Based on a True Story
3. Tayo Solagbade's Excel-VB Poultry Farm Manager – Video Interview With Lagos Farm CEO After Problem Resolution [PII 055: To Succeed Even When Things Go Wrong, You Need Mastery of Your Craft – Part 2 of 2 | Based on a True Story]