Since the start of October 2017, I've been calling and telling EACH of my Farm CEO clients that s/he can successfully generate USEFUL ADDITIONAL income, for the long term, by running a snail rearing entreprise based on his/her farm's existing overheads!
And I owe my newly acquired insights to my 8 year old daughter's passion which opened my eyes to the powerful income generating benefits that can accrue from snail rearing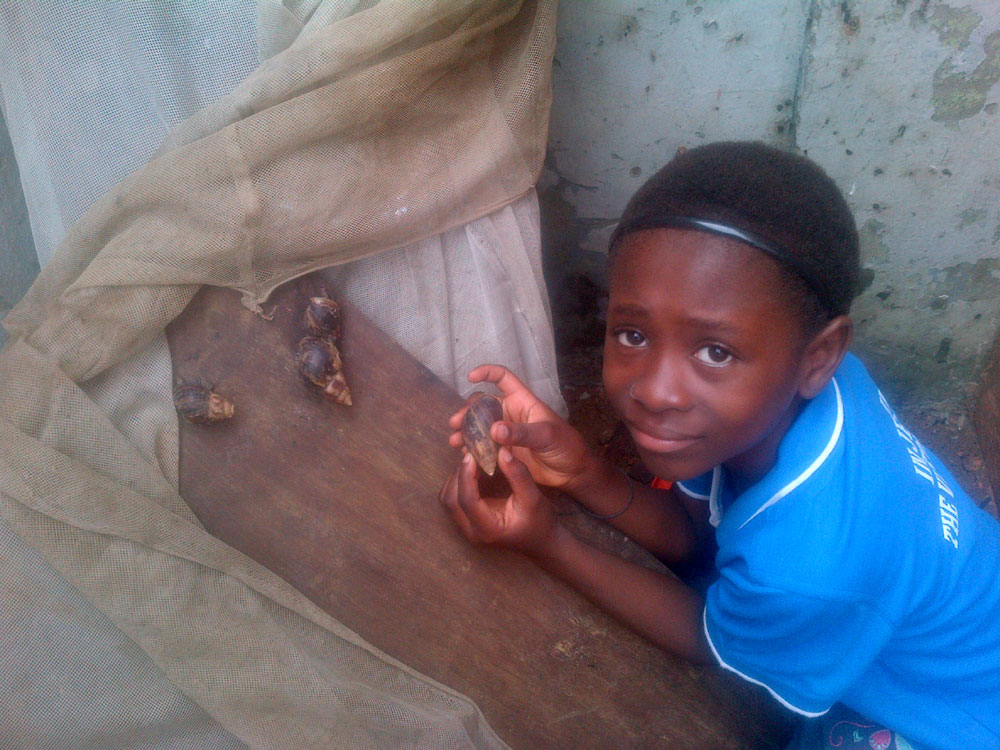 Today, with what she's achieved in about 2 months of haphazard improvisational rearing, I've seen results that have made me decide to help her formally launch her own snail rearing from a hobby to the real thing i.e. a money making entreprise.
We improvised to house them, and over a 2 month period, have gone from feeding them kitchen food to formulating a high growth ration that is a variant of original ration formulation recommendations (provided by the famous Songhai Centre in Benin Republic's Porto Novo) which grows snails to 0.5kg market weight in 4 months instead of 8 months.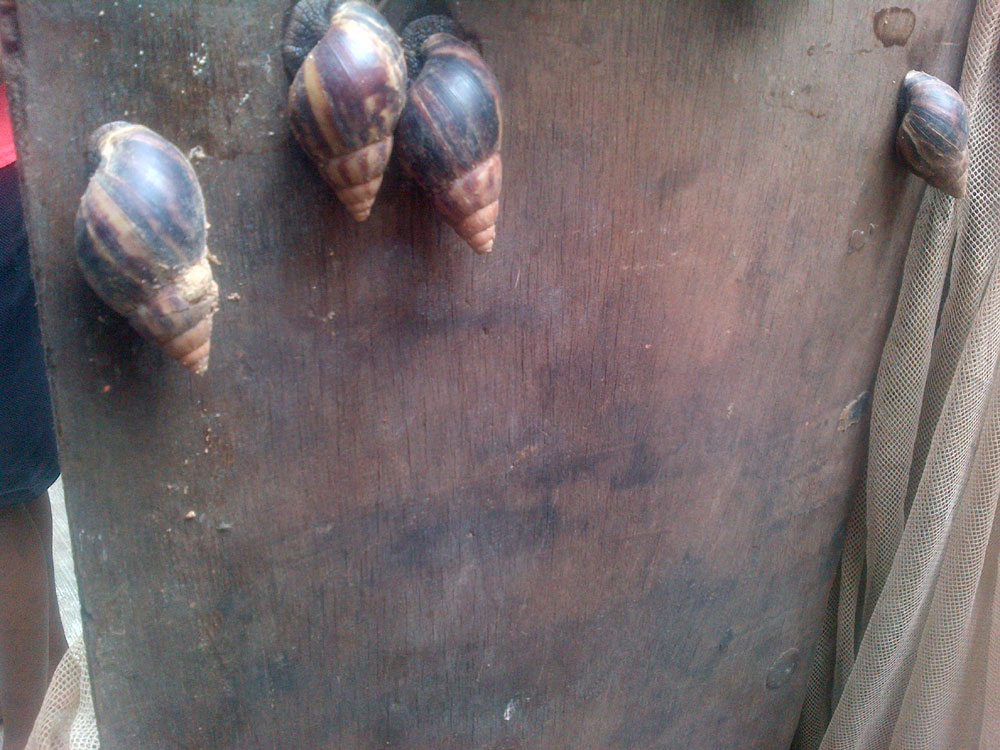 The results we've gotten so far convince me we're well on track to recording great results by end November into December 2017 – especially now that we're going to set things up based on best practice.
Are you interested in venturing into commercial snail farming, but would like a low cost/low risk way to find out what you need to know before you take the final plunge?
Would you like to get my experience & information sharing (NOT CONSULTING!) support to start your own snail farm on a pilot scale, like we did, using lessons learnt from the backyard snailery, started as a hobby by my 8 year old daughter?
Pay N7.5k (click here to request payment details) to get unlimited access to my Newly Updated Inner Circle Downloads Center PLUS download links to my FREE massive library of Snail Farming self-study PDF and video resources that took me weeks to compile PLUS
NB: What you get will NOT be limited to the promised Snail Farming information, but will instead include other self-help resources I continue to create on different farm businesses – as listed below:
Part 2 of my Feeding Pigs Cheaply Fact Sheet on Making Cheap Nuitritious Silage from Sweet Potato Vines (as well as Part 1, and others to come)

Plus you'll get other fact sheets I'll publish weekly on Fish, Rabbit, Snail & Poultry farming.

And you'll get over 30 top quality ebooks I've added to my Multidisciplinary blog/Performance Improvement Library.
But the main offer is the Snail Farm Biz Startup Compilation…
I began putting it together as part of the FREE information finding service I provide to ALL members of my Farm Business Ideas club.
A new client's request for information resources on how to startup a small scale snail farming business in Nigeria led me to compile what is now this MASSIVE library of powerful PDF step-by-step manuals and demonstration videos (IN mobile friendly format) that cover everything from snail biology/identification to snailery construction, feeding, breeding/management, predators, parasites and diseases control, as well as processing/marketing for income generation both locally, and via export.
Fill/submit this web form (click now) to request a 2 page PDF with more details about the compiled materials on Snail Farming Business that I offer for download.
It contains details of what you need to do.
Let me know if you have questions or require clarification.
To your success!
Tayo
=============
Our Story – How it all began…
Unlike most kids her age, my 8  year old girl is a bit more driven -and I think that's helped her a lot to get the results I'm describing here.
She diligently wakes up daily to work for 15 to 20 minutes tending to the snails. And she has done that for 2 months now – with rarely any prompting needed from older persons!
That attitude is partly the result of her early exposure from when she was about 5 years old, to vocational skills based activities like baking of cakes, pizza, bread, chin-chin as well as drinks making, hair styling (plaiting/braiding) as well as facial makeup/cosmetics.
But unlike all these other activities I've mentioned (which I deliberatly arranged for her and her siblings), THIS snail rearing initiative was 100% her own idea.
Here's a short narrative of the true story about how we began…
It all began in the first week of August 2017. It was supposed to be one of those passing interests that kids develop. Looking back now, I feel a bit ashamed that i did not see the potential in this vocation for my kid to benefit. despite the fact that I provided support to Farm Business Owners.
In fact, she just began collecting snails that were emerging from the undeveloped plot next to our home, and each day she would clean them and keep them in a plastic container, then try feedign them with left over food from the kitchen -especually garri, which they ate but only sparingly.
I noticed it, but thought nothing of it, assuming she'd eventually drop it. But that did not happen. Instead she came askign what she coudl feed them, and persisted in doign so, until one day I put my work aside and Googled up information that told us they would eat almost anything – including foods we ate. So ee tried cooked rice and beans.
And both were a hit with the snails. My girls was visinly excited and diligently scooped out portions of rice/beans each time we coooked them, for use in feeding her snails. To help them eat well, I got her to use a spoon to crush the grains into a paste before serving the snails on a flat plastic cover.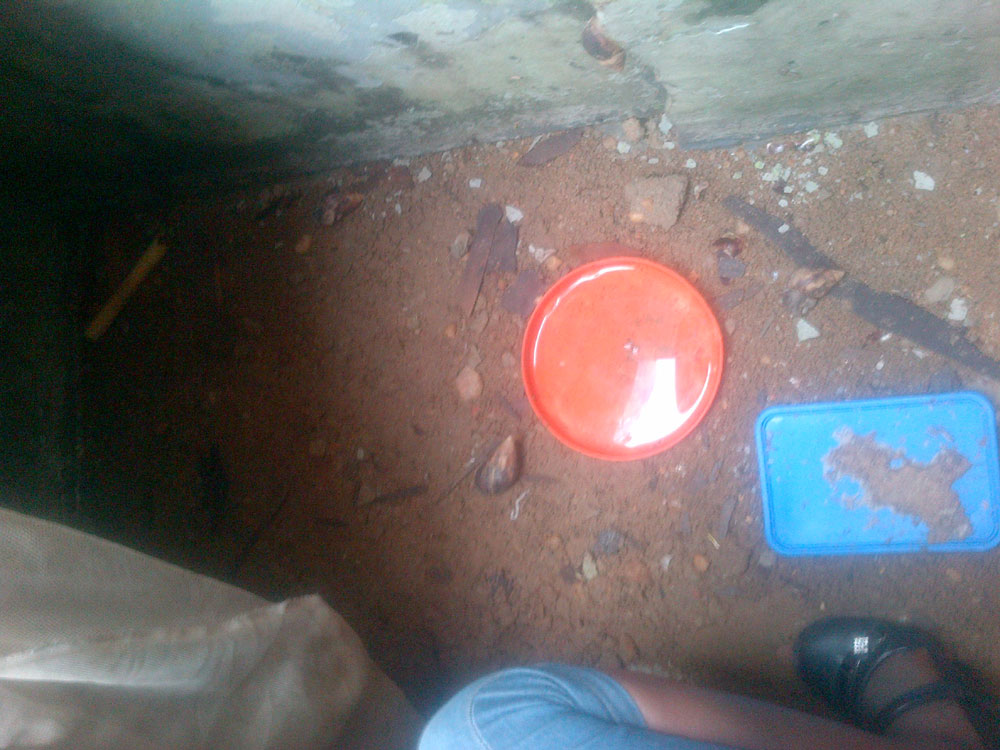 She would take the snails out from the plastic container she kept them in, and place them next to small mounds of the food and watch them eat, till they stopped feeding. I woud see her do this as I came and went, but only once in a while did I get further involved.
Then one day I saw her cleaning out the plastic container in which LOTS of the snail's excreta had built up at the bottom. That made me warn her about the health risk of bad hygiene to the snails. By this time, a Pig Farm CEO client who had long been pestering me about his desire to start a snailery, had gotten me to begin compiling most of the information resources I now offer here.
So I was familiar with the need to setup a blocked off area to serve as a pen. I told her to gather her snails into the plastic bowl and we moved them to the side of the house, which offered walls on 3 sides in a narrow corridor, with one entry/exit.
There we proceeded to introduce soil taken from close to the undeveloped plot next door, so as to get a composition and texture as close to that in the snails' place of origin. In the house, we found an old mosquito net, and some thin slabs of wood, which we used to cover the snails. It was not perfect, but it worked. That was done about the first week of September (last month).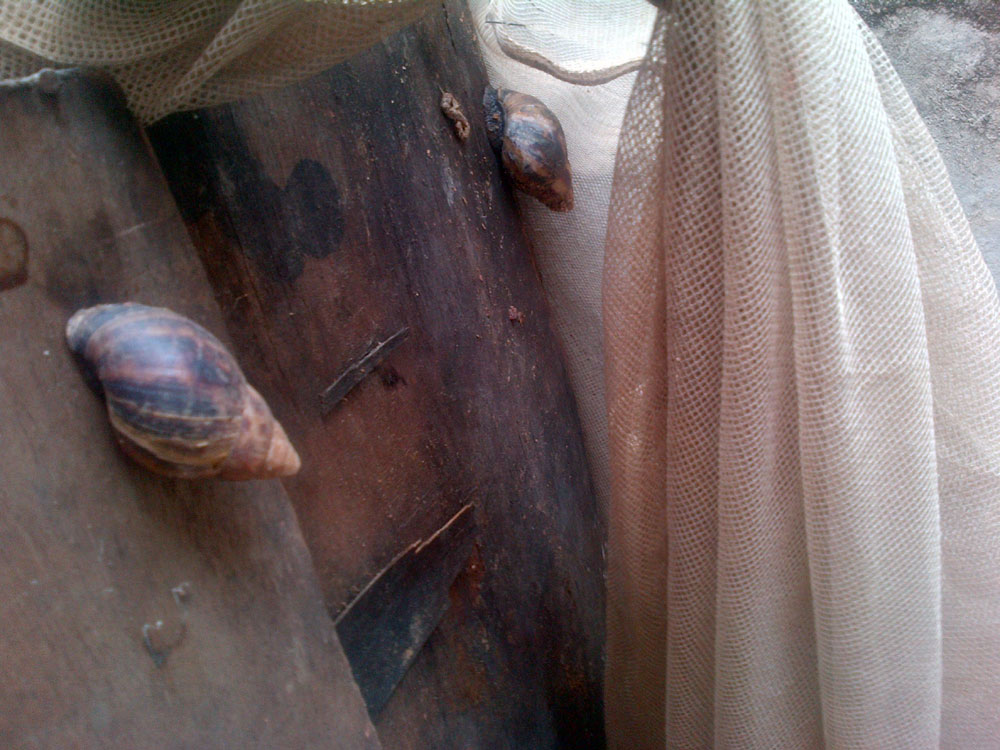 By the last week of September she had been diligently feedign them usign food taken from the kitchen, but I never really nothered to LOOK inside the area we'd setup for them as an improvised pen of sorts.
Until a day or two before Independence day (1st October 2017), when I took a look and was shcked to discover that most of the snails had almost doubled in size! It was unreal. I knew about 2 months had passed, but I also reclaled that we'd not been feedign them anything special.
What I saw made me excitedly inform my Pig Farm CEO client of the results I'd seen, and I then wasted no time in going down to a feed mill in Oko-Oba area of Agege, to purchase the ingredients we'd heard mentioned in an intrnational award winning Songhai video I'd been told about during one of my visits to the Porto Novo Headquarters in Benin Republic.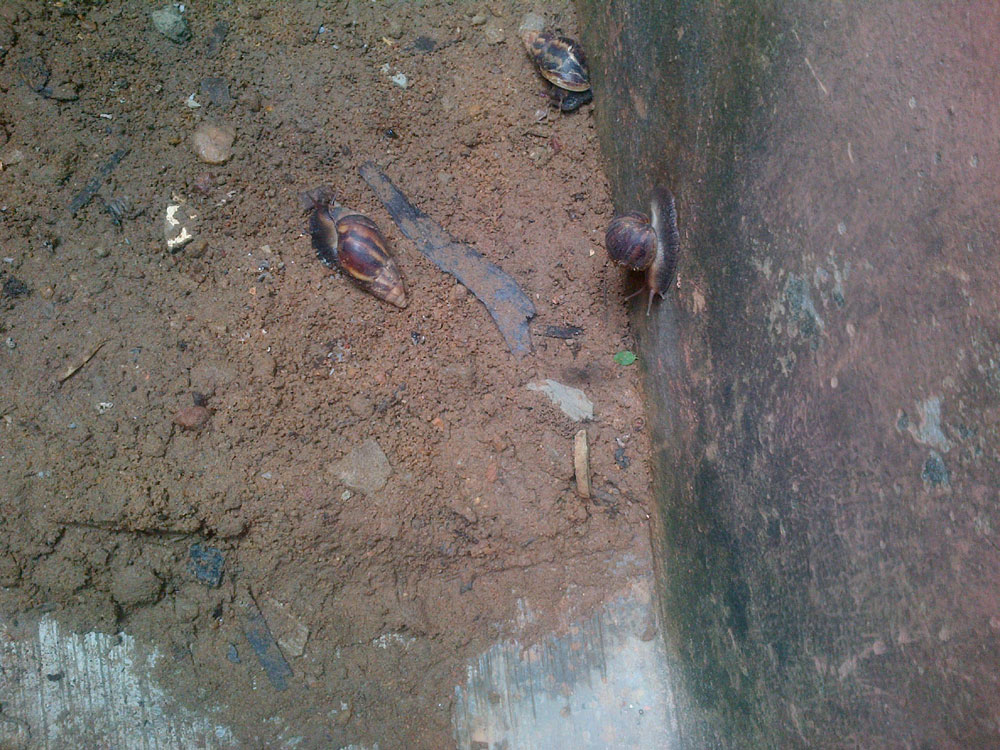 In my compilation, I've included the direct link to the download page for that Songhai video . But knowing how data/bandwidth can be an issue out here, I've also created a much smaller mobile friendly 3GP version that you can download faster and at less cost.
Indeed, I've done that for ALL the videos I found – and will gladly email them to anyone who requests them after gaining accesss to the Downloads Page here.
Fill/submit this web form to request more details, including 2 videos I've recorded to share our personal experience with the pilot scale version managed by my 8 year old daughter, that we're NOW about to scale up