[Tagline: If it can help your farm business, you'll find it in THE FARM CEO™ Newspaper ]
This year's 4th issue of The Farm CEO™ features is FREE to download for non-subscribers (click here now).
It features highlights from Hope Agwulonu's newly published guide book for Catfish Farm Business practioners, enthusiasts, support specialists and even students.
Like I've told as many as will listen, I do NOT believe I need to do it all, with regard to providing useful guide book publications on the various aspects of Best Practice Farm Business Management. Many authentic farm business owners can share wisdom, about how to successfully run the businesses they are engaged in.
This is why I have adopted the strategy of encouraging interested Farm CEOs to get their unique knowledge, insights and experiences published in book form, for use by others looking to follow in their footsteps.
I use my Ghost-Writing service to support clients in various fields (e.g. Legal Consulting, Leadership Training, Business Coaching, Farm Business etc).
Title: Quick Start Guide to Catfish Farming Business -by Hope Agwulonu, CEO of Progidence Farms Limited, Abuja – Nigeria
Subtitle: How to Start Your Own Low Cost Catfish Farm Business
CLICK HERE TO DOWNLOAD THIS FREE EDITION
PREVIEW
Beyond the generic information found in most manuals, this 60 page publication, despite being a quick-start-guide, offers useful best practice/real world relevant information in different chapters – as shown in the chapter headings outlined below.
CONTENTS 1
Chapter One | The Serious Business of Catfish Farming 2
Chapter Two | Choosing a Location for Your Farm 7
Chapter Three | Construction & Mode of Operation 14
Chapter Four | Production of Catfish for food (&/or fingerlings etc for sale) 23
Chapter Five | Prevention & Treatment of Diseases 33
Chapter Six | Harvesting Operations and Procedures 41
Chapter Seven | Finding Profitable Buyers 45
Chapter Eight | Record Keeping for Performance Measurement & Decision Making 51
Conclusion | Next Steps? 58
References | Recommended Reading 61
About the Author 63
AUTHOR (Hope Agwulonu's) NOTE
"Catfish farming is serious business. Not just by virtue of the lucrative returns it yields when done right, but also due to the heavy demands it places on the owner to keep it running that way (i.e. profitably!) for the long term. In my experience at Providence Farms Ltd, not everyone can make a success of catfish farming. Certain qualities are required which are more important than just having the money or required capital. This book highlights the key attributes you need to succeed in Catfish farming, and also discusses theoretical requirements in conjunction with practical considerations you will need to provide for, if you wish to successfully start and run your own profitable Catfish farming business, without stress, and with peace of mind." – Hope Agwulonu, CEO, Progidence Farms Limited
CLICK HERE TO DOWNLOAD THIS FREE EDITION
******
Here are the headlines, reviews – and links – for this week's featured news items:
[PDF] Hope Agwulonu – Abuja based Farm CEO – Publishes 60 page Quick Start Guide to Catfish Farming Business – Download Your FREE Chapter Preview P.1
[PDF] Chapter 1: The Serious Biz of Catfish Farming P.2
[URL] Why Farm CEOs Need to Read Non-Farm Related Articles P.2
[URL] Are You a CEO/Expert With Practical, Experience? [Hint: CEO Spotlight Interview Invitation] P.3
[PDF] Your Own Money Making Information Product Built by Me! P.3
Below: Screenshot of the cover for Issue No. 34 of THE FARM CEO (Monday 25th January 2016)
CLICK HERE TO DOWNLOAD THIS FREE EDITION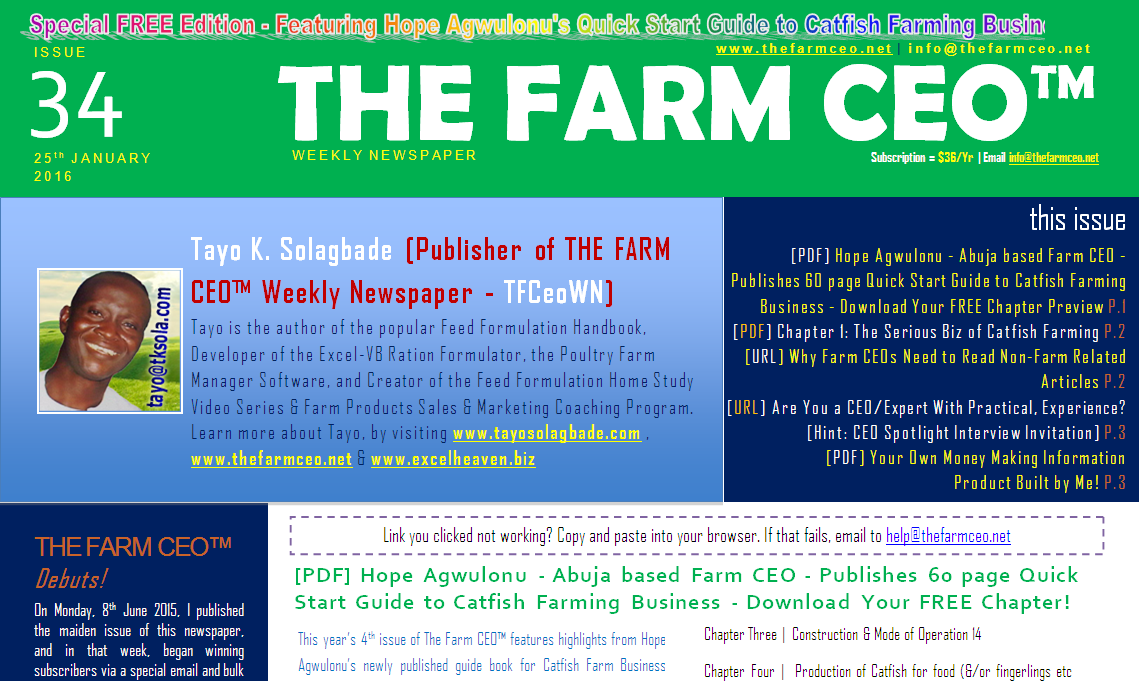 Subscribe to THE FARM CEO, and get this new issue, as well as ALL back issues, in addition to your full subscription of 48 weekly issues.
1) Useful feed formulation/other findings from trusted sources
2) Cost-saving ideas from farm visits as I travel across West Africa.
3) Ads by farm providers/suppliers of all genres.
4). Special promo price offers of my Software and Book products
Full details at http://tinyurl.com/TheFarmCEO
1 year's subscription = 48 issues.
Subscription Fee = $36 USD (approx) N6.8k [You get my $82 USD Feed Formulation Handbook FREE, as well as FREE Bi-weekly ads for YOUR biz]
ARCHIVES: Click here to view previews of ALL past issues of the newspapers