UPDATE: Good news. Apart from 65%discount on ALL my products/services, every member of my InnerCircle now gets ONE of my products of his/her choice FREE(e.g my Poultry Farm Manages, Ration Formulator, Payslip Generator etc). Read the updated offer pdf click here and let me know which product you want. Tayo K. Solagbade
Watch a Clinical Audiologist client I have served since 2007, speak about me in an impromptu video below, or on Youtube at: https://www.youtube.com/watch?v=_mA_reF_WIY&feature=youtu.be

"Join MY Inner Circle at www.tayosolagbade.com for $160 USD per year and Get custom Farm Business Software, Business Plans, Information Products, Freelance Writing,  plus Web Marketing, & Software Development Services – ALL at 65% off for LIFE! " – Tayo K. Solagbade

NB: Those who pay $200 will get lifetime membership. Such persons won't need to renew their membership annually and they still get 65% Discount Off EVERYTHING I offer for Life!

Every Inner Circle member gets a PERSONAL login username and password access to benefits.
I recorded this video in his office (on 8th Dec. 2014) and DELIBERATELY left it unedited, as you'll hear us…
Below: Verbatim text transcript of video testimonial by Mr. Simeon Afolabi, Clinical Audiologist, BSA Hearing & Speech Centre, Lagos/Abuja – Nigeria
===Starts===

(Tayo Solagbade's voice in Yoruba) "E duro, e duro. Oya" (i.e Yoruba for "Wait, wait. Okay")

"Mr. (Tayo) Solagbade is a very industrious person. Very very committed to his work. He's always full of ideas and solutions to problems, and for me, he is somebody that can give some great ideas to a business person that is facing some difficulties in any field you may think you are.

I'm in a clinical setting and he has been offering some great solutions to problems we face everyday. I listen to his relations with many of his clients. Some are into Agricultural sector, some are into legal sector, and he has been helping them to improve their practice, and to do better business.

He has a very good customer relationship. He knows how to relate with people, how to talk with people, how to flow with people.

And he's somebody that when you enter into conversation with him, you ke(ep) on talking without having to end it. (Tayo's slight laughter in background). He's good. Good (laughs)."

===Ends===
Click here to give me a date/time you want to call me about joining my Inner Circle.
PDF membership certificates will be issued to members.
Quarterly ($40 USD) & 6 Monthly ($80 USD) memberships available, but 50% off, not 65%.
You can pay:
a. in cash or b. by purchasing paperback books from my online store equivalent to $160 USD.
Examples of What You Get at 65% Off…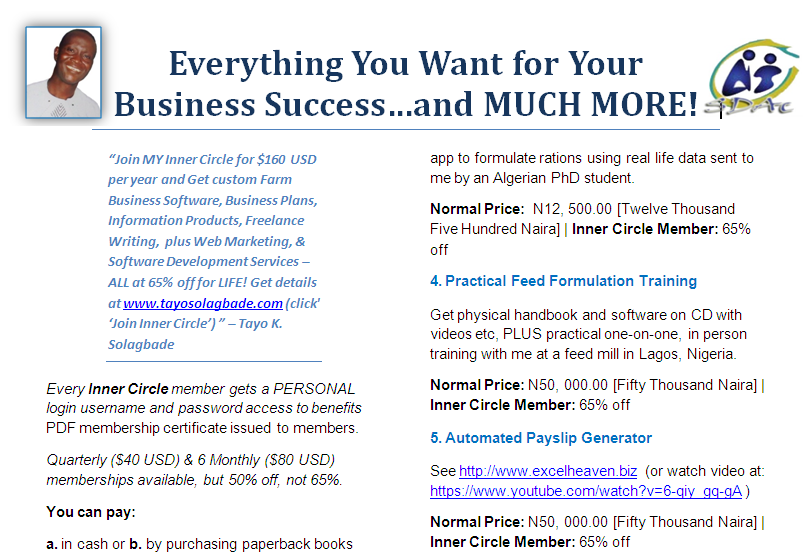 Alternatively…
Click here to give me a date/time you want to call me about joining my Inner Circle.