[Photo Below]: Image flyer version of THIS post announcing the event titled "How to Make Drinks You CAN SELL from Peels of Pineapples" that my 2 daughters (12 and 9 years old) – supported by me – will be facilitating in Ogun State on Sat. 14th April 2018!"
Date: 14th April 2018 | Time: From 10a.m
Venue: Town in Ogun state
Attendees: Up to 100 expected (likely split to groups – shoe making, drinks making)
Facilitators: Temi (12) & Oluoma (9) Solagbade
Organiser: BHF Foundation [3 Day Youths Conference]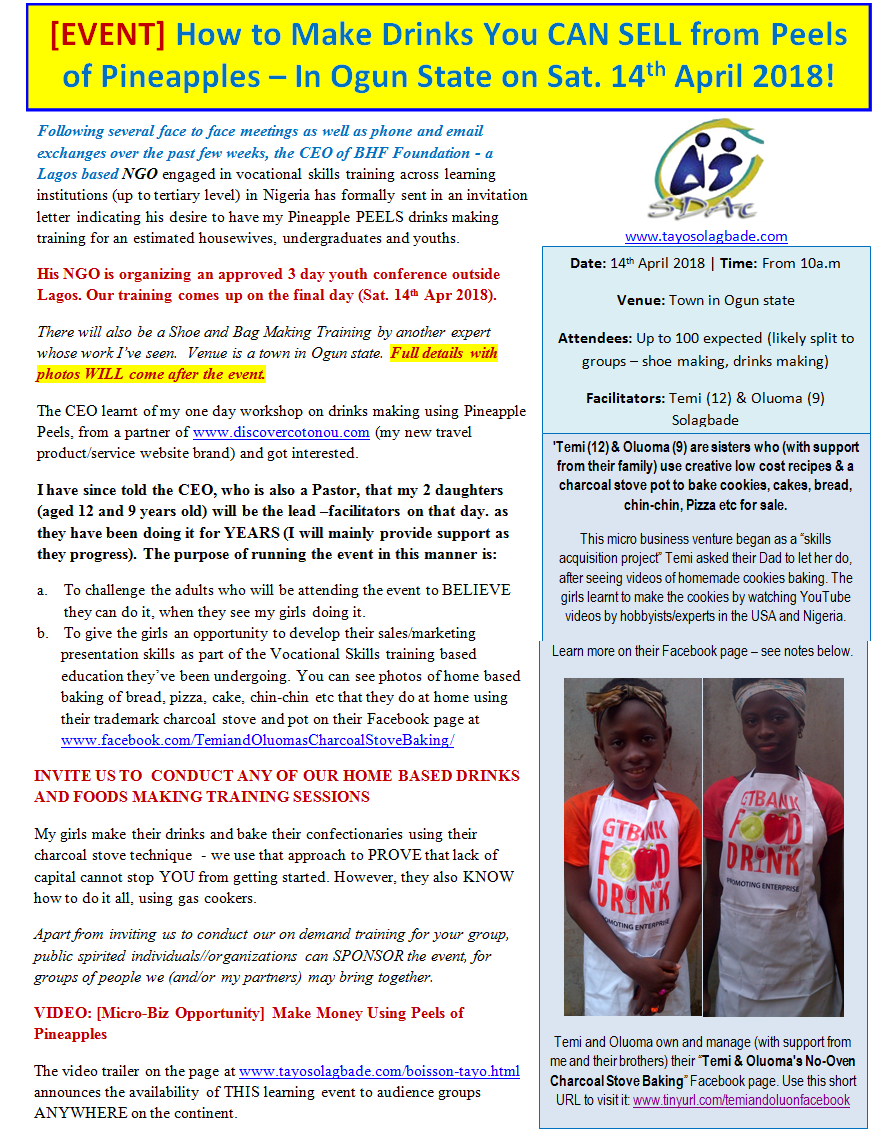 Following several face to face meetings as well as phone and email exchanges over the past few weeks, the CEO of BHF Foundation – a Lagos based NGO engaged in vocational skills training across learning institutions (up to tertiary level) in Nigeria has formally sent in an invitation letter (see below)  indicating his desire to have my Pineapple PEELS drinks making training for an estimated number of housewives, undergraduates and youths.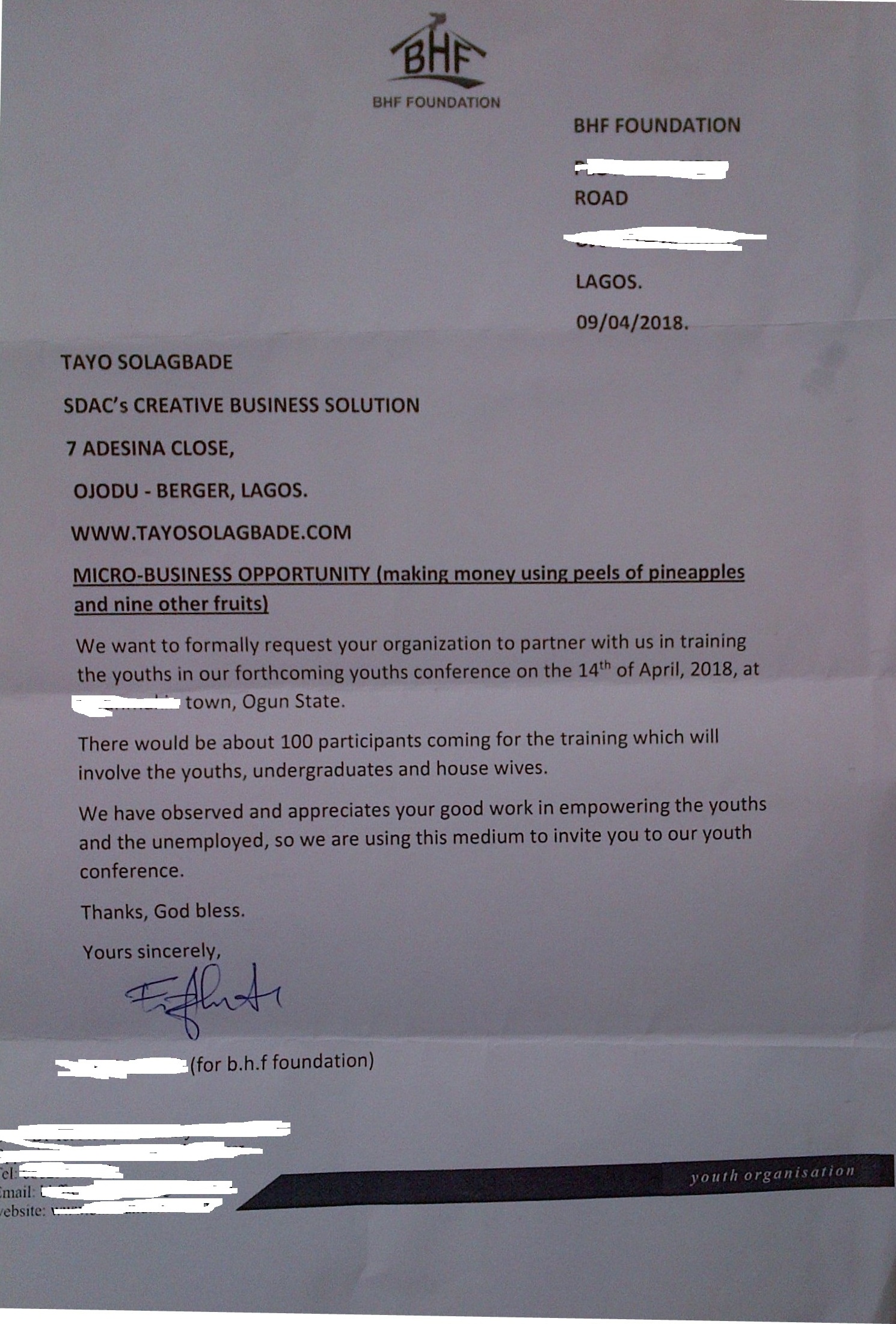 His NGO is organizing an approved 3 day youth conference outside Lagos. Our training comes up on the final day (Sat. 14th Apr 2018).
There will also be a Shoe and Bag Making Training by another expert whose work I've seen.  Venue is a town in Ogun state. Full details with photos WILL come after the event.
The CEO learnt of my one day workshop on drinks making using Pineapple Peels, from a partner of www.discovercotonou.com (my new travel product/service website brand) and got interested.
I have since told the CEO, who is also a Pastor, that my 2 daughters (aged 12 and 9 years old) will be the lead –facilitators on that day. as they have been doing it for YEARS (I will mainly provide support as they progress). The purpose of running the event in this manner is:
To challenge the adults who will be attending the event to BELIEVE they can do it, when they see my girls doing it.
To give the girls an opportunity to develop their sales/marketing presentation skills as part of the Vocational Skills training based education they've been undergoing. You can see photos of home based baking of bread, pizza, cake, chin-chin etc that they do at home using their trademark charcoal stove and pot on their Facebook page at facebook.com/TemiandOluomasCharcoalStoveBaking/
INVITE US TO  CONDUCT ANY OF OUR HOME BASED DRINKS AND FOODS MAKING TRAINING SESSIONS
My girls make their drinks and bake their confectionaries using their charcoal stove technique  – we use that approach to PROVE that lack of capital cannot stop YOU from getting started. However, they also KNOW how to do it all, using gas cookers.
Apart from inviting us to conduct our on demand training for your group, public spirited individuals//organizations can SPONSOR the event, for groups of people we (and/or my partners) may bring together.
VIDEO: [Micro-Biz Opportunity] Make Money Using Peels of Pineapples
The video trailer on the page at www.tayosolagbade.com/boisson-tayo.html announces the availability of THIS learning event to audience groups ANYWHERE on the continent.'
Related:[WORKSHOP] How to Make Drinks You Can Sell Using Peels of Pineapples – Lagos based NGO invites Tayo Solagbade to Train 30 Members
About Temi & Olouma…

'Temi (12) & Oluoma (9) are sisters who (with support from their family) use creative low cost recipes & a charcoal stove pot to bake cookies, cakes, bread, chin-chin, Pizza etc for sale.

This micro business venture began as a "skills acquisition project" Temi asked their Dad to let her do, after seeing videos of homemade cookies baking. The girls learnt to make the cookies by watching YouTube videos by hobbyists/experts in the USA and Nigeria.
Learn more on their Facebook page – see notes below.

Temi and Oluoma own and manage (with support from me and their brothers) their "Temi & Oluoma's No-Oven Charcoal Stove Baking" Facebook page. Use this short URL to visit it: www.tinyurl.com/temiandoluonfacebook