Yesterday (Mon 6th April 2015), I DELIBERATELY did NOT publish what would have been Issue No. 188 of my Speaking IDEAS newsletter (view last week's issue here) …because I decided to RE-INVENT myself in celebration of 2 years since I  relocated to Benin Republic on 1st April 2013.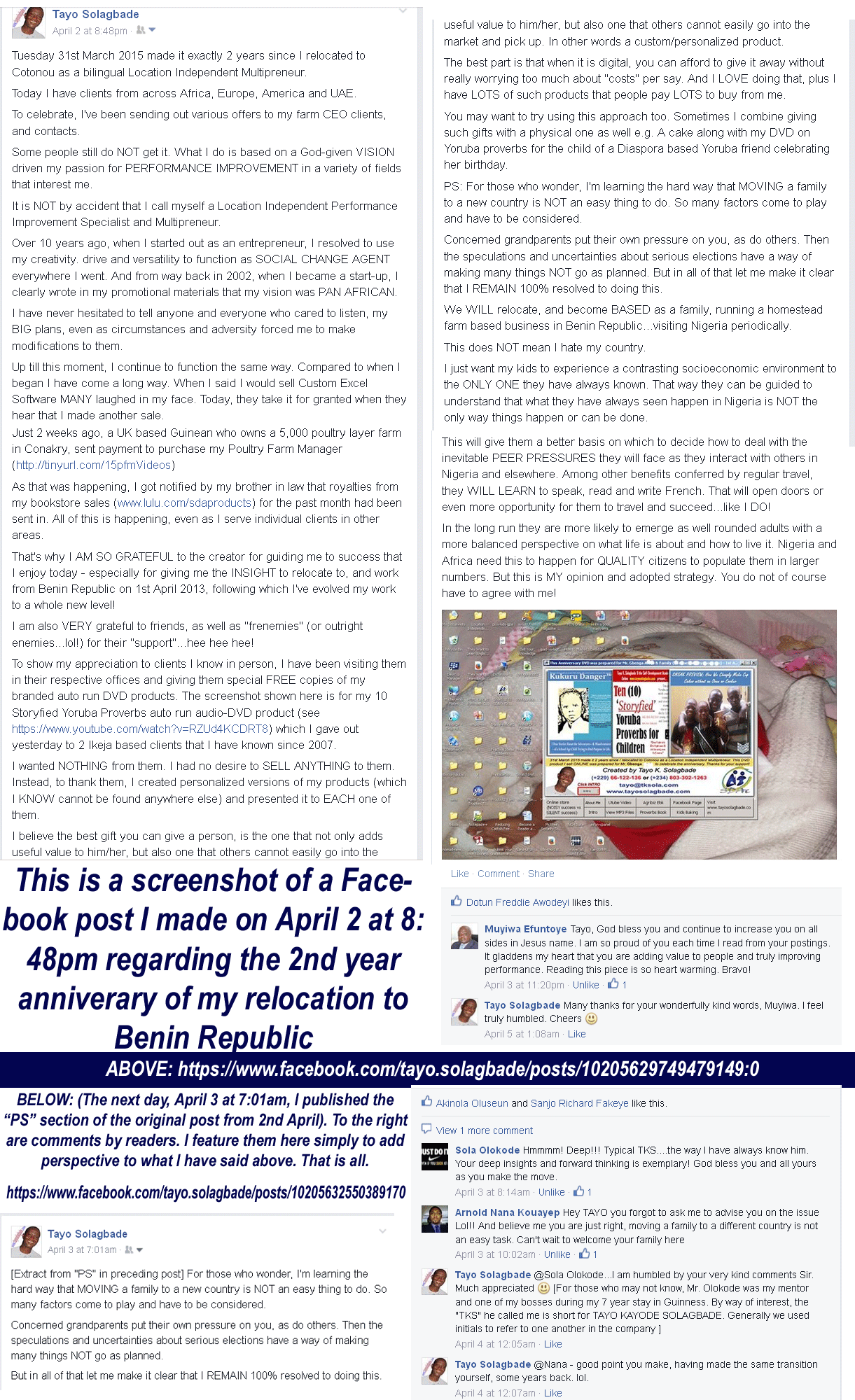 As a Performance Improvement Specialist, I believe in actively pursuing Continuous Improvement in EVERY area of endeavour I am engaged in.
The result of that exercise is that I now have 2 newsletters, instead of one, with a major modification in the nature of content and offers I will be making to my readers.
Newsletter No. 1: The Speaking/Web Marketing IDEAS Newsletter
Next Monday, 13th April 2013 (AFTER Nigeria's Governorship Elections are over), the original Speaking IDEAS newsletter will return with NAME – and CONTENT – CHANGES.
When I launched the Speaking IDEAS newsletter, in 2011, it was to promote speaker mentoring products and services offered by Burt Dubin, who I represent as Sole Agent across Africa.
Over the years, I have modified my approach and strategy based on what I observed to be the trends in subscriptions and feedback from readers.
In celebrating the 2nd year anniversary of my relocation to Benin Republic (31st March 2015), I did some objective thinking, analysis and review of the results I've gotten
Based on the above, I decided that to ATTRACT more of my target audience, I need to modify my content to better help them discover how my newsletter, and Burt's products/services can help them.
It is for this reason that I'm adding the Web Marketing aspect to the content of my Speaking IDEAS newsletter.
But that's not ALL.
All subscribers to this NEW version of my newsletter will be able to take advantage of a special support service I will begin offering to ALL who choose to signup for Burt's speaker mentoring products/services through me.
This offer basically would involve my functioning as a silent, but powerful addition to the person's Web Marketing arsenal. Details will be available to subscribers who request them.
HINT: To achieve sustainable long terms success, an expert-who-speaks needs to develop and implement a cost-effective and efficient marketing strategy that boosts his/her chances of winning speaking invitations.
When YOU choose to purchase a Burt Dubin Speaker Mentoring Product or Service, I WILL put at YOUR disposal a specially prepared Web Marketing System and Action Plan, to enable you get up and running with using EVERYTHING you learn from Burt, to achieve the Speaking Success you desire.
Watch out for full details in NEW Speaking/Web Marketing IDEAS Newsletter – coming on Monday 13th April 2015!
Newsletter No. 2: Cost-Saving Farm Business Best Practice Ideas Newsletter
A day after the New Speaking/Web Marketing IDEAS Newsletter goes LIVE, I will send out broadcasts of the MAIDEN issue of my Cost-Saving Farm Business Best Practice Ideas Newsletter
However, unlike the Speaking IDEAS Newsletter, which is open to subscription by any interested persons, this Cost-Saving Farm Business Best Practice IDEAS Newsletter, will ONLY be sent out to member of my Inner Circle. In other words, even though a preview will be published on my blog, opening the full issue will require having YOUR OWN Inner Circle Members Only Area Login Name and Password.
Just like I've done with the Speaking IDEAS newsletter, the Farm IDEAS Newsletter has been conceived based on what I've done with my Cost-Saving Farm Business Ideas website.
I've carefully tested various ideas using my content marketing for years, and during my 2nd year anniversary review of the results I've been getting, it occurred to me that I need to take what I offer to the next level, to reward those who have chosen to take the leap of faith to join my Inner Circle.
Full details will go out with the maiden issue that I will publish on Tuesday 14th April 2015.
Final Words
The above means that I have now separated my newsletter content for Farm CEOs from that for Experts-Who-Speak (who may not necessarily be farm CEOs).
However, if you are a Farm CEO, and you really want to make the most of yourself, to maximize your income earning potential, I URGE you to subscribe to the Speaking/Web Marketing IDEAS Newsletter.
See you next week!
New posts from last week that may interest you! *

Public Speaking[

Monday]

:

[Tuesday]:

[

Wednesday

]:

[Thursday]:

[

Friday

]:
[

Saturday

]:

Want me to write for you?

Click here

to send me a message