Invite me to facilitate my FREE ONE Hour Talk titled "How to Make Drinks You Can Sell from Peels of Pineapples and Nine (9) Other Fruits"
I developed this technique in July 2013, while on the campus of Benin Republic's National University in Calavi – a town outside Cotonou.
The video trailer linked below announces the availability of my learning event to audience groups ANYWHERE on the continent.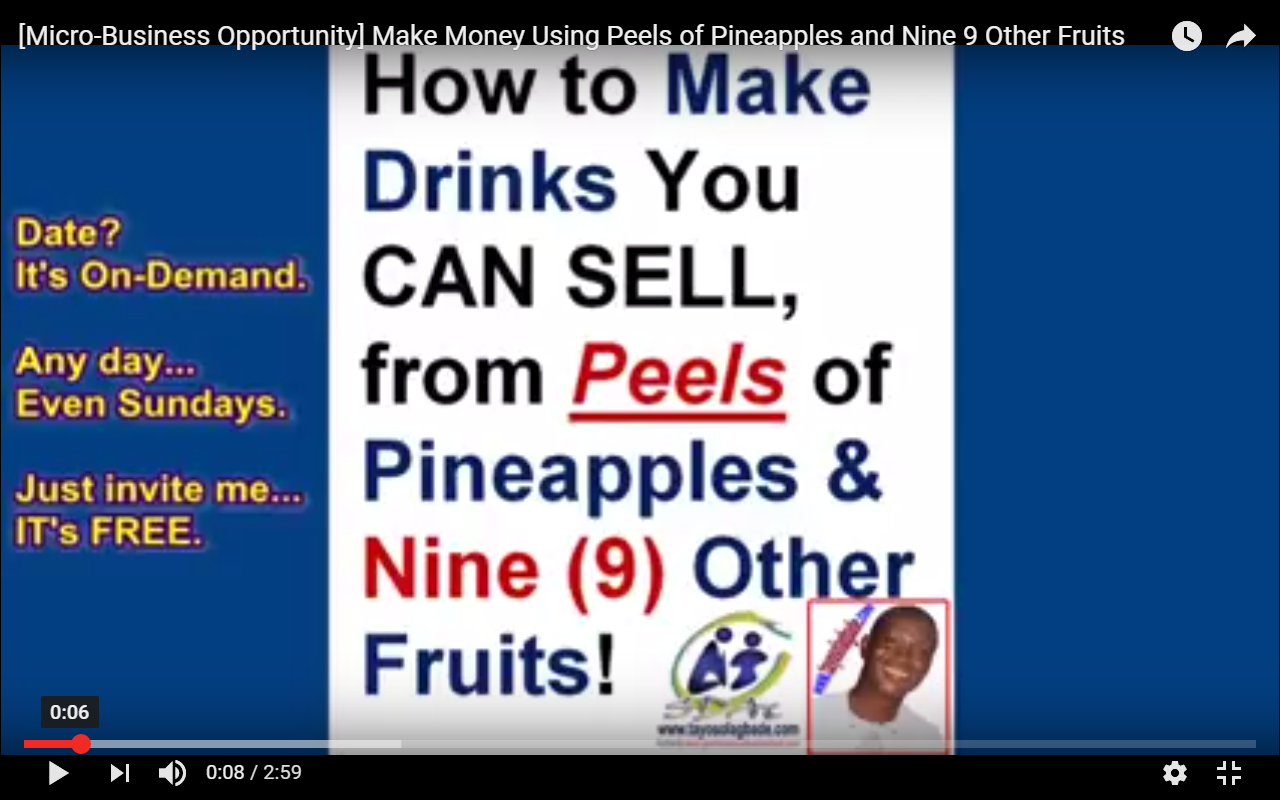 Date?
It's On-Demand. Any day…Even Sundays. Just invite me…IT's FREE.
Target Audience?
Students, Unemployed, Retirees, Housewives, Restaurant/Bar Owners, Farm CEOs etc
Submit the form at www.tayosolagbade.com/boisson-tayo.html to request my FREE audio podcast [You also get my FREE PDF report: "10 Fruits You Eat That Leave Useful Peels Behind"
In the audio podcast, I narrate how it all began i.e. How I was challenged by an old lady selling Pineapples on the campus, to prove my claim that the peels she had to (sometimes pay kids 100 FCFA to) throw away daily AFTER sales, could be used to make money.
I also share the exciting details of how my drinks and cakes got me commendations and new friendships with the Administrator of the Burkina Faso Chamber of Commerce (who spoke ZERO English) as well as top officers at the Nigerian embassy (one later hired me to build a website for his farm providing driver/car from Cotonou, to the farm location in South West Nigeria and back.
He also bought my Excel-VB Poultry Farm Manager), PLUS a Professor/Department Head in Benin Republic's National Language Centre – CEBELAE – who saw my products at the embassy, and waited to drive me about 1 hour to his home in Kasato (past Calavi!), where I was treated to a sumptuous meal!
If nothing else, you'll learn from the audio how to use intelligence and infectious enthusiasm, to push your ideas successfully through to busy persons who are often hard to pin down!