[Tagline: If it can help your farm business, you'll find it in THE FARM CEO™ Newspaper ]
Below is a preview of THE FARM CEO newspaper for this week (Issue No. 15):
This week's feature is a publication that discusses findings from the investigation of farmer's disposition to record keeping. If you've been following my writing on the subject of Cost-Saving Farm Business Ideas, you will know that I have written several pieces that stress the importance of farmers developing the healthy habit of data recording and analysis for timely and accurate decision making.
I found it quite interesting that the farmers interviewed asserted that they did not keep records mainly because it was "not beneficial" to them.
That, to me, is a clear indication of the need for proper education and reorientation of the farmers about the powerful Key Performance Indicators, they can quickly, and easily track to manage their farms more profitably. The immediate past Issue No. 14, of this newspaper (The Farm CEO™) featured several of my articles which discussed such KPIs and their methods of calculation in elaborate detail.
Here are the headlines, reviews – and links – for this week's featured news items:
[URL] Assessing Farm Record Keeping Behaviour among Small-Scale Poultry Farmers P.1
[URL] Reducing Cannibalism among newly hatched African Catfish, Fry by Grading P.2
[URL] Understanding African Farming Systems – Science and Policy Implications P.2
[URL] On-farm research leading to a dynamic model of a traditional chicken production system P.3
[URL] Fish Farming Investment | 5 Ways to Lose Money | Tilapia Fish Farm Guide – West Africa P.3
Below: Screenshot of the cover for Issue No. 15 of THE FARM CEO (Monday 14th September 2015)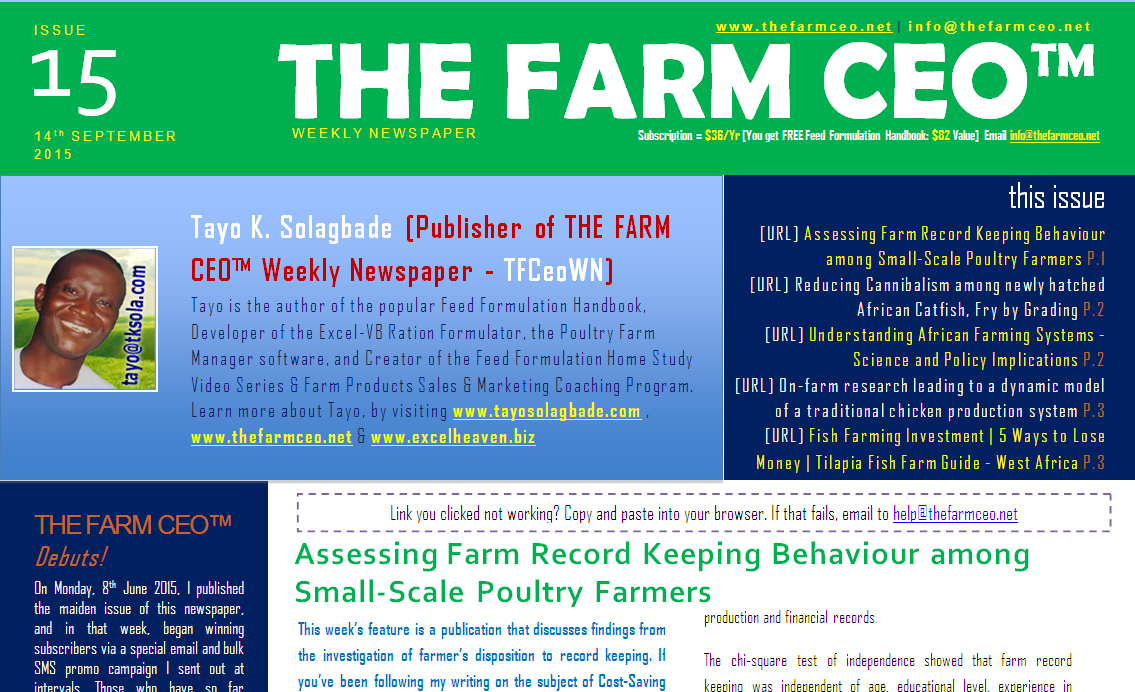 Subscribe to THE FARM CEO, and get this new issue, as well as ALL back issues, in addition to your full subscription of 48 weekly issues.
1) Useful feed formulation/other findings from trusted sources
2) Cost-saving ideas from farm visits as I travel across West Africa.
3) Ads by farm providers/suppliers of all genres.
4). Special promo price offers of my Software and Book products
Full details at http://tinyurl.com/TheFarmCEO
1 year's subscription = 48 issues.
Subscription Fee = $36 USD (approx) N6.8k [You get my $82 USD Feed Formulation Handbook FREE, as well as FREE Bi-weekly ads for YOUR biz]
ARCHIVES: Click here to view previews of ALL past issues of the newspapers