This seventh (7th) issue of THE FARM CEO newspaper features my reviews of, and links to:
1. Formulating Farm Specific Swine Diets P.1
2. [URL] Feeding L/stock During Feed Shortages P.2
3. 7 Tips to Reduce Feed Waste and Save Money P.2
4. [URL] Raising Meat Rabbits to Save The World P.3
5. [URL] Farm Software & Worksheets P.3
Below: Screenshot of the cover for Issue No. 07 of THE FARM CEO (Monday 20th July 2015)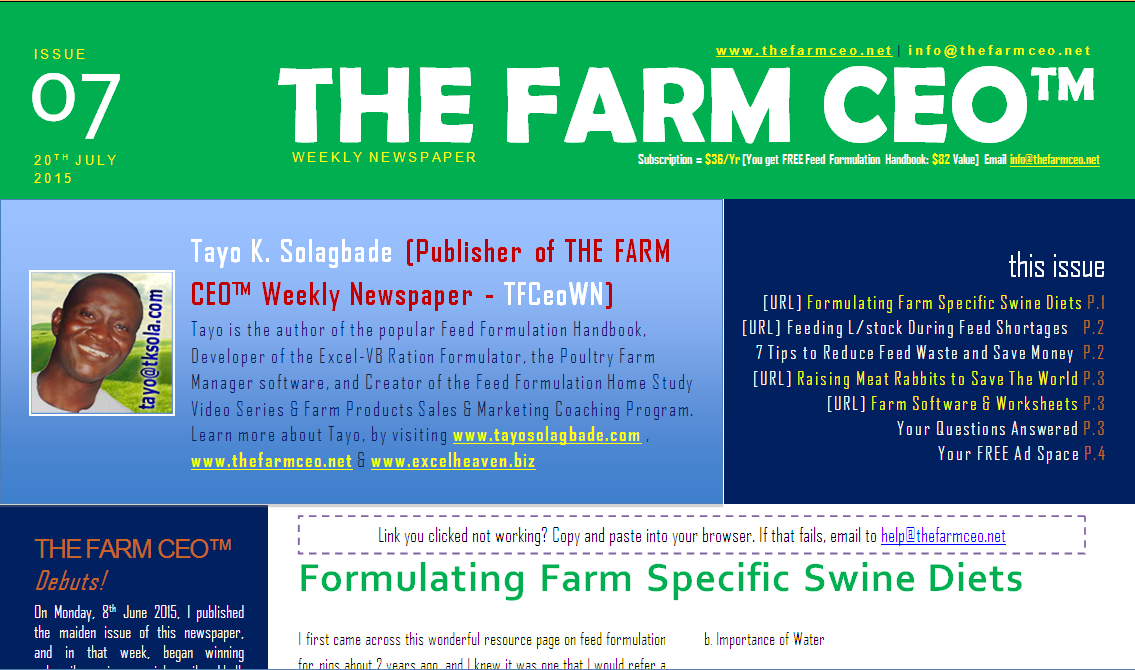 Subscribe to THE FARM CEO, and get this new issue 06, as well as ALL back issues, in addition to your full subscription of 48 weekly issues.
1) Useful feed formulation/other findings from trusted sources
2) Cost-saving ideas from farm visits as I travel across West Africa.
3) Ads by farm providers/suppliers of all genres.
4). Special promo price offers of my Software and Book products
Full details at http://tinyurl.com/TheFarmCEO
1 year's subscription = 48 issues.
Subscription Fee = $36 USD (approx) N6.8k [You get my $82 USD Feed Formulation Handbook FREE, as well as FREE Bi-weekly ads for YOUR biz]