Here's a preview of Issue No. 04 of THE FARM CEO Weekly Newspaper…
[PDF] Economics of Aquaculture Production P.1
[PROMO] Become My 50% Affiliate Partner! P.2
[VIDEO] Why You CAN Succeed In Your Livestock Farm Business (Feed Formulation Series) P.2
[PDF] Manual on Catfish Hatchery & Production P.2
[URL] Why Agriculturists Need to Be Agro-Entrepreneurs, If They Want to Prosper P.3
[PDF] Starting a Biz While Working Full Time P.3
Your Questions Answered P.3
Your FREE Ad Space P.4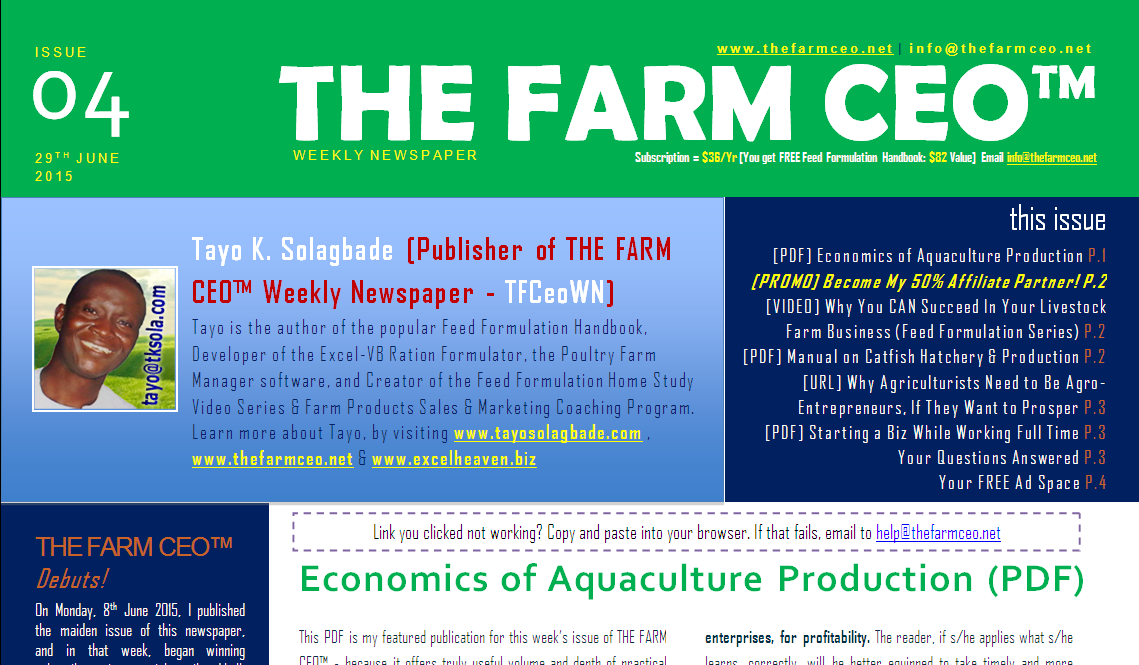 EXCERPT No. 1: Economics of Aquaculture Production
This PDF is my featured publication for this week's issue of THE FARM CEO™ – because it offers truly useful volume and depth of practical tips and insights on monitoring/analyzing the performance of a fish farming enterprises, which interestingly can be easily adapted for use in virtually any other farm based business!
I can state categorically, based on my personal review of this document that it truly offers valuable insights for aquaculture practitioners to accurately analyze the economics of enterprises, for profitability. The reader, if s/he applies what s/he learns, correctly, will be better equipped to take timely and more accurate decisions regarding his/her business.
See examples of tabulated content….
> Daily Records of a Typical Fish Farm
> Labour Input Record for a Typical Fish Farm
> Fixed Assets Record of a Fish Farm
> Cost and Return of Tilapia-Clarias combination in a Poly-culture System
> Illustration of Payback Periods for different stocking combinations
> Net Present Value (NPV) of three aquaculture systems & The IRR for the Tilapia-Clarias Project
From the perspective of a prospective investor or finance service provider, the information provided in this bulletin will prove valuable in preparing feasibility studies/business plans. Also, NGOs engaged in supporting farmers will find its contents useful.
Most importantly however, fish farmers themselves, will be able to use the tabulated details published in this bulletin as a guide for production and financial records they need to record/measure and monitor towards making their enterprises profitable and sustainable.
Excerpt No. 2 : Manual on Catfish Hatchery & Production
I discovered this excellent resource quite by accident in a recent online search. It offers a massive wealth of ready-to-use and very practical information and education on Catfish hatchery management and grow-out production. A wonderful piece of work.
Content Highlights:
> Techniques of Catfish Hatchery Management …
>. Requirements for a Successful African Catfish Hatchery
> Hatchery Facilities and Equipment
> Hatchery Techniques for Spawning
> Feeding Fry
> Rearing of Fry to Fingerlings
> Fish Diseases
Get FULL access to the above and more in YOUR COPY of this week's full issue 04 of THE FARM CEO newspaper (see your email box)
Not a paid subcriber yet? No Problem!
To make subscription payment to receive email me via info at the farm ceo dot net or use this form: http://tinyurl.com/tfc-ffhb
BECOME MY 50% AFFILIATE PARTNER! [PROMO OFFER]
Expires on Midnight Sunday 5th July 2015
So, I've decided that if I truly want to help Farm CEOs and those aspiring earn PASSIVE INCOME, I can start by using MY OWN PASSIVE INCOME GENERATING PRODUCTS to PAY YOU useful extra PASSIVE INCOME…
How does this work?
Simply tell others about my Ration Formulator software, Feed Formulation Handbook, Poultry Farm Manager etc and if ANY decide to buy, just KEEP 50% of the money they pay to you, as YOUR commission, and send me the rest, with buyer details, so I can send them their products!
So, here's an offer to YOU as a paid subscriber to this paper:  Pay N5k before MNT Wednesday 1st July 2015….and you instantly become my 50% Affiliate Partner so that when anyone buys ANY of my products through you, you KEEP 50%, and send me the rest of the fee for the product(s).
Bonus: You get 85% discount to buy my Ration Formulator OR 50% discount to have me develop YOUR OWN Passive Income Generating Product for you!
NB: from Thur 2nd July 2015, the N5k promo fee reverts to N10k.
See payment and other details in the newspaper.