"It is important to make agriculture 'cool' in order to attract more youngsters to the sector." – Botswana's Mavis Nduchwa, 33 year old founder of Chabana (Animal Feed) Farms – a grantee of Tony Elumelu Entrepreneurship Programme (TEEP)
The above quote, credited to a successful young Female African Farm CEO accurately captures the important need for African nations to make agribusiness more appealing to younger members of their populations.
Unfortunately, in some countries, like Nigeria, the youths continue to see and hear about farm businesses struggling to stay afloat or closing down e.g. poultry farms affected by scarcity and/or prohibitive prices of key inputs like Maize, Soyabean etc.
We need to create more opportunities for those bold enouch to venture into farm business, to record success stories like that of this young lady!
Read her full story in the interview previewed/linked below…
The new face of farming: youth making agribusiness 'cool'!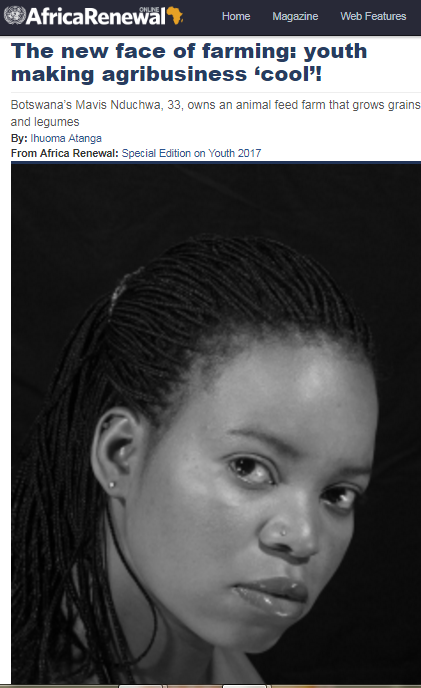 Botswana's Mavis Nduchwa, 33, owns an animal feed farm that grows grains and legumes
Run a quick Google search on African women making it in business, and you will rarely find a young woman engaged in rural farming. But Mavis Nduchwa has challenged norms by founding and successfully managing a commercial animal feed farm in Botswana.
Continue reading…