"I have a facebook page with 2k+ like and the niche of this page is……, this page has average likes of 150 everyday.I would like to ask…how to convert my facebook likes into money."
The above is a question many Facebook business page owners would LOVE to have ANSWERS to – for obvious reasons.
My new ebook/audio bundle announced here, describes experience based strategies anyone can use to make money from Facebook.
Get this ebook & MP3 audio FREE when you pay N10k ONLY to join my Web Marketing for CEOs™ Club. Click the link below to get signup details or text "MMFF" with your email address to +234-803-302-1263
http://www.tayosolagbade.com/contact.htm
Offer Expires Noon 14th July 2017 | Only 10 Slots on 1st Come 1st Served Basis
Below are highlights…
Tayo Solagbade & SDAc's Creative Business (CB) Solutions PRESENT…
Proven Secrets for Converting Your Facebook Page LIKES Into Money (Based on True Stories)
"It's NICE to see people LIKING your Facebook page, and even complimenting you on your posts, photos, videos and other content. But your business NEEDS to make sales (money) to be profitable. You therefore need to find a repeatable and reproducible way to turn those fan LIKES, SHARES and COMMENTS into MONEY! This ebook & audio bundle describes zero cost tried and tested strategies YOU can start using TODAY, no matter where you are in the world!"
******************************************
The Facebook messenger chat in the screenshots below, ended in a sale to my page's fan.
******************************************
He wrote in with a compliment;
"Good day sir I sent you the link to your article as a reference. I really enjoy your articles even though I have not yet bought any of your products yet. I love your thinking I wish more Africans can think like you not just Nigerians. Best regards.

P. S. thanks a lot for the wonderful articles. Keep it up"
I replied with thanks, but ended with a low price offer of a new audio product, to which he replied as shown below
"Yes
This I can afford at the moment
Pls send me your Gt Acc # or if you have Diamond Bank it will be easier for me"
**************
Full story in the ebook & audio
**************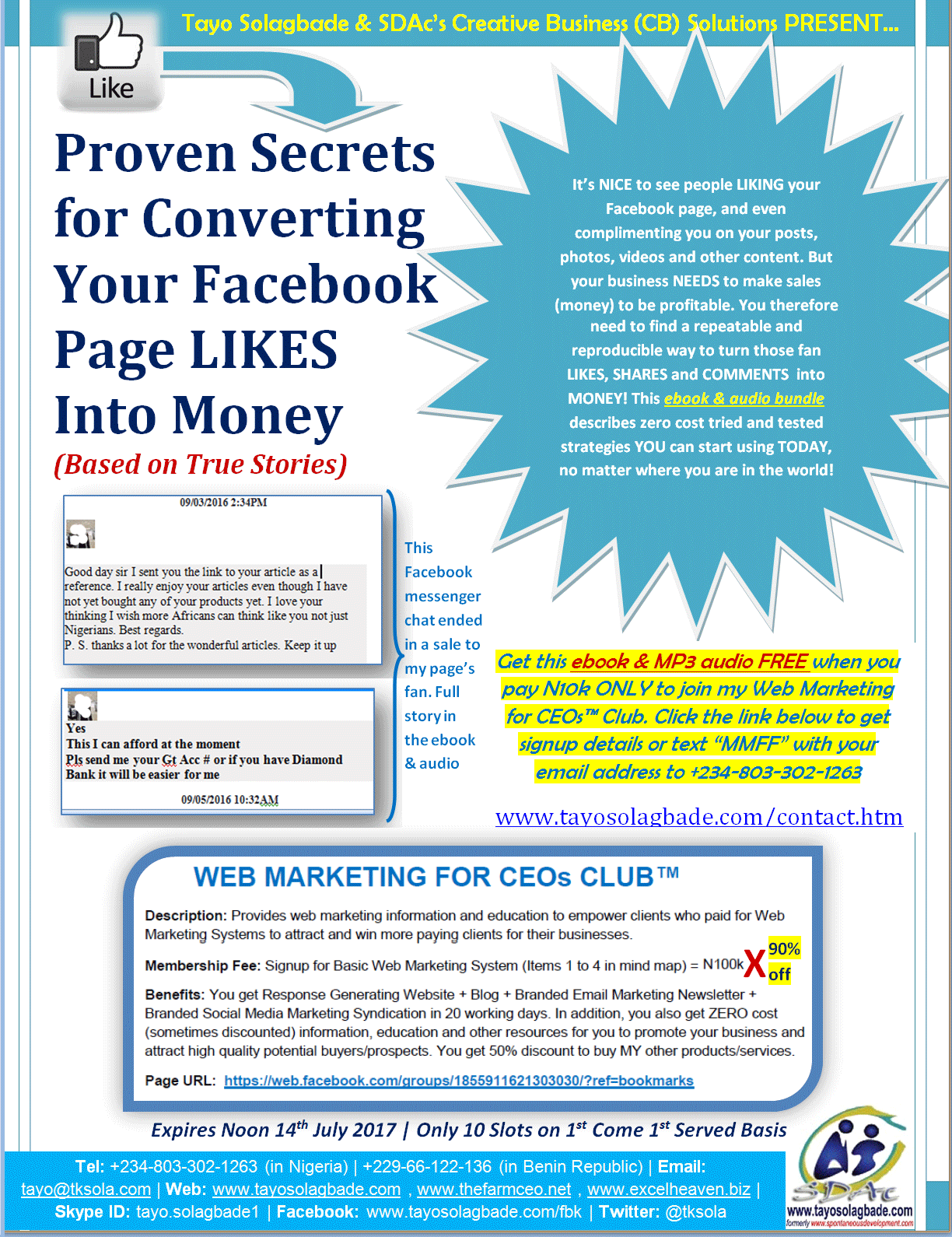 Get this ebook & MP3 audio FREE when you pay N10k ONLY to join my Web Marketing for CEOs™ Club.
Click the link below to get signup details or text "MMFF" with your email address to +234-803-302-1263