[Update: Cover for Issue 02 added] On Monday 8th June 2015, I'll publish the maiden issue of Self-Development Academy's "THE FARM CEO:" a "small" niche digital newspaper (which will be available in PRINT to interested subscribers).
Below is a screenshot of a teaser preview.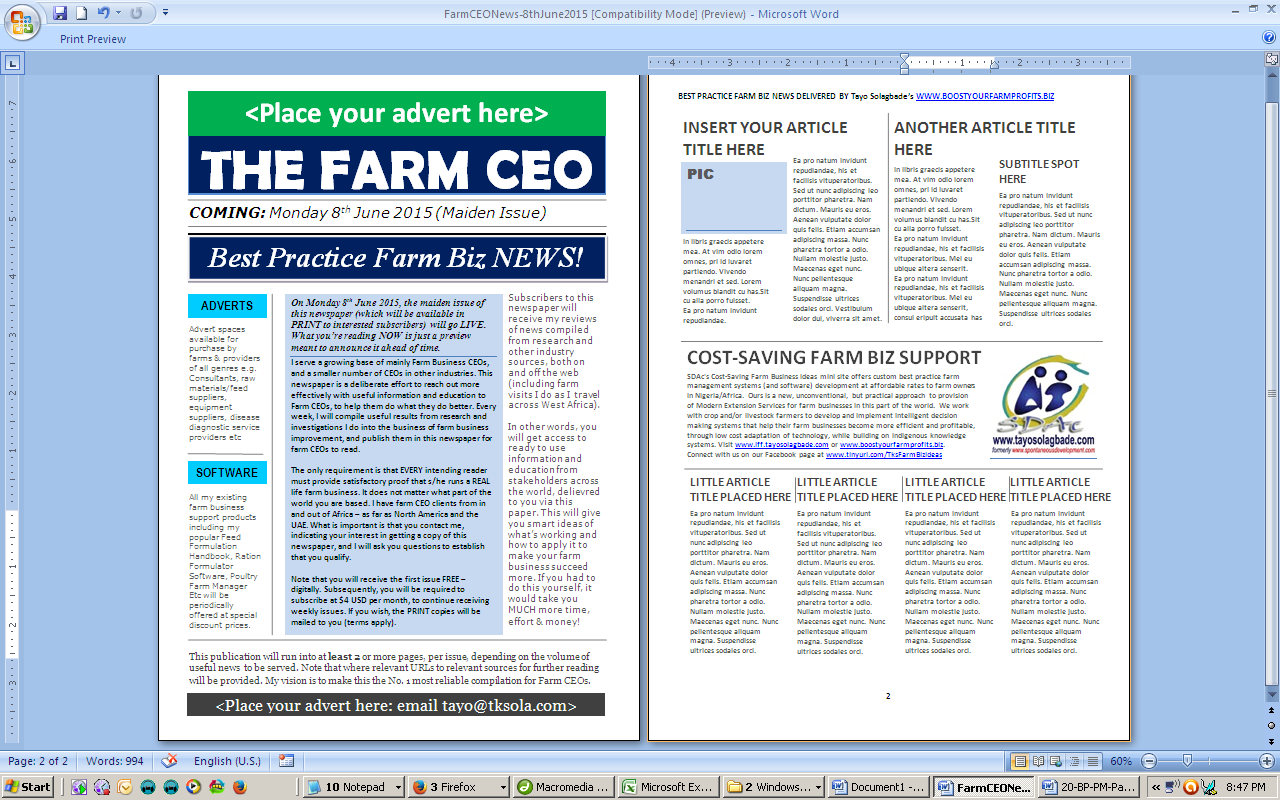 I serve a growing base of mainly Farm Business CEOs. This newspaper aims to help them do what they do better.
Every week, it will serve them results from research and investigations I conduct into ideas and strategies/latest findings for farm business improvement.
To subscribe, EACH intending reader must provide satisfactory proof that s/he runs (or has plans to establish) a REAL life farm business.
It does not matter what part of the world you are based.
I have farm CEO clients from in and out of Africa – as far as North America and the UAE – and I guarantee they WILL also find this paper's contents useful.
What is important is that you contact me, indicating your interest in getting a copy.
Note that you will receive the first issue FREE – digitally. Subsequently, you will be required to subscribe at $3 USD per month, to continue receiving weekly issues.
If you wish, the PRINT copies will be mailed to you via post (terms apply).
CONTENT (WHAT TO EXPECT)

Subscribers to this newspaper will receive my reviews of news compiled from research and other industry sources, both on and off the web (including farm visits I do as I travel across West Africa).

In other words, you will get access to ready to use information and education from stakeholders across the world, delivered to you via this paper. This will give you smart ideas of what's working and how to apply it to make your farm business succeed more. If you had to do this yourself, it would take you MUCH more time, effort & money!

ADVERTS

Advert spaces available for purchase by farms & providers of all genres e.g.  Consultants, raw materials/feed suppliers, equipment suppliers, disease diagnostic service providers etc

For details about subscribing or advertising, click here to contact me.

SOFTWARE/PRODUCTS

All my existing farm business support products including my popular Feed Formulation Handbook, Ration Formulator Software, Poultry Farm Manager Etc will be periodically offered at special discount prices.
THE VISION
This publication will run into at least 2 or more pages, per issue, depending on the volume of useful news  to be served. Note that where relevant URLs to relevant sources for further reading will be provided.
My vision is to make this the No. 1 most reliable compilation for Farm CEOs.
COST-SAVING FARM BIZ SUPPORT
SDAc's Cost-Saving Farm Business Ideas mini site offers custom best practice farm management systems (and software) development at affordable rates to farm owners in Nigeria/Africa.  Ours is a new, unconventional, but practical approach to provision of Modern Extension Services for farm businesses in this part of the world.
We work with crop and/or livestock farmers to develop and implement intelligent decision making systems that help their farm businesses become more efficient and profitable, through low cost adaptation of technology, while building on indigenous knowledge systems.
Visit www.iff.tayosolagbade.com or www.boostyourfarmprofits.biz. Connect with us on our Facebook page at www.tinyurl.com/TksFarmBizIdeas
For details about subscribing or advertising, click here to contact me.
Below: Screenshot of the cover for Issue No. 02 of THE FARM CEO (Monday 15th June 2015) – this is the formal look for the newspaper.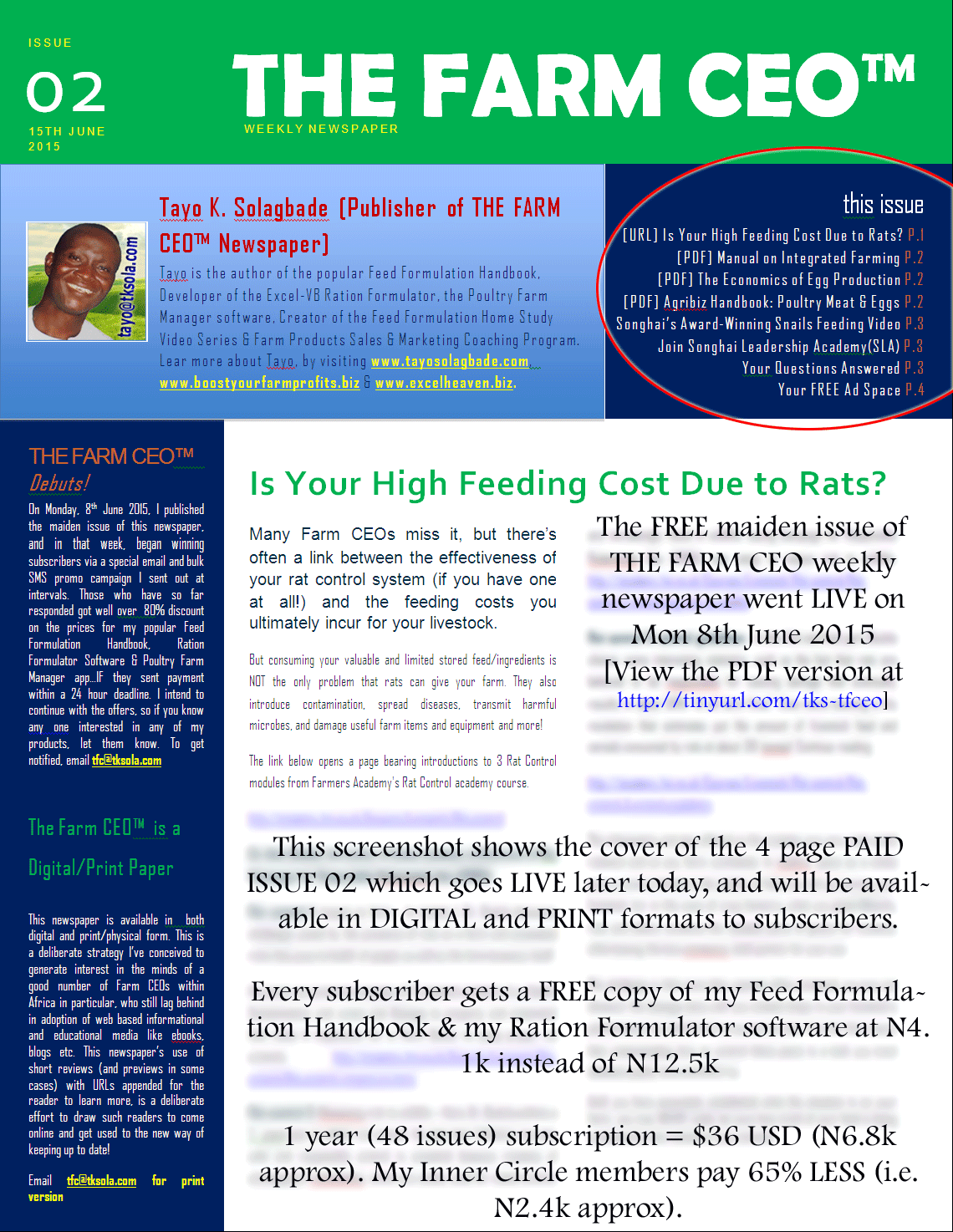 For details about subscribing or advertising, click here to contact me.