Join My Excel Heaven Visual Basic Membership Club: MS Excel is available on most PCs anywhere, and it has it's own development platform. ANYONE competent in Excel VB programming can therefore earning income developing low cost custom applications at zero cost!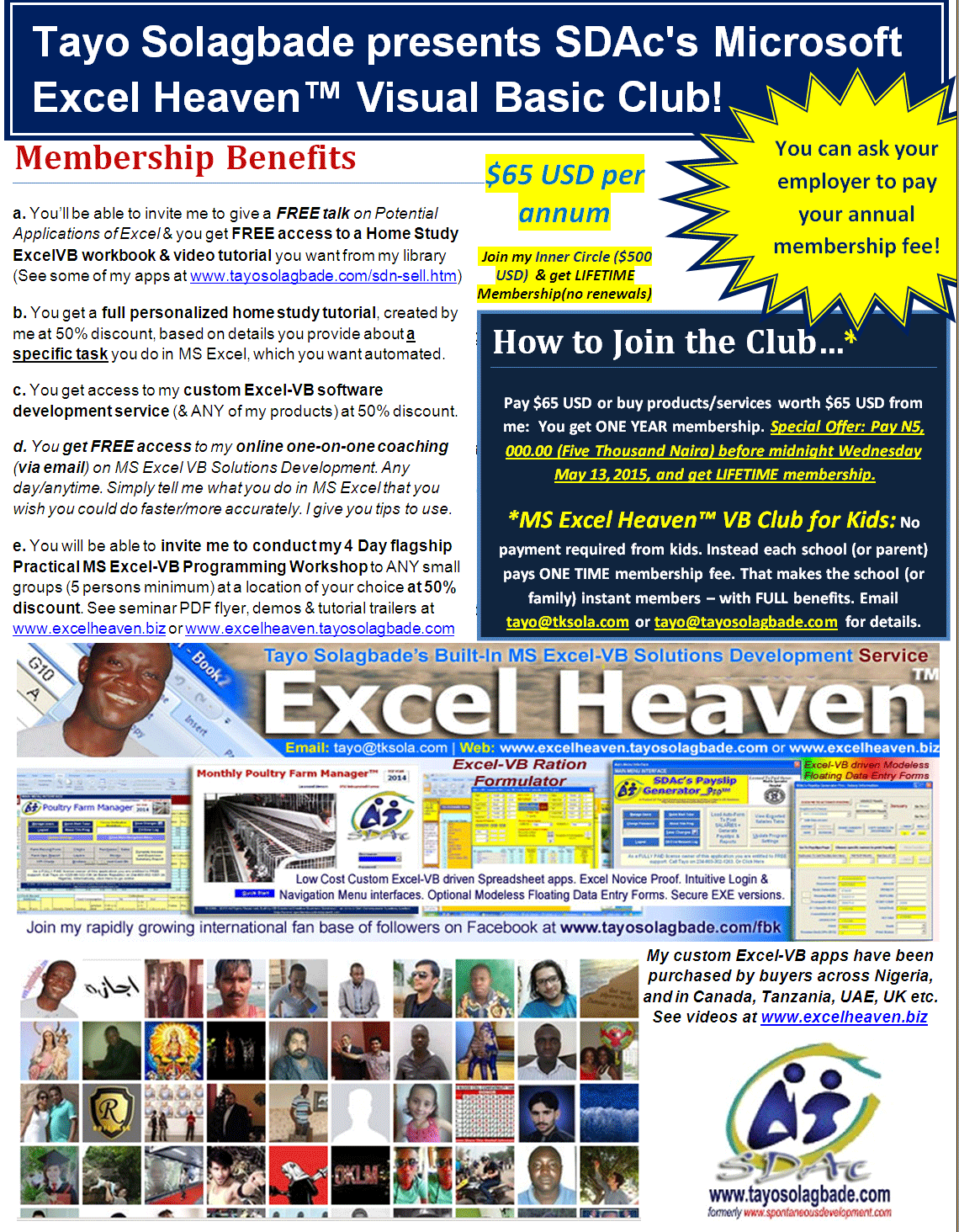 There is a HUGE Excel-VB industry across the world that most people are not aware of.
Many professionals in various fields provide custom ExcelVB solutions to clients they support e.g. Accounts/financial consultants, engineers etc. I want to help such experts become more productive and profitable.
Whether you are in paid employment or run your own business, joining this club can help you.
Required Investment: $65 USD per annum
NB: Join my Inner Circle (Fee = $500 USD) & get LIFETIME Membership(no renewals) – See http://tayosolagbade.com/uploads/InnerCircle.pdf
Membership Benefits
a. You'll be able to invite me to give a FREE talk on Potential Applications of Excel & you get FREE access to a Home Study ExcelVB workbook & video tutorial you want from my library (See some of my apps at www.tayosolagbade.com/sdn-sell.htm)
b. You get a full personalized home study tutorial, created by me at 50% discount, based on details you provide about a specific task you do routinely in MS Excel, which you want automated.
c. You get access to my custom Excel-VB software development service (& ANY of my products) at 50% discount.
d. You get FREE access to my online one-on-one coaching (via email) on MS Excel VB Solutions Development. Any day/anytime. Simply tell me what you do in MS Excel that you wish you could do faster/more accurately. I give you tips on what to do/how.
e. You will be able to invite me to conduct my 4 Day flagship Practical MS Excel-VB Programming Workshop to ANY small groups (5 persons minimum) at a location of your choice at 50% discount.
See the seminar PDF flyer (here), and the video demos/tutorial trailers at www.excelheaven.biz or www.excelheaven.tayosolagbade.com
How to Join the Club…*
Pay $65 USD or buy products/services worth $65 USD from me: You get ONE YEAR membership. Special Offer: Pay N5, 000.00 (Five Thousand Naira) before midnight Wednesday May 12, 2015, and get LIFETIME membership.
*MS Excel Heaven™ VB Club for Kids:
No payment required from kids. Instead each school (or parent) pays ONE TIME membership fee.
That makes the school (or family) instant members – with FULL benefits. Click here for details.
I have a special interest in developing Excel-VB coding skills amongst young people from an early age.
A child who leaves school with Excel-VB coding skills will be able to easily make him/herself useful to others engaged in serious vocations. Even starting from his/her school or instritution!
Tha above is why I'm launching the "kids" version of my club.
My custom Excel-VB apps have been purchased by buyers across Nigeria, and in Canada, Tanzania, UAE, UK etc.
Click here to contact me
Learn more at www.excelheaven.biz