NB: At the bottom of this post is the transcript of a message I sent (with download link to my NEW VIDEO titled "How to build an automated Cash Book") today to members of my Excel-VB Club in continuation of their home study coaching.
 Join 3 accountants and a university professor in my NEW MS Excel-Visual Basic Automation Club, to attend this FREE workshop, and also start downloading my step-by-step tutorials on automating your daily tasks in MS Excel using Visual Basic Macros.

Highlight: Get a Step-by-Step video tutorial on best practice worksheet design and Excel Visual Basic coding using a real life spreadsheet software I built in 2007 for a popular Lagos based hospital with over 120 staff.
1. Each club  member wishing to attend, gets FREE access to my forthcoming FREE 4 Hour Practical Introduction to MS ExcelVB Automation Workshop.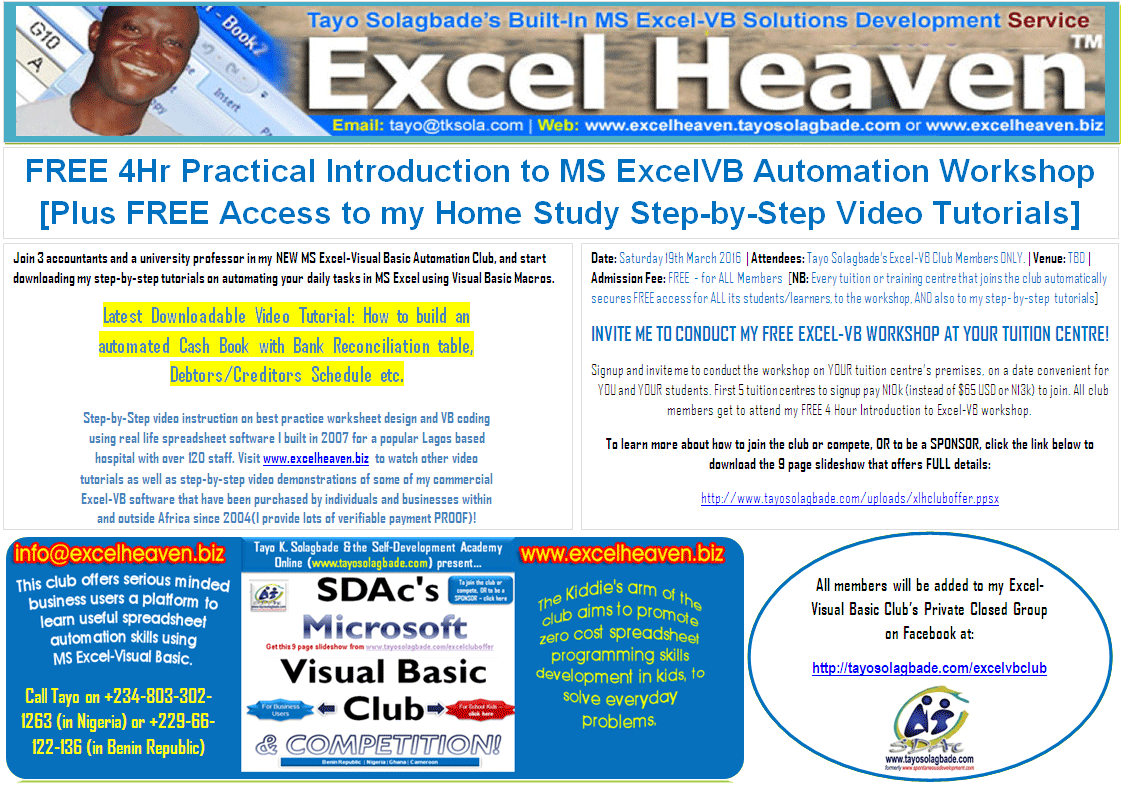 2. ALL attendees will get a DVD containing my Home Study Step-by-Step Video Tutorials.
3. Non-club-members wishing to attend simply need to join the club by paying the membership fee.
Details, with links to relevant additional information provided below:
Date: Saturday 19th March 2016
Attendees: Tayo Solagbade's Excel-VB Club Members ONLY. [Not yet a member, click here to let request signup and other details]
Venue: TBD
Admission Fee: FREE – for ALL Members [NB: Every tuition or training centre that joins the club automatically secures FREE access for ALL its students/learners, to the workshop, AND also to my step- by-step tutorials]
AS A MEMBER, YOU CAN ALSO INVITE ME TO CONDUCT MY FREE EXCEL-VB WORKSHOP AT YOUR TUITION CENTRE!
Signup and invite me to conduct the workshop on YOUR tuition centre's premises, on a date convenient for YOU and YOUR students.
First 5 tuition centres to signup pay N10k (instead of $65 USD or N13k) to join. All club members get to attend my FREE 4 Hour Introduction to Excel-VB workshop.
1. To learn more about how to join the club or compete, OR to be a SPONSOR, click the link below to download the 9 page slideshow that offers FULL details:
http://www.tayosolagbade.com/uploads/xlhcluboffer.ppsx
2. Introductory Videos Club Members Need to Watch
Welcome to my MS Excel Heaven Visual Basic Automation Club [Introductory Videos You Need to Watch] | SD Nuggets™
Transcript of Email message sent to club members today…
Hi,

Click the link below to download PART 1 of the new video tutorial:

http://tayosolagbade.com/—link disabled—.zip

TITLE: How to build an automated Cash Book with Bank Reconciliation table, Debtors/Creditors Schedule etc.

It is a Step-by-Step video tutorial on best practice worksheet design and VB coding using real life spreadsheet software I built in 2007 for a popular Lagos based hospital with over 120 staff.

INSTRUCTIONS

Download the zipped folder linked ABOVE to your desktop and unzip the contents.

2 files will emerge. Double click on the web page file to launch a browser window in which the SWF video file will playback/

Note that if you see THE browser prompt shown in the linked PNG image below, all you need do is simply click "Activate Adobe Flash" (or the equivalent linked text displayed in your browser), and follow the instructions to get the video to display and play.

http://tayosolagbade.com/sdnuggets/wp-content/uploads/2015/10/fbsc-video-tip.png

Let me know if you need help.

In your service.

Tayo