A Proven Solution That Enables Any African Write And Publish An International Quality Physical Book At Zero Cost!
This article is based on a letter dated 31st October 2005 written by Tayo K. Solagbade following a 2 week exploratory business visit to Accra-Ghana, during which time he met with the President of Pan African Writers Association(PAWA).
Tayo emailed the letter to Media Houses in Ghana (e.g. Graphic Ghana), Egypt, Kenya, Tanzania, Zimbabwe, South Africa etc challenging them to do a story on how POD Publishing could enable African writers publish and sell international quality print books at ZERO COST.
I am writing to suggest a story about How Print-On-Demand (POD) publishing companies based on the Internet have made it possible for anyone, living anywhere in the world – including Africa, to:
a). Become real-life self-published authors who can earn income in foreign currency…
b). By writing books(NOT just E-books!) to be purchased via the internet and shipped to customers worldwide…
c). Without the author having to incur ANY publishing costs i.e. FREE.
Why is this a good story to cover? Here are what I believe are Six (6) good reasons for you to cover this story.
1. It is relevant to current events – More and more frequently, one hears of book launches being announced/held.
More and more people in Africa are writing books of all types (Tourism/African History and Culture in particular have growing appeal). The major challenge - for authors/writers, and their readers, who have to purchase the works - has continued to be the publishing cost element. And so, when a book goes out of print, it is often difficult to get re-prints. The solution I refer to in this letter ensures:
(i). Your book NEVER goes out of print;
(ii). That you can always revise and edit your manuscript anytime;
(iii). And anyone who is willing can get published without having to pay the publisher ANY money whatsoever.
2. It is likely to interest a broad cross section of YOUR audience.
Most people living in Africa who dream daily of writing – or who have written but struggle to find funds to get(or keep) their books in print will read or listen to ANY news medium that talks about the solution described in this letter. This means you can be sure of an increased audience.
3. It offers READY avenue for income generation(discouraging resort to crime).
Anyone, from housewife, to school leavers, unemployed graduates, retirees AND even the cybercafé 419 e-mail scam artists aka "Yaahuu Boys", can use it to achieve significant remuneration (and/or redemption for Yaahuu Boys).
(i) Take my experience for example. For every purchase of my book made in one of my online stores, I get $4.24 USD. Yet, after converting my one-hour talk delivered across many organizations in 2002, into a 113 page book in MS Word, I only spent about 2 days - in May 2005 - setting up the online store where it is now on sale.
(ii) Established authors can inexpensively get additional income – this time without paying huge amounts to publishers, while at the same time gaining access to an international buying audience.
For instance - Imagine if an online store like mine were to be built for Chinua Achebe's "Things Fall Apart". Then let's say educational institutions, libraries and other organizations interested in African literature/studies were informed about the book's availability for sale on the net? I believe the point I'm making here is clear.
4. I can show you physical PROOF that the above really works.
When I first wrote this letter in 2005, I had just taken delivery of 2 physical copies of my 113 page glossy front/back cover self-help manual (titled "Ten Ways You Can Use Self-Development To Create The Future You Want").
They were delivered to me from the USA on Saturday 22nd October 2005 – courtesy of a family friend based in the USA who used his credit card to purchase them from my online store - and brought them with him to Nigeria (he was with us till Friday 4th November 2005).
It cost him $35.00(including shipping/handling).
Below is a photo of my book in my hand after it was delivered to me back in November 2005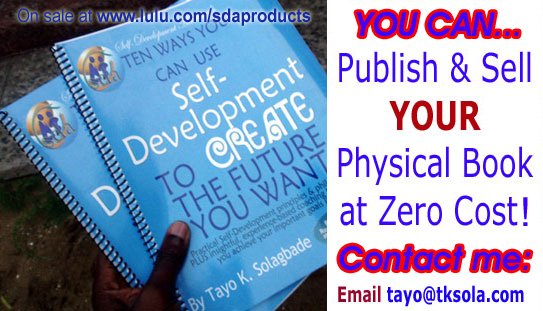 Below is a short video clip I recorded with the book on my table at home....
Today, 10th June 2015, I've a LOT more proof to back up my claims...but NOT just from myself. I recently helped one of my clients - Barr. Arnold Nana Kouayep, President of Cotonou based Global Konsult Group (see photo below), to successfully self-publish his own book!

Below is a Facebook post by Barr. Nana, about the arrival of his new book...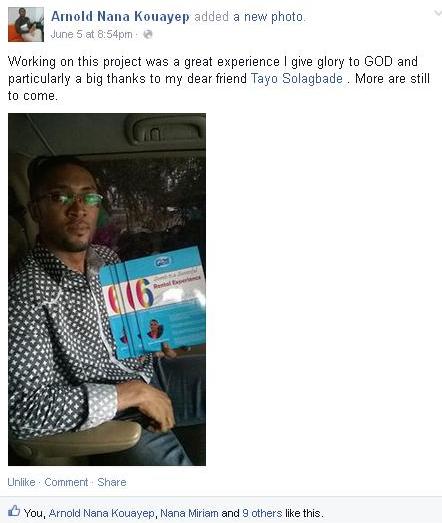 Apart from photos, here are some screenshots of royalty notifications - as well as payment confirmation.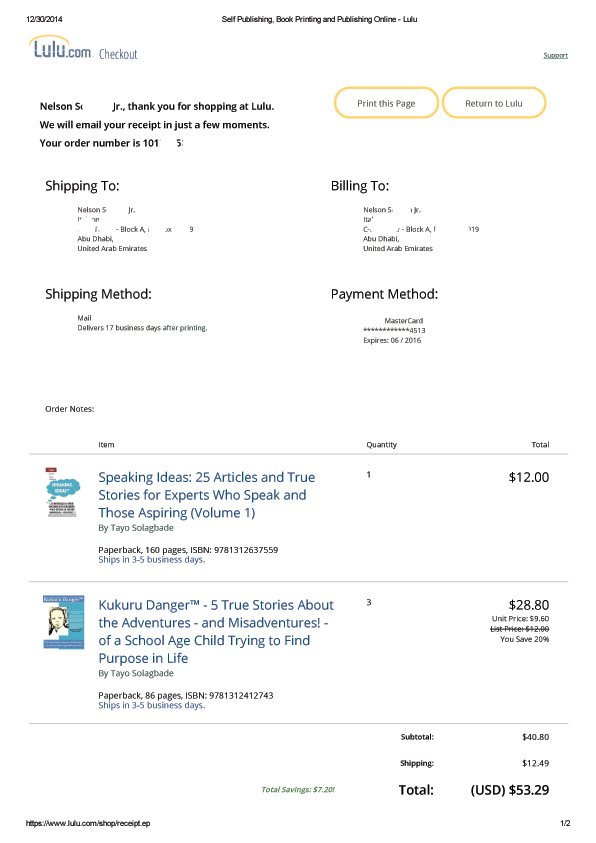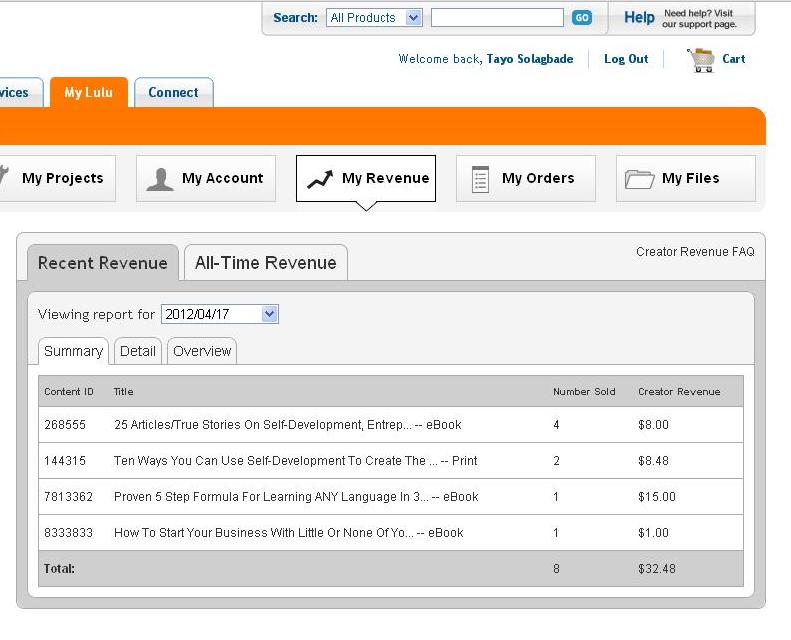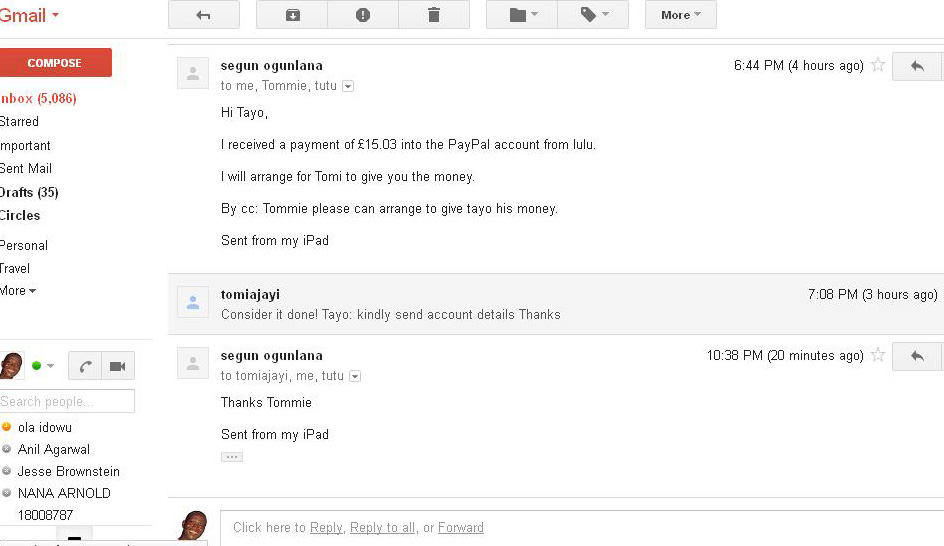 As you can see from the email screenshots above, I'm able to get my royalty in my hands faster with help from loved ones in the UK and Nigeria.
In the past, I had to WAIT long periods. As the use of digital payments platforms gets more open to people in Africa, this can only get easier. That's why this is the best time to get on board POD publishing!
5. It is an opportunity for YOU to change lives – and give new hope.
You owe every potential/aspiring/practising writer (including those who are jobless, handicapped etc) in our society, an obligation to bring news of this unlimited opportunity to their knowledge.
Every time we talk about poverty reduction, unemployment, economic downturns etc, people keep asking the government to do something.
The solution I describe here makes it possible for every willing person in Africa to take greater control of his/her future. All they need do is to acquire the requisite knowledge and skills.
6. I Can Help Interested Persons Take Advantage Of This Solution.
As with any new thing, there will be startup/learning pitfalls to be avoided. Also, any opportunities to save time/minimize waste of effort/resources would be of great benefit.
That's why I want to put my wealth of experience in self-publishing of Electronic and Physical Books at the disposal of interested persons.
Through my work, I continually strive to show that:
a). Empowerment of individuals to be multi-skilled, independent minded creatives…
b). Who are able to leverage technology and the internet in ways that require little or no capital…*
c). For the purpose of offering value adding products and services for which they will paid…Is the most realistic, and viable solution for Africans living in Africa.
I Offer A Book Writing Support Service For Writers/Authors, Business Owners etc
Rather than just write and talk about it, I have chosen to go ahead and publish books by myself using POD technology, so others can draw inspiration from my achievements.
Today, I now offer a Book Writing Support Service aimed at :
(i) providing training – via learning events like seminars, workshops etc - for persons interested in learning to do what I have done OR
(ii) helping intending authors/writers who cannot spare the time (ghost) write/publish their books.
You can request details of this service using this form.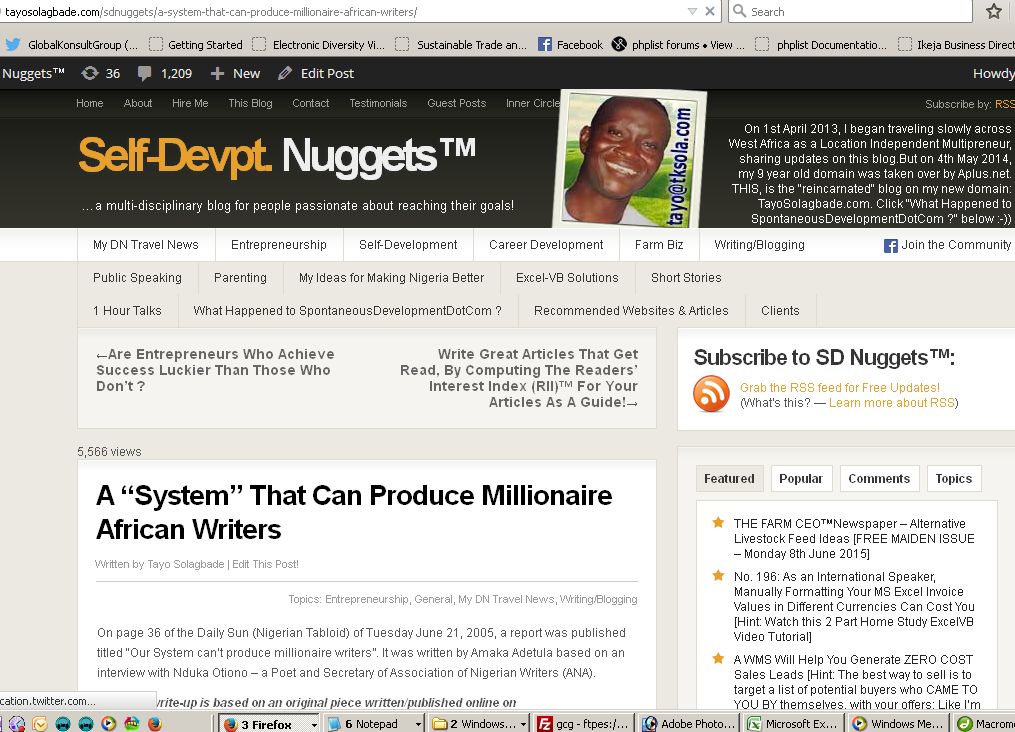 Did you notice in the screenshot above, that the linked article has attracted over 5,500 views since I put it up on this blog back in May 2014?
That's a good indication of just how much interest people have in this subject!
The title of the article is very catchy, and obviously influenced the interest, but I dare say it (the title) is NO exaggeration.
Properly done, POD publishing CAN enable writers who use it earn millions. They just need to apply themselves with intelligence and diligence. I'm doing just that, with the aforementioned purpose in mind!
If you're a journalist, and the above information interests you enough to make you want to publish a story on it, it would be my greatest pleasure to supply you with any additional information you may require for that purpose.
If you wish, I can link you up with my client in Cotonou, so you can interview him on his experience.
In this regard, I can be reached via my mobile in Lagos, Nigeria on 234-803-302-1263 (while in Benin Republic, my mobile number is +229-66-122-136).
Alternatively, use this contact form – to send me a message.
Let me end with this apt quote credited to Nigeria's Sina Odugbemi:
"In fact, there is the greater likelihood of the success of export drive involving our cultural products and talents than one involving our outstandingly shoddy manufactures and primary produce nobody wants. The only problem is: our writers and artistes have to think like business (people). They have to learn to study the international marketplace and woo it with skill and subtlety" - Sina Odugbemi (SOURCE: Article titled "Why Writers Are Poor (part 2)". Subtitle: "A critical look at the economic status of writers in the contemporary society" - published in Newswatch magazine, January 2, 1989, page 38.
Yours in Self-Development,
Tayo Solagbade
Location Independent Performance Enhancement Specialist & Multipreneur*
http://www.tayosolagbade.com (Flagship website - formerly http://www.spontaneousdevelopment.com)
*To learn more about me, visit my MS Excel Heaven™ Visual Basic Solutions mini site (http://www.excelheaven.biz) and my Cost-Saving Farm Business Ideas Website (http://www.boostyourfarmprofits.biz) to see another example of how I am "leveraging technology and the Internet in ways that require little or no initial capital input" to generate income" - by developing custom Excel-Visual Basic driven software for clients within and outside Africa.