Category: News
Published on Saturday, 16 June 2018
Written by Tayo K. Solagbade
2, [DVAM] VIRAL VIDEO > 1m Views - What It Really Means to Be a 'Strong Woman': Nigerian Woman Delivers Hard Hitting Message to Peers About Relationships [FREE Verbatim Transcript PowerPoint Slideshow created by Tayo K. Solagbade for www.facebook.com/stopdvambytks]

In this post I share a link to the transcript slideshow I've prepared of a VIRAL VIDEO that has been watched over 1million times!
It's message is VERY relevant to the current times.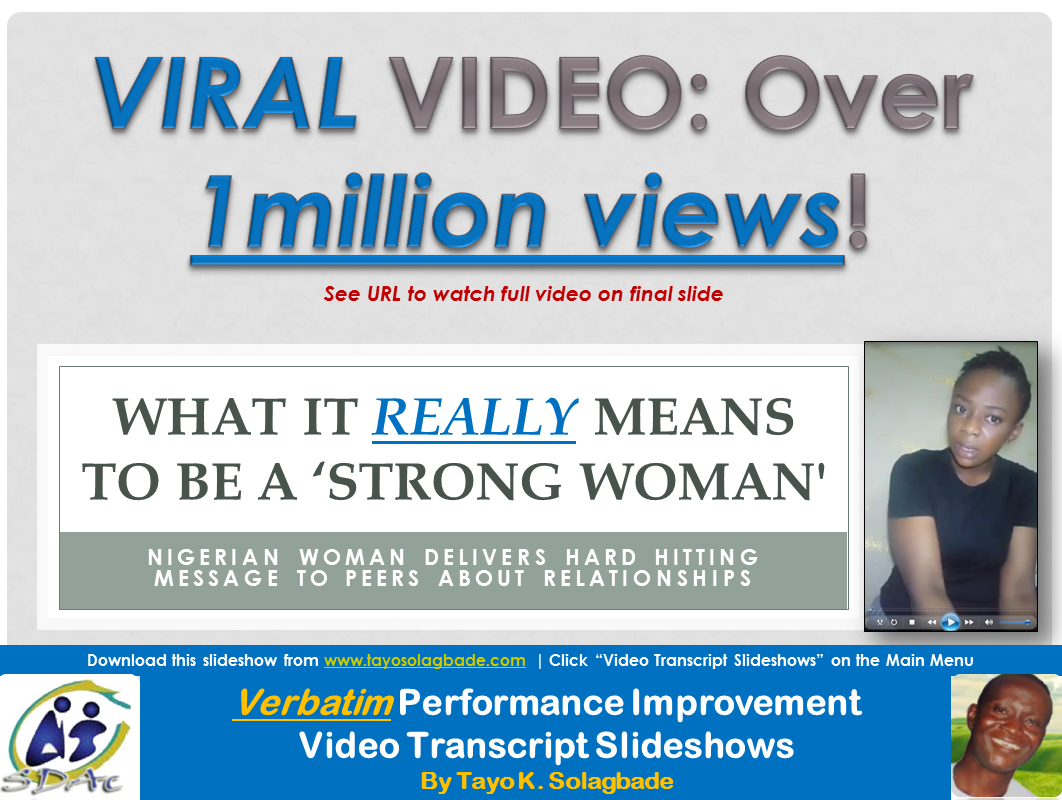 The Nigerian woman who authored it (judging from her looks) belongs to the age group of women she addresses. And she pulls no punches in telling those of them guilty of bad habits she describes, in relating with their male partners, why they are wrong, and what they need to do to change for the better.
1. [DVAM] How Women Destroy Love (Why Men Fall Out of Love) - by Kara Oh, US based National Relationship Expert | FREE VIDEO Based Transcript Slideshow created by Tayo K. Solagbade for www.facebook.com/stopdvambytks

"Today I wanted to offer a lesson on how to castrate a man.
Em, you may wonder, why would you wanna do that?
Well, probably the primary reason would be to get him out of your life, because that is the best way to get rid of a man." - Kara Oh
Click here to learn how you can view my Verbatim Performance Improvement Video Text Transcript Slideshow version of the wonderfully insightful video message by Kara Oh.
It's aptly titled "How Women Destroy Love."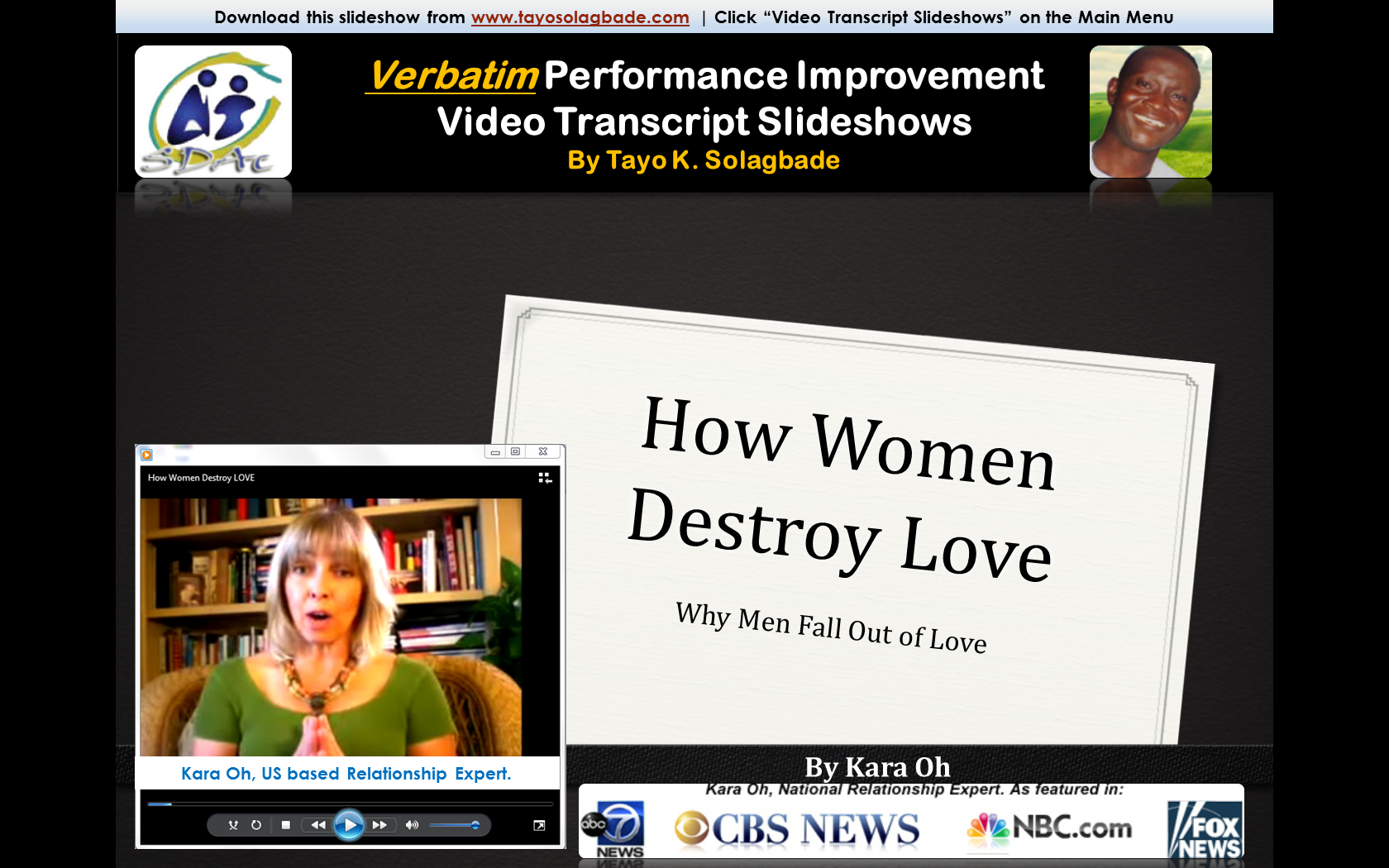 Below: Examples of past transcriptions I've published on my blog...
1. Breakthrough to Purpose – Andy Brine Interviews Efe Ohwofasa (Verbatim Text Transcript Created by Tayo K. Solagbade)
2. 10 Valuable Lessons I Learnt About Blogging for Passive Income, from Yaro Starak's 60 Minute Pod cast Interview with Patrick Meninga
3. NEVER Let Anyone Tell You What YOU Cannot Do! (Transcript Slideshow Version of ESPN's July 21 "SportsCenter" Profile video about Richie Parker)
Category: News
Published on Wednesday, 04 June 2014
Written by Tayo K. Solagbade
Click here to signup for Tayo's Weekly newsletter.
View past issues of the newsletter Click here...
Category: News
Published on Thursday, 22 May 2014
Written by Tayo K. Solagbade
If you've been following me online before May 2014, you most likely will want to know why I moved my website to www.tayosolagbade.com.
My first online presence was located on the primary domain www.spontaneousdevelopment.com. And I built it up over a period of 9 years to one that generated high value income generating sales leads that won me clients within and outside Africa.
But on 4th May 2014, the 9 year old domain name - www.spontansoudevelopment.com was taken over and made inactive by Aplus.net - a web host that I moved my website from 2 years ago, in protest about VERY base service and support they were giving me.
So this was not the first time I was getting a raw deal from that company. 
They demanded that I pay a penalty to get my domain name back. I bluntly refused to accept that condition. Instead I told them to keep the domain name, and instead decide to launch www.tayosolagbade.com which I'd registered a year ago, to host ALL my online content previously linked to www.spontaneousdevelopment.com
That's how this website was born.
In case you wonder, I was not unaware of the considerable loss of sales leads giving up my old domain name implied. Especially given the VERY high search engine visibility it enjoyed. However, I knew I could rebuild my brand with even better focus by choosing tayosolagbade.com. 
Click the links below to read the details of how it all happened.
1. I Don't Need Spontaneousdevelopment.com to Reproduce my Online Success (Why I Refused to Buy Back my 9 Year Old Domain)
2. Haters Cannot Change Your Destiny!
Take your time to explore the offers I make on this website. Over a decade of authentic real world experiences are at your disposal. If nothing else, take up my offer to give a FREE talk at your next event. Invite me to speak to members of your team or group.
PS: See the latest issue of my Weekly Speaking IDEAS Newsletter on the new version of my SD Nuggets blog at http://www.tayosolagbade.com/sdnuggets (note that it's also still work-in-progress).